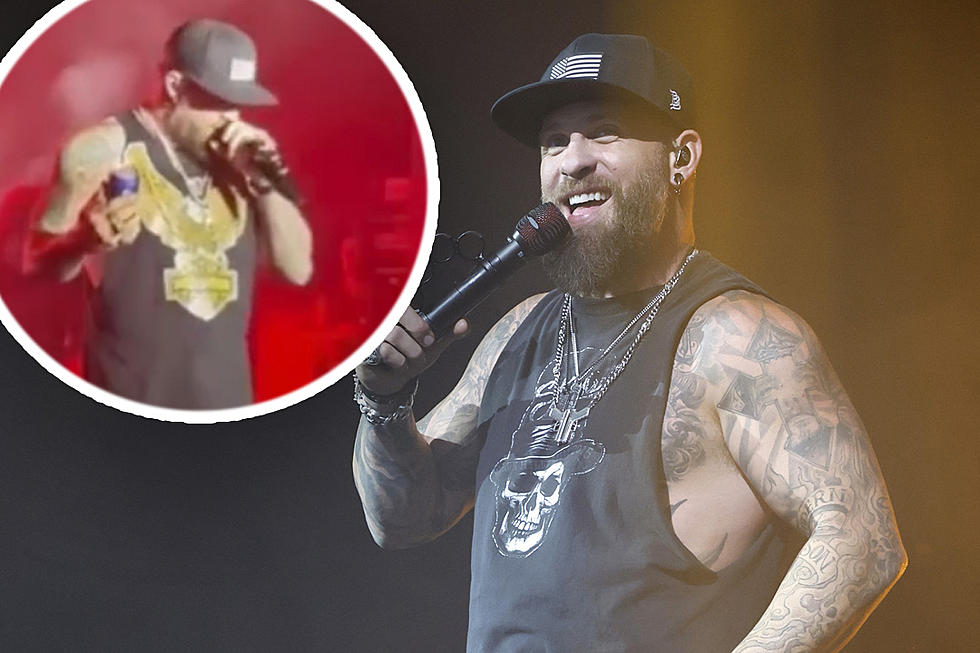 Brantley Gilbert Slams a Bud Light, Literally [Watch]
Jason Kempin, Getty Images
Brantley Gilbert doesn't drink alcohol, but he seems to have a preferred brand of beer. The country singer threw a can of Bud Light to the ground during a show in Alabama on Saturday night (April 15), proving that it's not that one.
Video shared on TikTok finds Gilbert with the beer can in his hand. As his band plays a hard-edged version of Queen's "Another One Bites the Dust," he says, "Yeah, f--k that" and throws the can to the ground. The beer can explodes and the crowd cheers.
Then, Gilbert is tossed another can of beer in a silver can. He throws that back to his drummer and urges him to shotgun it. Dear America podcast host Graham Allen shared the video on his Instagram page. There, Gilbert commented on the video with two shrug emojis and "miss you brother."
His wife Amber also commented with three hand-clap emojis. In her Instagram Stories, she shared video of the incident and wrote, "No @budlight in this camp."
In rejecting Bud Light, Gilbert joins Travis Tritt, Kid Rock and John Rich as artists saying they'll be boycotting the brand. It's a response to Bud Light's partnership with Dylan Mulvaney, a transgender influencer with a significant presence on TikTok.
On April 1, Mulvaney shared a video to Instagram in which she discusses Bud Light's $15,000 March Madness giveaway. The company had sent Mulvaney a can with her face on it to celebrate her 365th day of womanhood.
A statement on the Anheuser-Busch website finds company CEO Brendan Whitworth explaining how he's responsible for ensuring every consumer feels proud of the beer.
"We never intended to be part of a discussion that divides people. We are in the business of bringing people together over a beer," he says before talking about the importance of accountability and American values.
More than 2.5 million people have watched the original video of Gilbert slamming the Bud Light to the ground. It was first shared on TikTok by Jonathan Cooley, username @bigjohn9393.
PICTURES: See Inside Kid Rock's Luxurious Childhood Home
Kid Rock has a rough-and-tumble image, but he didn't exactly grow up in humble circumstances. His childhood home was a 5,660-square-foot luxury home in Michigan, situated on 5.5 acres that includes 5 bedrooms, 7 bathrooms, 5-car garage, along with a partially finished walkout and guest house. There's also a 3 stall horse barn, regulation tennis court and inground pool. The 22-room house was renovated in 2004, and it also has a hot tub and a wet bar.
More From My Country 95.5