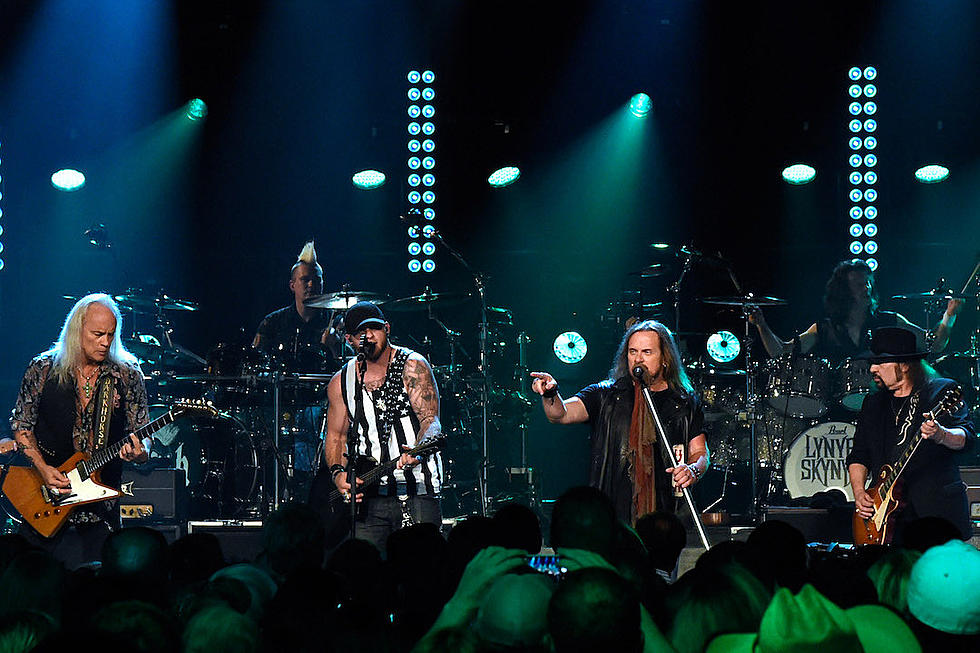 Brantley Gilbert Remembers 'True Legend' Lynyrd Skynyrd Guitarist Gary Rossington [Watch]
Rick Diamond, Getty Images
Brantley Gilbert paid tribute to Lynyrd Skynyrd guitarist Gary Rossington — who died on Sunday (March 5) at the age of 71 — with a social media remembrance that underscores both Rossington's musical talents and his kind, gracious presence in the music industry.
"The world lost a true legend," Gilbert writes in his remembrance. "All my love, respect & prayers to the family & loved ones of Gary Rossington.
"This man was the truth on a guitar," the singer continues, "but I'll never forget how genuine, humble & kind he was not to just me, but my band & my crew every time we crossed paths."
Not only did Gilbert encounter Rossington and Lynyrd Skynyrd on the road and at music events over the years, but he also got the chance to perform with the legendary Southern rockers as part of an episode of CMT Crossroads, a series that pairs two artists from different genres for an evening of performances of each other's music.
Gilbert and Lynyrd Skynyrd's episode of CMT Crossroads came out in 2015, and as he remembered the late Rossington on social media, Gilbert shared a throwback clip of that performance.
In this clip, Gilbert and Rossington trade verses on "Sweet Home Alabama" — Lynyrd Skynyrd's signature song, and their massively popular 1974 response to Neil Young's "Southern Man." Rossington was a writer on "Sweet Home Alabama," alongside bandmates Ed King and Ronnie Van Zandt.
Rossington's death was announced via statement from the band. "Gary is now with his Skynyrd brothers and family in heaven and playing it pretty, like he always does," the statement read in part.
No cause of death was given, though his health struggles over the years were well-documented; Rossington suffered from heart disease, undergoing a quintuple bypass in 2003 and suffering a heart attack in 2015.
Gilbert's remembrance of Rossington joins tributes from several others in the country community, including Travis Tritt and the Oak Ridge Boys.
In Memoriam: 2023 Deaths
A look at those we've lost
15 Country Artists Who Deserve to Be in the Rock & Roll Hall of Fame
With Dolly Parton's 2022 induction into the Rock and Roll Hall of Fame — and, even more recently, Willie Nelson's nomination for the 2023 class — it's clearer than ever that country artists have a place in the Cleveland-based institution's hallowed halls. But the Rock & Roll Hall of Fame has always shown love to country performers, to a certain extent: Johnny Cash, Chet Akins, Brenda Lee, the Everly Brothers and Hank Williams are all past inductees.
Based on the criteria the Hall has set forth, that nominees should be acts who have had "a profound impact on youth culture," there are still many more country artists who deserve their spot in the Hall. Flip through the gallery below to see Taste of Country's top picks for who the Rock and Roll Hall of Fame should induct next.
More From My Country 95.5