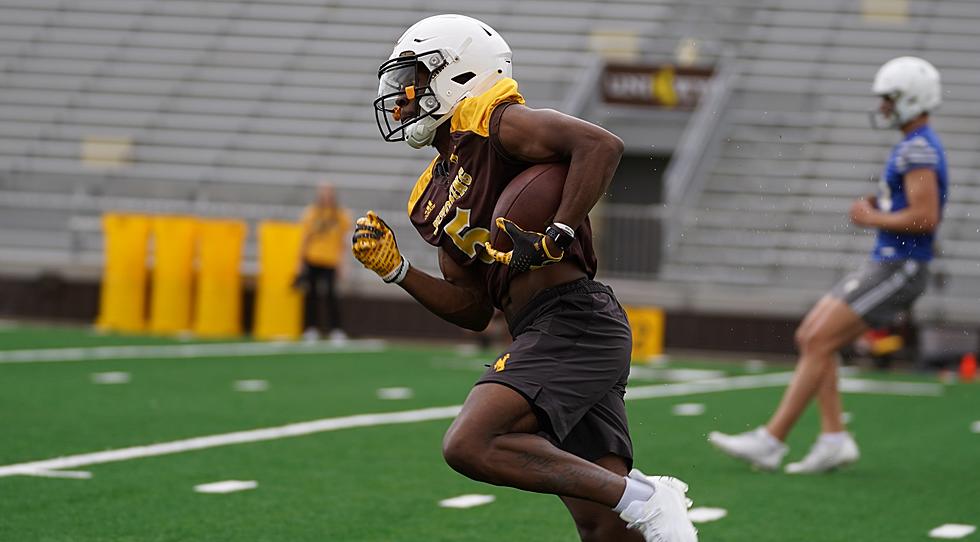 Ayir Asante Looking to Add New Element to Pokes' Offense
Wyoming wide receiver Ayir Asante snags a ball and turns up field during the Cowboys' first practice of fall camp./ UW courtesy photo
LARAMIE -- Ayir Asante hears you loud and clear.
And he's here to help.
"It's no secret, Wyoming football -- we can run the football," the team's newest wide receiver said after Day 1 of fall camp. "We have great offensive linemen and we have a great running back room right now.
"I mean, we know it, fans know it, the other team knows it. But, I feel like it gets hard when you're trying to win a championship and it's just all run because what can they do? Pack the box, right?"
While this may sound like blasphemy in the Church of Craig Bohl, the message surrounding this offense in the offseason has been one of consistency. The head coach himself even said he wants the passing game to compliment his vaunted running game.
That hasn't been the case since 2016.
Josh Allen threw for more than 3,200 yards and 28 touchdowns that year. Wyoming ball carriers, including the program's all-time leading rusher, Brian Hill, amassed 2,865 more on the ground to go along with 31 scores.
That also happens to be the last time these Cowboys played for a conference title.
While Wyoming once again boasted one of the best rushing attacks in the nation in 2022 -- 181.4 yards per game, landing 44th overall in the FBS -- the passing game, at times, was almost nonexistent. Andrew Peasley and Co. ranked 125th in the country out of 131 teams. They averaged just 132.2 yards an outing through the air.
Asante finds himself in a unique position. This is his first go round on the high plains after transferring from Holy Cross where he snagged 117 balls for 1,722 yards and 16 touchdowns over four seasons. His best year was his first. He hauled in 48 receptions for 701 yards and six scores.
Five. That's the number of passes Asante caught over the first five games. He added 41 more for nearly 600 yards in his final eight outings of 2019.
This Wyoming team needs immediate help on the outside. Asante needs immediate results.
This is his last chance.
"It's been fun because there's a lot of times where I feel like a freshman where I'm out here and like, I don't know what is going on," the New Jersey product said with a smile. "We were brought in to help the team. I mean, you don't get that luxury of, you know, having a learning curve, having a year of just seeing how things go."
Asante hit the ground running when he arrived in Laramie in early June. He, along with Vanderbilt transfer Devin Boddie Jr., missed spring camp. Both stuck around to graduate from their respective schools. Bohl was fine with that. In fact, he encouraged it. However, that was 15 valuable chances, including a game-type atmosphere, that can't be mimicked.
MORE UW FOOTBALL NEWS VIA 7220SPORTS:
* Pokes Practice Report: No 'TBA's' on this depth chart
* John Hoyland named an AP Preseason Second Team All-American
* Wyoming RB Jamari Ferrell sits atop initial fall depth chart
* Wyoming's proud Poly's Suiaunoa, Tulafono up for national award
* Pokes Practice Report: Sabastian Harsh nearing return
* Wyoming's Buck Coors, Will Pelissier undergo surgeries on Friday
* Fueling Cole Godbout's fire 'probably wasn't the best idea'
* Keany Parks: 'I feel like I belong in Wyoming'
* Q&A with Wyoming offensive coordinator Tim Polasek
* Tom Burman on realignment: 'I wish I could give you an answer'
* 'Vanilla Gorilla' locking up right tackle spot in Laramie
* Adrian Onyiego's Wyoming recruiting tale all-too-familiar
* Pokes Practice Report: Bohl 'encouraged' after Saturday scrimmage
Before official team activities began, routes were run. Lots and lots of routes. Asante even asked Peasley if he would work with them on Saturday's, their off day. He obliged, gladly. Chemistry -- and a connection -- followed. So did extra work, mental reps and hours of film study.
Asante feels that sense of urgency in this program.
"I came here for a reason," the 6-foot, 178-pound senior said. "I feel like I can make an impact on the team. I feel like I owe it to Laramie, to Wyoming football and Wyoming."
He also knows the clock is ticking on his own college career.
"I don't really feel the pressure just because I've always felt like I'm my harshest critic," Asante continued. "... The limits I put on myself are so high and I just think that I'm tired of having potential and not meeting it for myself. It's all about your inner self and I have to leave no doubt. That's my thing. I only got one year left so I have to cross all my T's and dot all my I's. I mean, it's all about mentality."
Asante, to say the least, is energetic. He's talkative, especially when discussing this game and the intricacies of his position. He wants to be great, unabashedly discussing his dream of one day playing in the NFL.
First, he has work to do in Laramie. His teammates and coaches, so far, have been impressed.
"He runs really well," Bohl said. "He's got really good quickness."
"What makes him special is his experience," quarterback Evan Svoboda said. "He's coming in here, you know, understanding football. Him coming in from the Patriot League, he could've been playing at the FBS level. It's exciting to see him. He's a great guy to be around and he's a great receiver. He was just a great fit."
Jay Sawvel gets to face Asante in practice every day. Wyoming's defensive coordinator agreed with Bohl when it comes to No. 5's burst.
"You can see his top-end speed and his ability to separate," Sawvel said. "He's got explosiveness and he tracks and catches balls very well. When you have a guy that can create separation and track the ball and catch the ball, then you've got a good player.
"... This is a guy that will be one of the best slot receivers in our conference this year. You know, just as far as his overall skill set and his overall package of things."
Asante said he knew full well what kind of offense Wyoming ran when he signed on the dotted line.
Did that concern him? Hardly.
He has plans.
"If we can just establish a passing game and, you know, make it balanced -- if the safety is playing down, we're over the top -- that's how we attack the game," he said. "If you leave us in a 1-on-1, we're winning. I mean, we're going to make you pay.
"... If you're too tight in the box, we're going to hit a bubble (screen), a (run-pass option). And what that does is what? Open up the defense so now you can run. So, hey, we'll take what you give us."
University of Wyoming's Top 50 Football Players
The rules are simple: What was the player's impact while in Laramie? That means NFL stats, draft status or any other accolade earned outside of UW is irrelevant when it comes to this list.
This isn't a one-man job. This task called for a panel of experts. Joining 7220's Cody Tucker are Robert Gagliardi, Jared Newland, Ryan Thorburn, and Kevin McKinney.
We all compiled our own list of 50 and let computer averages do the work. Think BCS -- only we hope this catalog is fairer.
Don't agree with a selection? Feel free to sound off on our Twitter:
@7220sports
- #Top50UWFB
- University of Wyoming's Top 50 Football Players
More From My Country 95.5