Casper Events Center Announces Enhanced Security For Foo Fighters Concert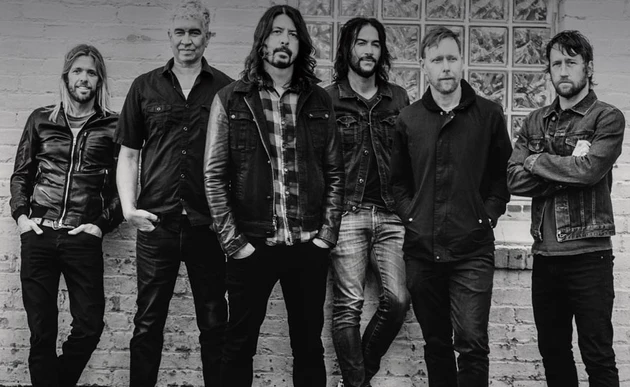 Before the Foo Fighters take the stage at the Casper Events Center at 7:30 p.m. Sunday, you need to take care before and when the doors open at 6 p.m., according to a news release.
Spectra Venue Management and Events Center staff announced these cautionary measures:
Attendees and their belongings will walk through metal detectors upon entry. Ticket holders consent to reasonable search for such items below and waive any related claims that may arise. The Casper Events Center Management reserves the right to make the final determination on prohibited items.
CEC's Prohibited Items:
Outside food or beverage, alcohol, bottles or cans.
Professional cameras, cameras with detachable lenses, or lenses longer than 2.5".
GoPro cameras.Video or audio devices.
Selfie Sticks or telescopic devices.
Aerosol cans or noise-making devices.
Drones (UAS-Unmanned Aircraft Systems) or other model aircraft.
Animals (unless a service animal).
Weapons.
Self Defense Sprays/ Pepper Spray.
Explosives.
Fuels (torches, lighter fluid).
Tools.
Razor Type Blades (box cutters, razor blades, scissors).
Hazardous Items (chemicals, paints, thinners).
Laser pointing devices.
Gifts, letters, signs, banners, flowers, or sealed packages of any kind.
Hoverboards and skateboards.
Umbrellas.
Any other items deemed inappropriate.
Prohibited items cannot be stored or held at the entrance points, security base or guest services. They must be returned to the patron's vehicle or thrown away.
===========================================

There's more to the above list:
The following restrictions are also in-place for the performance in addition to the Casper Events Center's prohibited items list:
No professional cameras with detachable lenses.
No professional or non-mobile phone video recorders.
No professional recording devices.
No GoPros, iPads, or selfie sticks.
No weapons, bottles or containers of any type.
No items that can be used as a projectile.
No laser pointers.
No bags (small medical necessity bags and clutch-type bags will be allowed).
No wallet chains.
Crowd surfing and moshing is not advised and is strongly discouraged.
It is also important to note that this show includes heavy use of strobe lighting.
Additionally, by entering the venue, patrons agree to be photographed and videotaped.
===================================
And there's even more.
Spectra Management and the Events Center also offer these helpful hints:
Empty your pockets before you leave home; only bring the essentials.
Arrive early; doors open at 6 p.m. and the show starts at 7:30 p.m.
Don't forget your valid photo ID if you plan to drink any alcoholic beverages.
UBER is the official transportation network partner for the Casper Events Center. Guests can download the app on smartphones or visit: www.uber.com/ride and use the promo code: CASPEREVENTS for discounts.
Plan your exit from the parking lots; guests can use East Road to Amaco Road and Bryan Stock Trail in addition to Poplar Street, Interstate 25, or the U.S. Highway 20/26 interchange.
Locate your tickets before you leave home and have them ready to go when you get in line for the security procedure.
If you've misplaced your tickets, please call the SinclairTix Box Office at 800-442-2256.
Visit our Frequently Asked Question tab at CasperEventsCenter.com for more helpful information.
Tickets are $52, $82 and $102 each. They're available at www.SinclairTix.com, by phone at 1-800-442-2256 or in-person at the SinclairTix Box Office at the Casper Events Center.