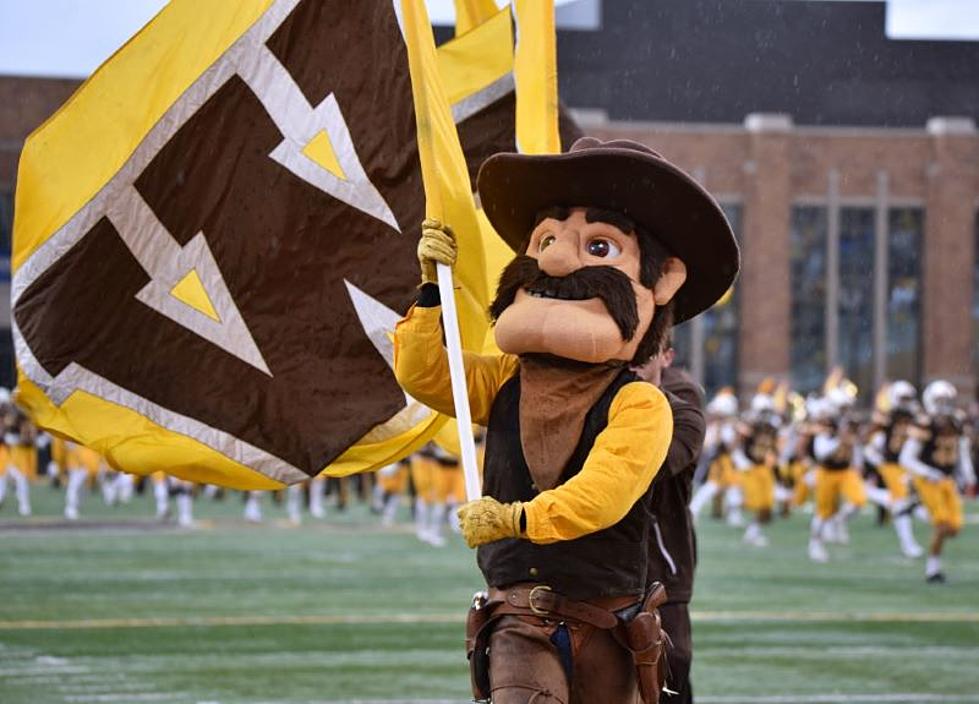 Changes Needed in Wyoming Football Game Day Experience?
Wyoming mascot Pistol Pete leads the Cowboys onto Jonah Field at War Memorial Stadium in Laramie./ DJ Johnson photo
LARAMIE -- First, you hear the faint wind chimes.
Then comes the guitar – acoustic, mainly.
Then Jon Bon Jovi launches into his 1986 hit "Wanted dead or alive."
I penned those exact words in August of 2019, referring to Wyoming's entrance into War Memorial Stadium, a staple now for more than a decade. Players run through some underwhelming yellow smoke, slap some hands and Western Thunder takes over, launching into Ragtime Cowboy Joe.
Craig Bohl leads the pack. Sometimes the head coach runs through the entire band before veering toward the home sideline. Others, he ducks between a trombone and trumpet and takes a shortcut.
On a scale of 1-10, this pageantry earns a solid six from me. It could be better. Much better.
What are your thoughts? In fact, what would you like to see change about the game day experience in general?
Here are a few of my thoughts:
1. Ramp up the tunes
When it comes to great entrances across the college football landscape, Virginia Tech nails it. Enter Sandman, Metallica's 1991 hit, has a way of building that whips the near 67,000 fans inside Lane Stadium into an absolute frenzy.
Check this out:
Love the live video of the team, cramped up in the hallway and ready to burst onto the electric scene that awaits them. The fire is a cool touch. The smoke could be cranked up a tad.
During the Dave Christensen era in Laramie (2009-13) the jumbotron -- which was an embarrassment compared to what it is now -- did feature live shots of the team making their way to the playing surface. That was awesome. Would love to see that make a comeback.
Now, back to the tunes. Bon Jovi has run its course. Wyoming is already an intimidating place to play -- 7,220 and all -- but it could be downright scary. Just re-watch the video above for reference.
Here are a few options:
Cowboys From Hell - Pantera
Bulls on Parade - Rage Against the Machine
Blind - Korn
Down With the Sickness - Disturbed
Raining Blood - Slayer
OK, I'm all about the heavy stuff, obviously. The Houston Texans rock "Bulls on Parade" numerous times during home games. When that's at volume 10, it's effective. Korn, Slayer and Disturbed have the build up, and "Cowboys from Hell" just seems right to me. Just imagine the crowd inside The War, especially at night, getting amped to this music and not some 80's power ballad.
Throw in an obnoxious amount of smoke, turn up the speakers, show a sweet video and let that horse and flag-wielding rider come flying down the pipe.
2. Public address announcer can do more
Remember how fun it was in the 90's when the PA announcer would give you the out-of-town scoreboard and put some oomph into? Like when Colorado State or BYU were getting hammered?
I can still hear the raucous cheers to this day.
That's one small example of what new announcer Joshua Hunter can do from his perch high above War Memorial Stadium.
Now, I'm not dumping on Jack Nokes. He had his style and it worked for more than four decades. Hats off to a great career.
Hunter, however, will bring his own brand to the ball yard -- as he should. He has experience in venues like Mile High Stadium, Folsom Field and Dick's Sporting Goods Park. Broncos fans chant "in-com-plete" in unison after a ball fails to hit its target. That's the kind of stuff that could make Laramie even more lively on fall Saturdays.
You don't want to screw this up and be obnoxious, obviously, but just some excitement in the inflection could make a big difference.
He can also feel free to throw in a booming "That's a 7220sports.com first down!"
That might actually cost some money.
I kid.
3. Back to music
The in-game music is, well, dull.
Sure, the kids love "Cotton Eye Joe" and the students might like the hip-hop stuff, but is any of that motivational for what is actually going on down on the field?
Between the third-and-fourth quarters is supposed to be crunch time. In Laramie, that's when the camera pans to children with foam cowboy hats jumping around.
Wisconsin does it right:
How about a victory song?
West Virginia certainly has that down. How cool is this?
I can imagine arms locked, swaying and "Mama, don't let your babies grow up to be Cowboys" blaring from the speakers.
Wyoming could certainly do a much better job of playing songs from locals, too. This state is blessed to have singers like Chris LeDoux, Ian Munsick and Chancey Williams, among others.
These are just a few random ideas. I'm in the press box, you're in the stands. I want to hear your thoughts on all of the above and more.
What would make your game day experience more enjoyable?
MORE UW FOOTBALL NEWS VIA 7220SPORTS:
* No one pocketed more performance-based cash in '22 than Marcus Epps
* PODCAST: What on earth is San Diego State thinking?
* Single-game football tickets go on sale Wednesday
* Longhorns land in top spot in Big XII preseason poll
* Wyoming athletics' first official NIL collective is live
PRESS PASS: Roaming The War
Wyoming Cowboys vs. Montana State Bobcats
-PRESS PASS: Roaming The War
More From My Country 95.5