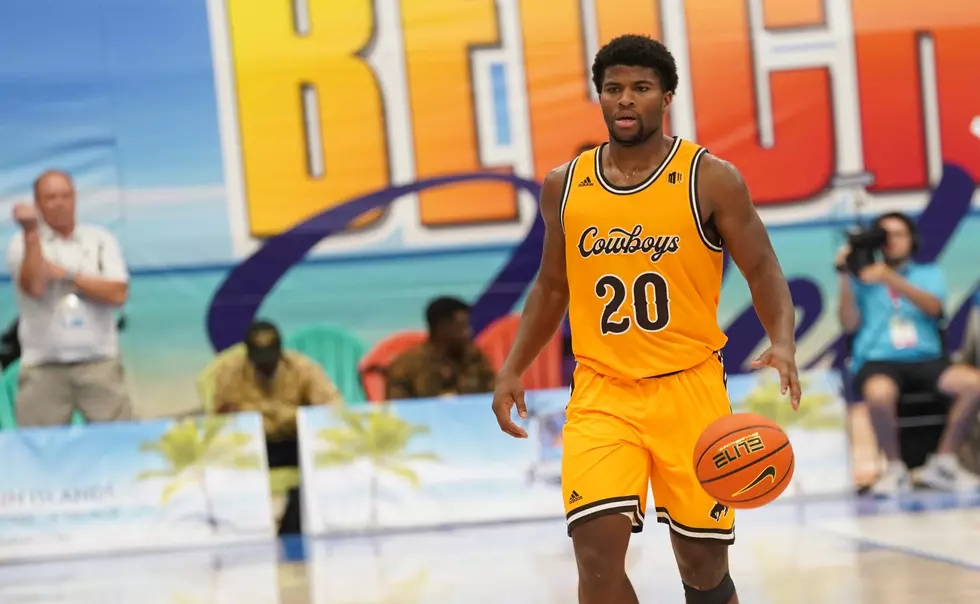 Cold Shooting Early on Sinks Cowboys in 61-56 setback against Drake
Wyoming guard Ethan Anderson brings the ball up court during a 61-56 loss to Drake Sunday afternoon at the Paradise Jam./ UW courtesy photo
* University of Wyoming press release
ST. THOMAS, USVI – The Cowboys could not overcome cold shooting in the opening 20 minutes in a 61-56 loss to Missouri Valley Conference preseason favorite Drake on Sunday afternoon in the University of the Virgin Islands Sports and Fitness Center in St. Thomas, U.S. Virgin Islands.
The Cowboys opened the second half on a 20-6 run to pull within two points in halfway through the second half.
"That is a good team who will be right in the thick of the NCAA Tournament and will probably win a very good league," UW head coach Jeff Linder said. "That is a team that is together and we need to understand who we are and we found that in the second half."
Wyoming was led by guard Hunter Maldonado with 20 points. He went 6-of-9 from the field to along with five rebounds. It marks back-to-back games with 20 or more points. Guard Xavier DuSell added 13 points in his first start of the season, going 4-of-7 from behind the arc. Guard Ethan Anderson added eight points and tied for the team high with five rebounds.
The Pokes shot 41 percent from the field and 32 percent from beyond the arc. Wyoming shot 62 percent from the field in the second half after shooting 23 percent in the first frame. Drake shot 42 percent from the field and held a 32-31 advantage on the glass in the contest.
The Pokes opened the game with a three-pointer, but the Bulldogs when then go on a 9-0 run to build a 9-3 lead. Guard Jake Kyman ended the run for the Pokes with just over 14 minutes left in the first half for a 9-5 contest. Drake would go on a 4-0 run and take a 15-7 lead with 12:41 left in the first frame.
A three-pointer from Maldonado and basket from guard Max Agbonkpolo made it a 18-14 game for Drake with 10:37 left in the frame. The Cowboys would continue the pressure holding Drake scoreless for over five minutes to make it an 18-15 deficit.
Drake halted its scoreless streak with a three-pointer from Tucker DeVries for a 21-15 at the 6:13 mark. Wyoming went scoreless for over four minutes until a three from DuSell made it a 21-18 contest for the Bulldogs with just over five minutes remaining opening 20 minutes.
Devries would hit another tough shot for a 25-18 Drake lead a minute later. He would later add a four-point play and a pair of free throws for a 30-18 game with just over 60 seconds left in the half. He would add another three pointer and the Poke went scoreless for the final four plus minutes to trail 34-18 at the half. It was a 16-3 run for Drake to finish the half.
Forward Hunter Thompson opened the second half with a pair of threes to make it a 24-24 game for Drake in the opening minute. Maldonado would make a pair of baskets to make it an eight-point game at 38-30 with 15:31 remaining.
Wyoming would then go on a 7-2 run to make it a three-point game at 40-37 with 13 minutes left, as Maldonado added four points along with an and-one play from Kyman. Maldonado would make it a two-point game a minute later. It was part of a 20-6 run to open the half.
The Cowboys had a chance to tie the contest at the free throw line, but the Bulldogs would answer with a 4-0 run to take a 44-38 lead with 9:49 left in the contest. Maldonado would make it a two-point game at 44-42 at the line with 7:47 left.
A Drake run of 4-0 made it a 48-42 game with just over five minutes left, but a three from DeVries made it a 51-44 game with 4:09 left. DuSell would make it a four-point game with a triple for a 43-49 contest with 3:09 left. DeVries added a bucket to push the lead to six points. Maldonado made it a 55-51 game with a pair of freebies with 1:41 left.
The Pokes would have a chance to tie the contest late, cutting the lead to three points, but an offense foul sent Drake to the line, as the Bulldogs took the
Drake was led by DeVries with 29 points going 10-of-14 from the field and 4-of-6 from beyond the arc. Guard Sadaar Calhoun added nine points of the bench for the Bulldogs.
The Pokes will either face Boston College on Monday evening at 6:45 p.m.
10 Reasons Why You're Lucky to Be Living in Wyoming
Here Are the Top 10 Reasons Why You're Lucky to Be Living in Wyoming
- 10 Reasons Why You're Lucky to Be Living in Wyoming,
More From My Country 95.5