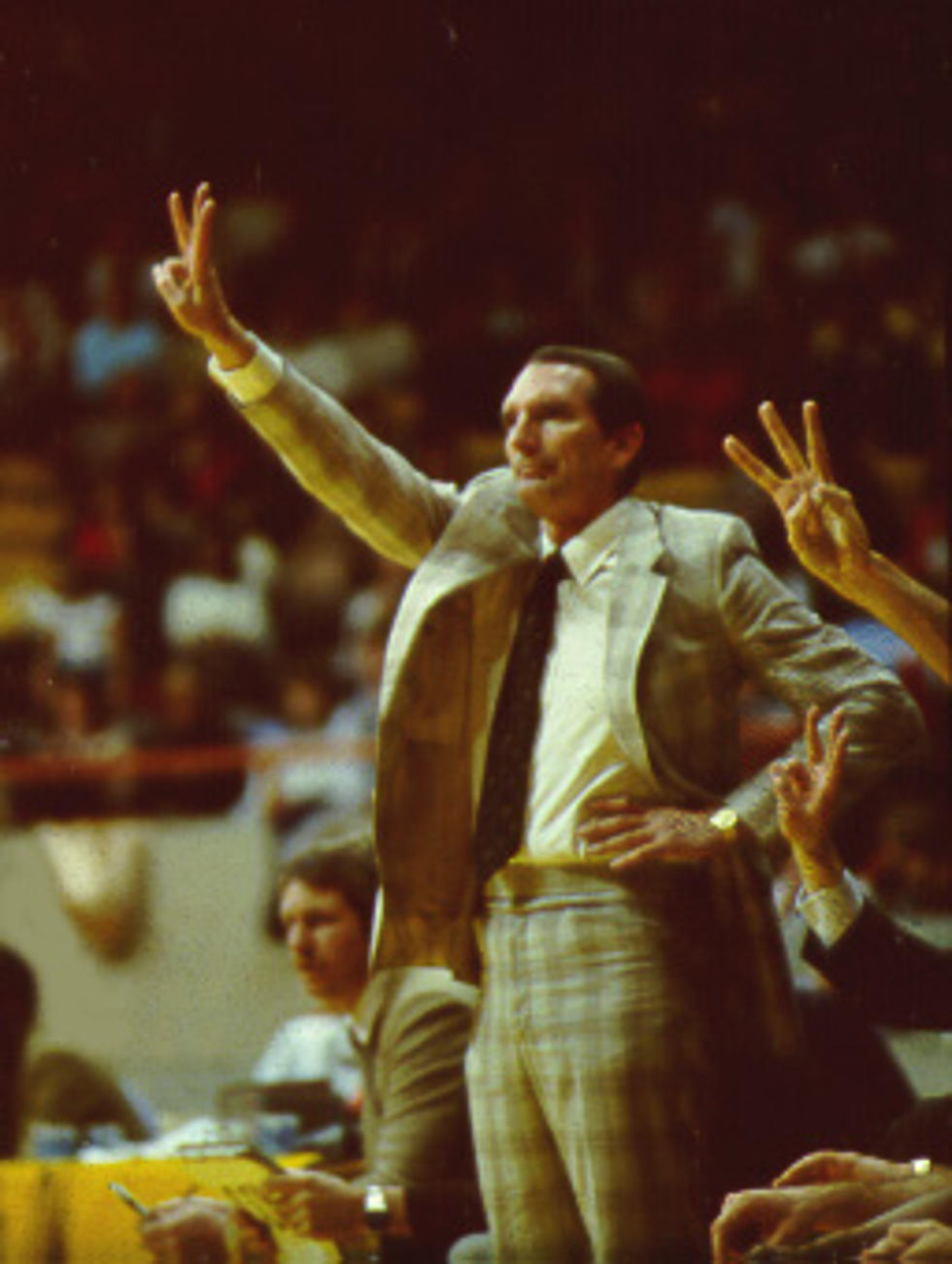 Former Wyoming Basketball Coach Jim Brandenburg Dies at 87
Jim Brandenburg, who coached at Wyoming for nine season and led the Cowboys to three NCAA Tournament appearances, has died./ UW athletics photo
LARAMIE -- Jim Brandenburg, who led Wyoming to three regular-season WAC Championships and the same number of NCAA Tournament appearances, has died. He was 87.
Fennis Dembo, Eric Leckner, Bill Garnett and Charles Bradley, among many other Cowboy greats, played under Brandenburg during his nine seasons on the sidelines in Laramie.
Dembo and Leckner helped lead UW to the Sweet 16 in 1987 after upset victories over Virginia and Reggie Miller's UCLA Bruins. That run would come to an end at the hands of a UNLV squad that advanced all the way to the Final Four. The Cowboys also made trips to March Madness in 1981 and '82.
Four days later, after compiling a record of 176-97 on the high plains and claiming WAC Coach of the Year three times, Brandenburg did the unthinkable and left for the head coaching vacancy at San Diego State, one of the Cowboys' in-conference rivals.
Wyoming's roster remained nearly intact during the 1987-88 season under new head coach Benny Dees.
"I had a good situation at the University of Wyoming," Brandenburg said during his introductory press conference. "We had a good team coming back ... but I thought this was too good an opportunity to pass up."
Wyoming's Athletics Director Paul Roach said that day he wasn't sure why Brandenburg left.
"After three meetings with him, I really don't know why he's leaving," Roach said. "He did cite a couple of factors that might be involved in the decision. One was former contract problems here in the past that I'm not too knowledgeable about."
Brandenburg headed the Aztecs' program for five seasons. SDSU never finished above .500 and he capped his career in Montezuma Mesa with a record of 52-87.
Brandenburg, who also helped lead the Cowboys to a runner-up finish in the 1986 NIT, was inducted into the UW Intercollegiate Hall of Fame in 2000. He won 254 games while leading the programs at Montana, Wyoming and SDSU.
"I was truly blessed to have played for coach Brandenburg," said former UW guard Sean Dent, who played in Laramie from 1983-88. "He gave me a second chance to be a Cowboy. Coach and his staff taught me a lot about team basketball and chemistry. He was a coach on the court but a father figure off.
"After playing for Wyoming, he would call and ask how my family was doing. (He would) talk about my kids playing sports, school and life in general. He would always end the call with 'Tell Terry and the kids hello for me.' Coach Brandenburg, Mrs. B and their family helped this east coast kid enjoy his college days at Wyoming. Great memories and one hell of a ride."
"Coach Brandenburg was a great basketball coach," said Garnett, who played at UW from 1978-82 and became the school's highest-ever draft pick after being selected No. 4 overall by the Dallas Mavericks in the 1982 NBA Draft. "He was knowledgeable on all subjects but broke down hoops with a winning philosophy that played out on both ends of the court. He stressed fundamentals and was famous for our match-up defense. He could get the best from us and he believed in us. He prepared us and taught us everything to be successful.
"Personally, he gave me some of the best parental advice and it was full of love -- exactly what a young father needed. ! Wish his tenure at UW would've been different. We felt like he deserved a big-time contract after leading Fennis and that team to the Sweet 16. We are all better men because of coach and I'm so lucky after 40 plus years to still be connecting with my Cowboy brothers. Rest in eternal peace, coach."
UW: University of Wyoming Cowboys' Greatest Games From the First Decade of the 2000's
More From My Country 95.5