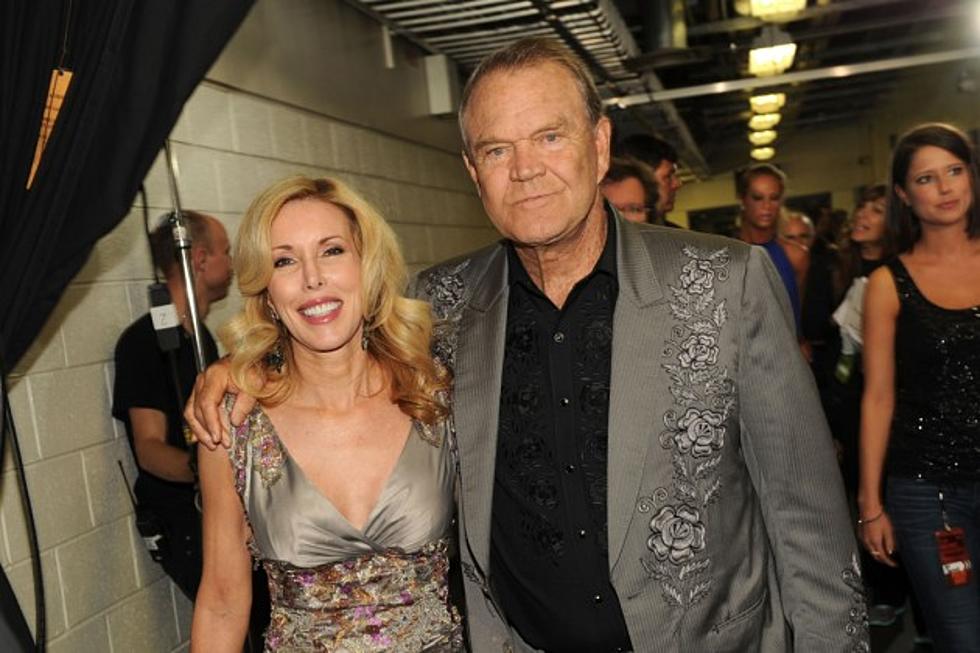 Glen Campbell Returns Home
Rick Diamond, Getty Images
Kim Campbell says her husband Glen Campbell is back home, and the family is taking his Alzheimer's Disease battle one day at a time. The singer is usually healthy and cheerful, she says, but prone to physical outbursts, including one that gave her a black eye.
Kim Campbell tells Country 92.5 (Hartford, Conn.) morning show host Broadway that her husband is in late stage six of seven stages of the disease. He can't communicate and doesn't understand others. He can, however, say short phrases. In a separate interview with the Lexington Herald-Ledger, she talked more about his speech.
"He calls me Mrs. Campbell," she says, "But he definitely understands smiles, hugs, kisses. He's physically healthy, cheerful and content most of the time."
"I've been married to him for 33 years so I just intuitively know what he needs," she tells Broadway.
The difficulties for caring for someone with Alzheimer's are becoming more well-known as the singer's battle with the disease becomes more and more public. He chose to tell his story when first diagnosed, and two filmmakers documented it for the moving Glen Campbell: I'll Be Me documentary.
Kim Cambell reveals they brought her husband home in July, and once again she's his primary caregiver. "Sometimes he can be combative if you're trying to help him get bathed or change his clothes or something and that's typical with a lot of people with Alzheimer's," she tells the radio station.
"He punched me in the eye … I had a black eye for two weeks."
According to HelpGuide.org, Stage 7 requires care for all functions and can last one to two and a half years. Campbell went public with his disease in 2011.
See Glen Campbell Pictures Through the Years
More From My Country 95.5