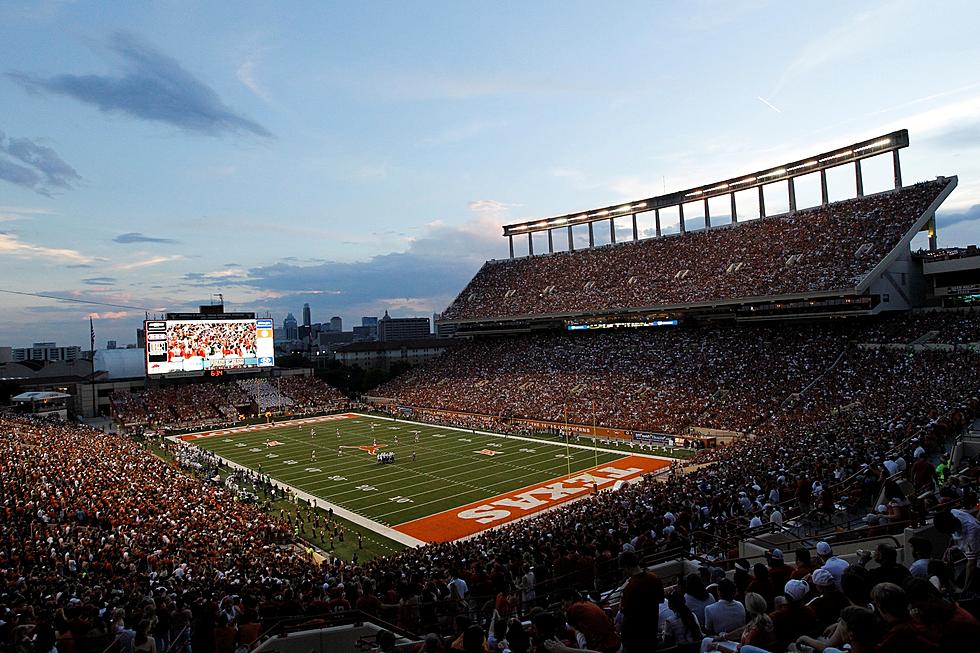 How Will Wyoming Prepare for Humidity, 100,000 Fans in Austin?
AUSTIN, TX - SEPTEMBER 6: A general view of Darrell K Royal-Texas Memorial Stadium as the BYU Cougars play the Texas Longhorns on September 6, 2014 in Austin, Texas. (Photo by Chris Covatta/Getty Images)
LARAMIE -- Texas Tech tried beet juice and arrived a day early to combat Wyoming's high altitude.
Did that work?
Joey McGuire said he thought his guys were pretty fresh. What we do know is the Red Raiders ended up on the wrong side of the scoreboard, dropping a 35-33 tilt in double overtime.
What will Craig Bohl's team do to prepare for the potential of oppressive humidity and 100,119 rowdy fans inside Darrell K Royal-Texas Memorial Stadium Saturday night?
"Well, what we have found is typically once the game starts, outside the noise, you know, the game is the game," said Wyoming's head coach, who has coached in three games in Austin as a member of the defensive staff at Rice.
Sounds easy enough, but Bohl knows that's not reality.
He said deafening sound will pose problems. This week, he added, the Cowboys will be inundated with artificial crowd noise. "Texas Fight," the school's official fight song, could be ringing in Laramie.
"I hope so," Wyoming defensive tackle Gavin Meyer said. "I don't expect anything less."
"This is going to be a whole new level," added fellow tackle Ben Florentine, who said the biggest stadium he has ever played in was last September in Provo, Utah. BYU's LaVell Edwards Stadium seats 63,470. "I'm excited."
Early weather reports say central Texas will see temperatures in the high 80's. Humidity, as of now, is roughly 70%.
Oscar Giles joked, saying a "cold front" is coming through when the Cowboys come to town.
A cold front?
"Hey, it's better than 108," he said with a smile.
MORE UW FOOTBALL NEWS VIA 7220SPORTS:
* Wyoming Football: News and notes ahead of Texas
* Cowboys limp to finish line in win over Portland State
* Three Stars of the Game: Pokes vs. Vikings
* Cowboys hold off PSU late, win 31-17
* Behind the numbers: Wyoming vs. PSU
* Turning point, unsung hero and what's next for UW football
* Tuck's Takes: Wyoming, this is your wake-up call
* 7220sports.com Kickoff Show: Fooling around with the FCS
* Gear up for game day: Portland State
* Know Wyoming's foe: Portland State Vikings
Wyoming's defensive tackles coach and run-game coordinator suited up for the Longhorns from 1987-90. He also coached at his alma mater in 1999 as a graduate assistant and as a defensive line coach from 2017-20.
He knows all about the pageantry and intimidation of a Texas football game.
Giles said the visitors just need to stick to their three core values: Culture, attitude and belief.
"It's all about us," he said. "... I think the biggest thing I can do is motivate my guys and teach them what we need to do as far as our part of the game plan."
Bohl said the team's medical staff will aid in altering diets and focus on hydration throughout the week to avoid cramping. The staff will do what it can to emulate the atmosphere. but Wyoming's head coach said one of his many roles is instilling confidence.
Facing the fourth-ranked team in the country is tough enough.
"Once the game starts, you know what, it's man against man -- go out and play," he said. "I do think that there's there's benefits of playing against a really good opponent. I know I listened to coach (Nick) Saban's press conference and he talked about being tested. They were tested, we will get tested. That gives you another barometer of where we are as a football team."
Wyoming and Texas are scheduled to kickoff at 6 p.m. Mountain Time. The game will be televised on the Longhorn Network.
University of Wyoming's Top 50 Football Players
The rules are simple: What was the player's impact while in Laramie? That means NFL stats, draft status or any other accolade earned outside of UW is irrelevant when it comes to this list.
This isn't a one-man job. This task called for a panel of experts. Joining 7220's Cody Tucker are Robert Gagliardi, Jared Newland, Ryan Thorburn, and Kevin McKinney.
We all compiled our own list of 50 and let computer averages do the work. Think BCS -- only we hope this catalog is fairer.
Don't agree with a selection? Feel free to sound off on our Twitter:
@7220sports
- #Top50UWFB
- University of Wyoming's Top 50 Football Players
More From My Country 95.5