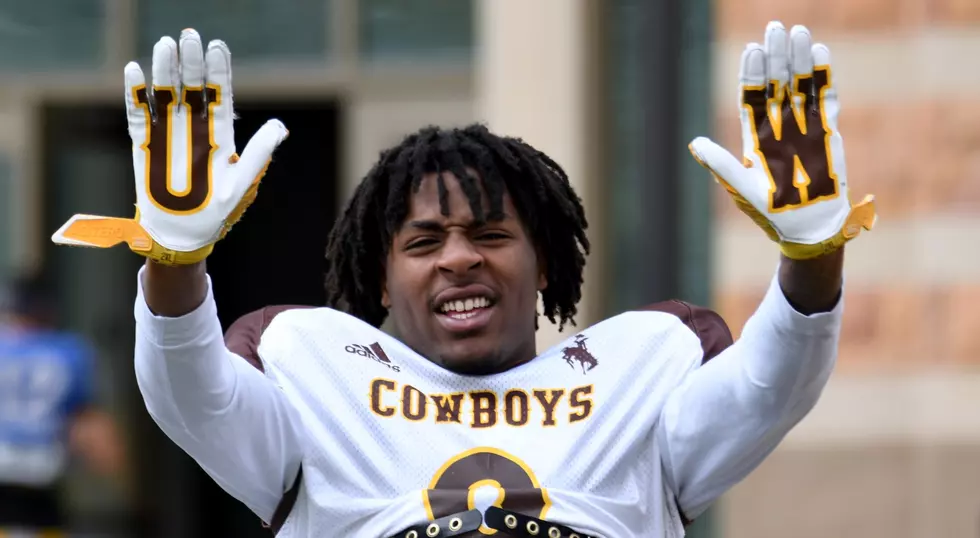 Kolbey Taylor Named to Feldman's College Football 'Freaks List'
Redshirt freshman cornerback Kolbey Taylor has a little fun before Tuesday's practice inside War Memorial Stadium./ DJ Johnson photo
* University of Wyoming press release
LARAMIE -- Wyoming sophomore cornerback Kolbey Taylor received a special honor on Tuesday when he was named to Bruce Feldman's College Football Freaks List for 2023.
Feldman, the National College Football Insider for The Athletic, ranked Taylor No. 22 on his list of 101 freaks entering the 2023 college football season.
Thanks to data provided by Wyoming Director of Sports Performance for Football Eric Donoval and his staff, Feldman described Taylor as follows.
"The Houston native finished his redshirt season for the Cowboys, making his first career start in their bowl game," wrote Feldman. "With his size and explosiveness, he evokes visions of another Group of 5 Freaks List corner, Tariq Woolen. That's a hefty comp, given how Woolen went on to tear up the NFL combine and had a monster rookie season for the Seahawks, but keep an eye on the 6-4, 190-pound Taylor. This offseason, he broad-jumped 11-2 and vertical-jumped 40 inches. Those are remarkable numbers, especially for a corner with that kind of frame."
Feldman's profile on Taylor also included a quote from Wyoming Defensive Coordinator Jay Sawvel regarding Taylor's development.
"A light turned on this winter and I have not seen anyone make the changes he has made," Sawvel said. "He will have a rough patch or two early in the year as a new starter, but if he continues on the trajectory he is on, I could definitely see him being a drafted player in time."
Cowboy Quarterback Peasley Impresses in First Fall Scrimmage
The Wyoming Cowboys completed their first major scrimmage of 2023 fall camp this past Saturday, and head coach Craig Bohl broke down what he saw in that scrimmage as he met with media following Monday's practice.
One of the first individuals that Bohl mentioned was graduate quarterback Andrew Peasley.
"I thought Andrew (Peasley) played well," said Bohl. "He continues to make good decisions and we're excited about that."
MORE UW FOOTBALL NEWS VIA 7220SPORTS:
* 'Vanilla Gorilla' locking up right tackle spot in Laramie
* Adrian Onyiego's Wyoming recruiting tale all-too-familiar
* Pokes Practice Report: Bohl 'encouraged' after Saturday scrimmage
* 'Wyoming made it easy' for Brycen Lotz to commit to Cowboys
* Wyoming in search of additional depth at defensive end spot
* Wyoming's Dawaiian McNeely to miss season with ACL tear
* Despite injuries, Buck Coors says he won't "pull up'
* Throwback Thursday: My Brother's Keeper
* DQ James' trademark smile, speed has returned
* Pokes Practice Report: Trial by fire in the trenches
* Wyoming fans better get to know the name Luke Sandy
In a follow-up question about Peasley's performance this fall, Bohl was asked how much more comfortable he thought Peasley was in the Wyoming offense as he enters his second year with the program.
"I think somewhere between significant to exponentially," said Bohl. "I know the sky was falling after our first game last year, but we also have to recognize in that game that Illinois had one of the best defenses in the country and had some of the best individual defenders (in the country). It wasn't as bad as what people thought. I think he is certainly further along, and I anticipate him playing well against the (Texas Tech) Red Raiders."
Other Takeaways From Last Saturday's Scrimmage
Overall, Bohl said the scrimmage provided him and his coaching staff a good evaluation of their team.
"We had a good scrimmage on Saturday and we learned some things," said Bohl. "I think Jamari Ferrell is coming along at the running back position. He's got to learn a little bit more, but he shows good competency beyond running the football in the other aspects of the game.
"Over on defense, once again I think our defensive front is encouraging with what they're doing."
Evaluation of Personnel and Developing a Depth Chart
Bohl said the Cowboys would hold another scrimmage this coming Saturday, Aug. 19 and following that scrimmage should be in position to potentially release an updated depth chart to media members early next week.
"We're in about the middle part of camp," said Bohl. "I would say after next Saturday's scrimmage and when we have another meeting like this next Monday we'll be in a position to give a depth chart -- I would like to do that for you guys. By that time, we will pretty much have our roster slotted in place as we get ready to go full bore and get ready for Texas Tech.
"This has been a good group to work with. We continue to make progress. I've been really encouraged about the team chemistry, the guys buying in and the older players continuing to push themselves."
Bohl Also Encouraged by Performance of Some Young Cowboys
The head coach was asked about some younger players on this year's Cowboy roster and how they are developing. A pair of those young players are in a battle for playing time at left offensive guard.
Those two are redshirt freshmen Wes King from Appleton, Wis., and Luke Sandy from Elizabeth, Colo.
"That has been an even battle -- an even battle," said Bohl. "We're continuing to utilize both those guys.  That is one of the advantages of developing depth."
Bohl was also asked to give his assessment of a couple young running backs in sophomore Sam Scott and true freshman Keany Parks.
"Sam (Scott) did some good things. He had the best yard-per-carry average (in the scrimmage)," said Bohl. "Some of it was off one play that was really blocked well, but Sam is doing well. I would anticipate him playing against Texas Tech.
"We had a staff meeting today where we were looking at personnel, saying what guys who are not on the initial two-deep may we need to call out of the bullpen. Keany (Parks) is a guy who has good running ability, so we're grooming him. We're in hopes that we're going to have enough depth that he won't have to play (as a freshman). But he is really gifted, and he's got a really good attitude."
True freshman quarterback Gage Brook is following in the footsteps of his father, Mark Brook, who played defensive end and outside linebacker for the Cowboys back in the early 1990s and coached his son at Rocky Mountain High School in Fort Collins, Colo.
"He's (Gage Brook) had a little bit of an injury bug, but he's doing some good things out there and we're encouraged about him," said Bohl. "I know his father had been here as a player. We're excited about Gage. He certainly passes the eyeball test with his stature."
Next Practice
The Cowboys will conduct their 11th of 20 fall practices on Tuesday morning at the North 40 practice fields.
Tickets to the 2023 Season
Fans interested in purchasing tickets to the 2023 Wyoming Football season may: go online at www.GoWyo.com/tickets; email tickets@uwyo.edu; call the UW Athletics Ticket Office at (307) 766-7220; or stop by the ticket office on the west side of UW's Arena-Auditorium.
Season tickets start as low as $170 and single-game tickets start as low as $20 for adults.
UW: University of Wyoming Cowboys' Greatest Games From the First Decade of the 2000's
More From My Country 95.5