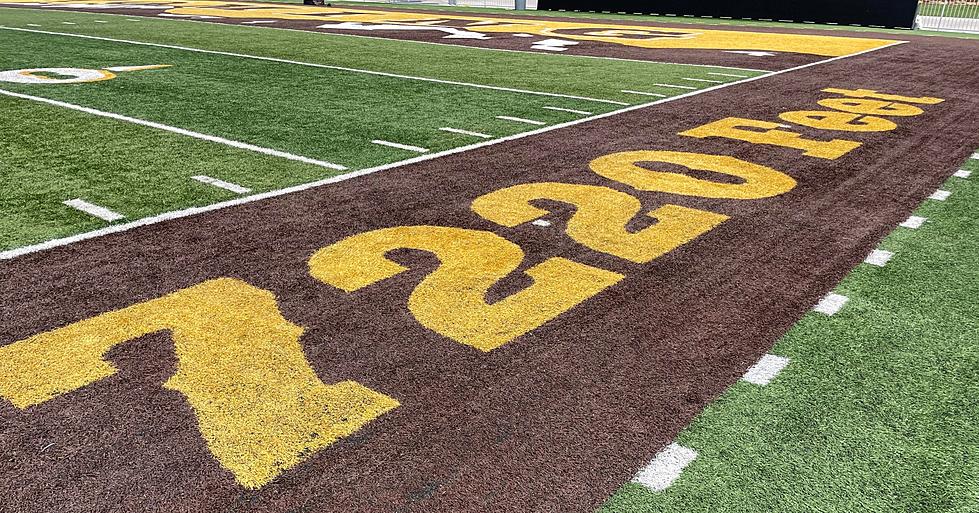 LOOK: Take a Sneak Peek at Wyoming's New End Zones
War Memorial Stadium's turf is being replaced this summer. The Mountain design in the end zone isn't going anywhere./ Cody Tucker photo
LARAMIE -- The turf inside War Memorial Stadium is being replaced.
It has been a decade since a new playing surface was installed in Laramie. Want some PR jargon?
The stadium's new Vertex CORE was designed to deliver the perfect combination of performance and beauty. Equipped with two legendary FieldTurf fibers, the Classic HD slit-film fiber and the CORE monofilament super fiber, the system delivers leading agility, durability, and aesthetics. Vertex CORE demonstrates FieldTurf's unwavering dedication to quality and strives to Change The Game.
In layman's terms, it's going to look awesome when the Pokes host Texas Tech Sept. 2 on national television.
Jed Easterbrook, Regional VP for Tarkett Sports/FieldTurf in the Mountain Region, was once upon a time a quarterback at Laramie High School. He also attended the University of Wyoming where his father, John Easterbrook Sr., was an offensive coordinator for the Cowboys.
Easterbrook shared a photo on social media of the new end zones, which still feature the mountain designs.
The Cowboys and Red Raiders are set to kickoff at 5:30 p.m. Mountain Time and the game will be televised on CBS. Season tickets are now on sale and individual game tickets will reportedly be available beginning July 12.
MORE UW ATHLETICS NEWS VIA 7220SPORTS:
* Memorial Service for Jim Brandenburg to be held at Arena-Auditorium
* 'Wyoming made it easy' for OT Brycen Lotz to commit to Cowboys
* Hunter Maldonado signs free-agent deal with Oklahoma City
* Wyoming announces game times for Portland State, New Mexico
* Limited spots still available for Logan Wilson football camp
* PODCAST: Godbout? On the fourth team? Nah
Just The Facts: Size Doesn't Matter For Wyoming's War Memorial Stadium
Did you know it would take the populations of
Gillette
(32,857),
Laramie
(32,381),
Rock Springs
(23,319),
Sheridan
(17,844) and Wright (1,200) to create a sellout inside Michigan's famed 107,601-seat
Big House
, the largest college football stadium in the nation?
For those of you not familiar with the
Cowboy State
, those are Wyoming's third through sixth most inhabited cities, along with the small mining town in Campbell County.
- Just The Facts: Size Doesn't Matter For Wyoming's War Memorial Stadium
More From My Country 95.5