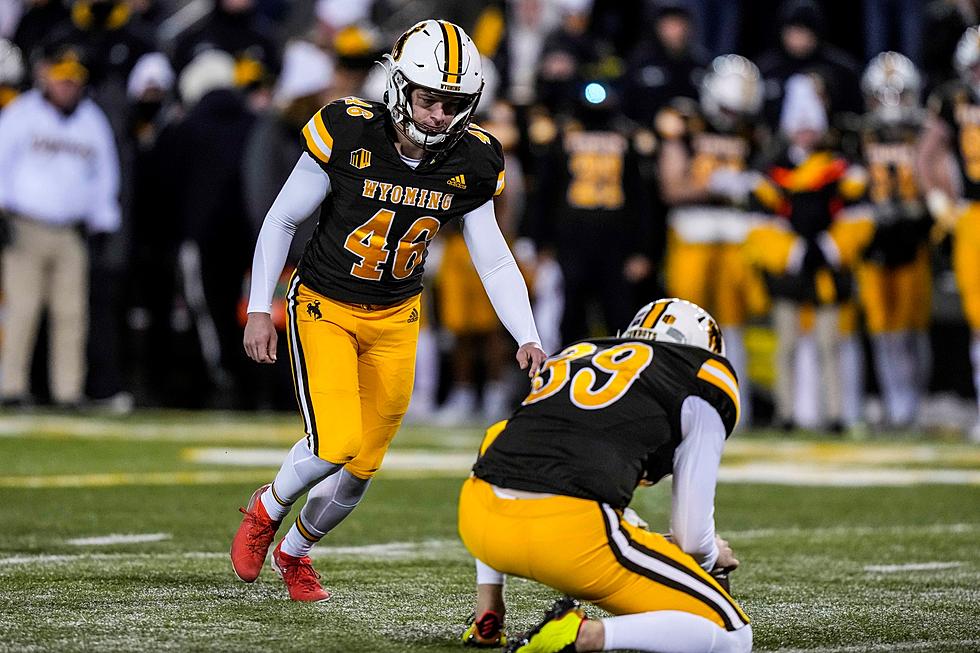 Preseason Accolades Continue to Roll In for Cowboys Kicker
The Sporting News announced its 2023 Preseason All-America Team on Tuesday and it named Wyoming junior John Hoyland as its First Team All-America place-kicker./ UW courtesy photo
* University of Wyoming press release
LARAMIE -- The Sporting News announced its 2023 Preseason All-America Team on Tuesday and it named Wyoming junior John Hoyland as its First Team All-America place-kicker.
While Hoyland has earned numerous preseason honors, this is his first First Team All-America honor this season.
Earlier this summer, Hoyland was named a 2023 Second Team Preseason All-American as selected by Associated Press, a Second Team Preseason All-American by Athlon Sports and a Third Team Preseason All-American as named by Phil Steele. He was selected by Mountain West Media to the 2023 Preseason All-Conference Team, as well as being named to the First Team Preseason All-Mountain West Conference teams as selected by both Athlon Sports and Phil Steele.
The junior from Broomfield, Colo., also was selected to the 2023 Lou Groza Award Preseason Watch List. In 2022, Hoyland was one of 20 semifinalists for the Groza Award.
MORE UW FOOTBALL NEWS VIA 7220SPORTS:
* 49ers ink Wyoming's all-time leading rusher 
* Pokes Practice Report: No 'TBA's' on this depth chart
* John Hoyland named an AP Preseason Second Team All-American
* Wyoming RB Jamari Ferrell sits atop initial fall depth chart
* Wyoming's proud Poly's Suiaunoa, Tulafono up for national award
* Pokes Practice Report: Sabastian Harsh nearing return
* Wyoming's Buck Coors, Will Pelissier undergo surgeries on Friday
* Fueling Cole Godbout's fire 'probably wasn't the best idea'
* Keany Parks: 'I feel like I belong in Wyoming'
* Q&A with Wyoming offensive coordinator Tim Polasek
Hoyland is coming off a 2022 season that saw him make 88% of his field goal attempts, ranking him as the best of any FBS kicker returning in 2023 who made more than 20 field goals last season.
He achieved that percentage while being one of only two kickers in the country with four made field goals from over 50 yards during the 2022 season. Among kickers with at least 50 career attempts, his career 84.9% accuracy is tied for second-best.
Hoyland was a 2022 First Team All-Mountain West Conference selection as voted by MW head coaches and media. He led the MW and ranked No. 7 in the nation in field goals made (1.69 per game) in 2022. He also ranked No. 2 in the MW and No. 18 in the FBS in field-goal percentage (88.0 percent), making 22 of 25 field goal attempts.
His 22 made field goals set a new Wyoming single-season school record, breaking the record of former Cowboy All-America kickers Cory Wedel, who made 20 field goals in 1996, and J.D. Wallum, who made 20 in 2001.  In 2022, Hoyland made four field goals of over 50 yards -- 51, 53, 53 and 55.
His 55-yarder against Tulsa was tied for the fifth longest in the FBS last season and was the longest in the Mountain West in '22.
University of Wyoming's Top 50 Football Players
The rules are simple: What was the player's impact while in Laramie? That means NFL stats, draft status or any other accolade earned outside of UW is irrelevant when it comes to this list.
This isn't a one-man job. This task called for a panel of experts. Joining 7220's Cody Tucker are Robert Gagliardi, Jared Newland, Ryan Thorburn, and Kevin McKinney.
We all compiled our own list of 50 and let computer averages do the work. Think BCS -- only we hope this catalog is fairer.
Don't agree with a selection? Feel free to sound off on our Twitter:
@7220sports
- #Top50UWFB
- University of Wyoming's Top 50 Football Players
More From My Country 95.5