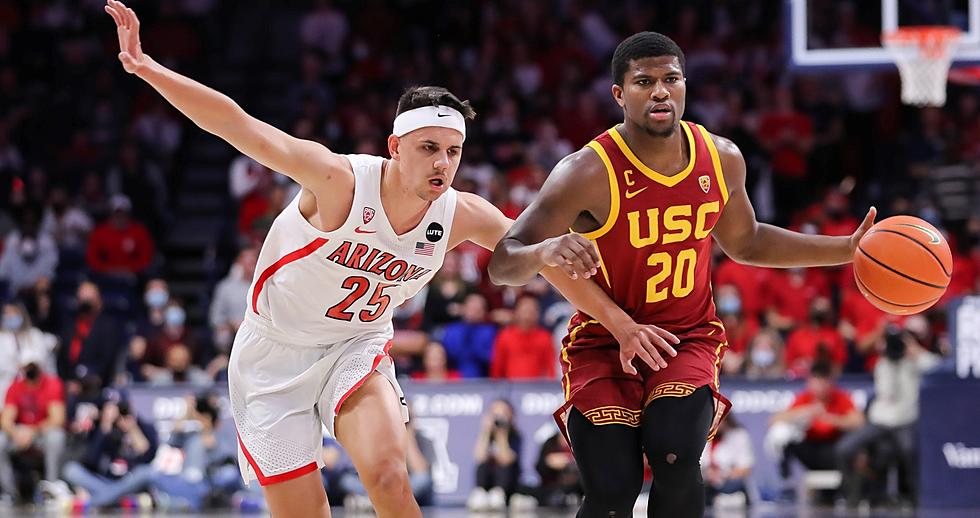 Wyoming basketball inks pair of USC transfers
TUCSON, ARIZONA - FEBRUARY 05: Guard Kerr Kriisa #25 of the Arizona Wildcats defends guard Ethan Anderson #20 of the USC Trojans during the first half at McKale Center on February 05, 2022 in Tucson, Arizona. (Photo by Rebecca Noble/Getty Images)
LARAMIE -- Any time Jeff Linder tweets out a GIF with a horse in it, accompanied by the phrase "Great day to be a Cowboy," good news is on the way.
Friday, Wyoming's head basketball coach did just that -- twice.
Now we know why.
Max Agbonkpolo and Ethan Anderson, who both played the last three seasons at Southern Cal, are headed to Laramie via the transfer portal. These two helped lead the Trojans to back-to-back NCAA Tournament appearances, including a trip to the Elite Eight in 2020-21. It would've likely been three straight trips to the Big Dance if not for the COVID-19 pandemic.
Both players were part of the No. 1 recruiting class in the nation in 2019.
Agbonkpolo (AG-bonk-polo), a small forward from Laguna Niguel, Calif., averaged nearly eight points and 3.5 rebounds per game last season. The 6-foot-9, 195-pound junior connected on 45.5% of his shots from the field and just 28.6% from beyond the arc.
His best outing came in a double-overtime victory over Oregon State. That night, Agbonkpolo netted 16 points on 6-of-12 shooting. He also pulled down six boards and blocked a pair of shots in the 94-91 win over the Beavers. Agbonkpolo, who started 18 of USC's 34 games, finished in double figures 10 times.
Named the No. 5 prospect in the state of California -- and No. 52 nationally by 247Sports -- in the 2019 recruiting rankings, Agbonkpolo was recruited by Arizona, Arizona State and Gonzaga.
Anderson, a team captain at USC, scored 4.4 points per outing last season and added more than two rebounds and assists from the point-guard position. The 6-foot-1, 210-pound Los Angeles product started 15 games, splitting duties with Agbonkpolo, and averaged 21 minutes per night.
In that same win over Oregon State, Anderson scored 12 points and dished out six assists. He also finished with five steals and drained 2-of-4 from deep. Anderson never turned the ball over more than three times in a game last season.
Anderson shot just 39.1% from the field and 32% from three in 2021-22.
247Sports ranked Anderson the No. 4 point guard in California coming out of Fairfax High School. Initially committed to Marvin Menzies and UNLV, Anderson also received offers from Colorado, Denver and Long Beach State.
Anderson was reportedly pursued by Cal, Washington State, Oregon State, TCU and others after entering the portal. Mountain West foes, Boise State, UNLV and Nevada were also under consideration before Anderson chose Wyoming.
Agbonkpolo and Anderson each have two years of eligibility remaining.
After the Cowboys fell to Indiana in the First Four game in Dayton last month, John Grigsby, Deng Dut, Eoin Nelson and Ben Bowen all entered the transfer portal. That foursome accounted for just 22 total points for the 25-9 Pokes.
Wyoming's leading 3-point shooter, Drake Jeffries, announced in March that he would pursue a pro career and has recently declared for the NBA Draft. Senior forward Hunter Thompson announced he will stick around for a fifth season and Hunter Maldonado is testing the NBA waters but remains open to returning to Laramie.
Linder still has one scholarship at his disposal, possibly two depending on Maldonado's decision. Jon Rothstein of CBS Sports reported UCLA guard Jake Kyman was also visiting Laramie this week.
Here are the Cowboys scholarship players:
Hunter Thompson
Jeremiah Oden
Xavier DuSell
Noah Reynolds
Graham Ike
Nate Barnhart
Kenny Foster
* Hunter Maldonado
Brendan Wenzel
Max Agbonkpolo
Ethan Anderson
Caden Powell
Wyoming lands in 16th NCAA Tournament
More From My Country 95.5