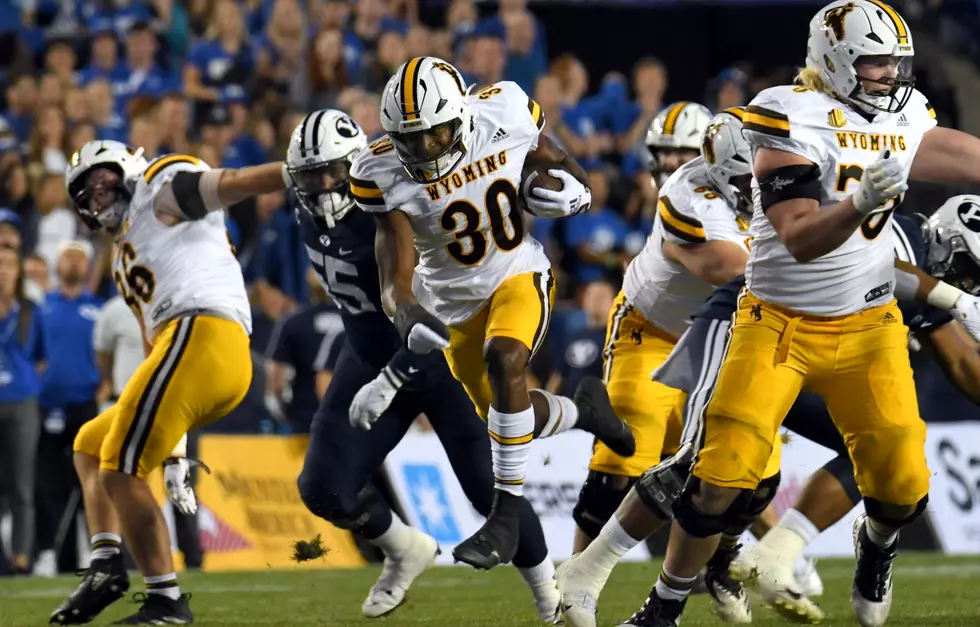 Wyoming Football: News and notes ahead of SJSU
Wyoming running back Dawaiian McNeely blows through the BYU defense on the Cowboys opening drive of Saturday night's 38-24 loss in Provo./ DJ Johnson photo
LARAMIE -- Fortunately the injury report doesn't include bumps and bruises.
If it did, let's just say the list would be extensive.
"It was the most physical game that I remember for a while," Craig Bohl said Monday during his weekly press conference, less than 48 hours after Wyoming fell to the No. 19 Cougars 38-24 in Provo. "You know, sitting on the bus, when our players hopped back on, I mean, it was a 16-round knockdown, drag-out fight. And I would say (BYU head coach) Kalani (Sitake) would say the same thing. I mean, it was a hard-nosed physical game."
Numerous players, on both squads, needed assistance getting back to the sideline Saturday night. UW's starting center Nofoafia Tulafono missed a snap. So did wideouts Joshua Cobbs and Wyatt Wieland. Quarterback Andrew Peasley also had a slight limp as left his postgame press conference.
Wyoming's ninth-year head coach announced Monday that receiver Will Pelissier suffered a shoulder injury after diving for a ball late in regulation. He is listed as day to day.
"They are banged up," Bohl emphasized. "So, they got in for treatment, but it's going to be important because this team we're playing is, I think, a really good football team. There cannot be a hangover both physically and mentally, and that's part of my job as head football coach to make sure we got these guys in the right mindset."
MORE UW FOOTBALL NEWS FROM 7220SPORTS:
* Another top-tier QB awaits Pokes this Saturday in Laramie
* Three stars of the game: Pokes vs. Cougars
* Tuck's Takes: Pokes come out swinging early, show they belong
* Turning point, unsung hero and what's next for UW football
Tuesday is "hell day" if you will. Full pads, full contact.
Will that change this week? Take a guess.
"Yeah, we're not changing," Bohl said. "And I'm not saying that I never have, but I think it's imperative ... The most important game of the season, it's this game. So we're going to be focused with that task at hand. And when you watch the tape, it doesn't take very long to get your attention. This is another really good, quality opponent."
Bohl is referring to San Jose State. The Spartans will pay a visit to War Memorial Stadium Saturday night. Kickoff is scheduled for 5:30 p.m. Mountain Time and the game will be televised by CBS Sports Network.
Here are some other news and notes from Bohl's Monday press conference:
* There is more bad news on the injury front. It didn't happen in Provo, but punt returner Caleb Cooley will miss the remainder of the season with a torn ACL, according to Bohl. Wieland will take over those duties like he did last Saturday night.
* UW running back Dawaiian McNeely said the club on his right hand could be coming off soon. The sophomore running back said he suffered nerve damage. He added the bandage hasn't caused him any issues. Still, he's ready to see it go, too.
* Bohl is still singing the praises of BYU quarterback Jaren Hall. There's good reason, too. The junior signal caller completed 81% of his passes while throwing for 337 yards and four touchdowns in the win over the Cowboys. "Their quarterback is probably better than what was advertised," Bohl said. "I mean, I was really impressed with him." Read more about the Cowboys' thoughts on Hall and San Jose State signal caller, Chevan Cordeiro right HERE.
* If it looked like the Cowboys missed a ton of tackles Saturday night, your eyes weren't deceiving you -- they did. "Our tackling was deficient," Bohl said. "Sometimes it's not until you go against upscale competition that, you know what, those things come about. We teach fundamentals, but as far as body position and all that stuff, when you're playing against really good people, those things come about. So we need to improve there. But I don't want to take anything away from BYU, they've got some exceptional players."
* The Cowboys more than held their own in the trenches against the Cougars. Bohl said the film proved as much. Peasley and Co. marched 57 yards on 10 plays on the opening drive Saturday night. Forty eight of those yards came on the ground. And, at times, it looked easy. "I thought our offensive line matched up," Bohl said. "We were a little bit concerned about that going in."
* Wyoming's defensive tackles, Cole Godbout and Jordan Bertagnole, each tallied seven tackles against BYU, tying safety Isaac White for the team lead in that category. Godbout added 2.5 tackles for loss and a quarterback hurry. Bertagnole, a Casper product, was also credited with a pressure on Hall.
* The oddsmakers didn't think the Cowboys stood a chance in Provo, labeling the visitors 21.5-point underdogs. Bohl, of course, could care less about that, but he knew his team, which is the third youngest in the FBS, had a tall task in front of it. "I thought the effort by our players was commendable," he said. "Our guys went out and they played hard. I mean, you're expected to do that. We attempted to win the game. You know, we didn't go into a shell late in the game, we attempted to do everything we could to win it."
* This is probably the point in which you say, 'but why didn't you go for an onside kick down 11 with 2:16 to play?' Here's your answer. "That was a measured decision on my part," Bohl said. "I felt like with that amount of time with the timeouts ... but they did pop one run after that. So that game is in the books." Happy? Probably not.
* Did Bohl feel like his defensive backs were in position to make plays Saturday night? Yes. Did they? Not many. He said a lot of that credit goes to Hall.
* The Bills Mafia is on its way. John "Bills Elvis" Lang and his buddies are making the 23-hour drive from Western New York to Laramie this Saturday. This will be the second consecutive year that has happened. "It's great to have that connection," Bohl said. "And, you know, Josh (Allen) has carried the banner of the state of Wyoming, not just Cowboy football. It's neat to see the Bills Mafia kind of adopt this team."
* Brent Brennan joked with his in-house media team that SJSU's last trip to the High Plains included rain, snow, sleet, sun and wind all in one game. Good news, coach, the weather -- so far -- looks good for October. There could be some showers, maybe a slight breeze, but temperatures look to be anywhere from the 60's during the day to a low of 38 at night. Once again, so far.
* Stay tuned to 7220sports.com throughout the week for more on the Cowboys meeting with San Jose State. You can download our free mobile app right HERE. You can also subscribe to our daily newsletter right HERE.
Just The Facts: Size Doesn't Matter For Wyoming's War Memorial Stadium
Did you know it would take the populations of
Gillette
(32,857),
Laramie
(32,381),
Rock Springs
(23,319),
Sheridan
(17,844) and Wright (1,200) to create a sellout inside Michigan's famed 107,601-seat
Big House
, the largest college football stadium in the nation?
For those of you not familiar with the
Cowboy State
, those are Wyoming's third through sixth most inhabited cities, along with the small mining town in Campbell County.
- Just The Facts: Size Doesn't Matter For Wyoming's War Memorial Stadium
More From My Country 95.5