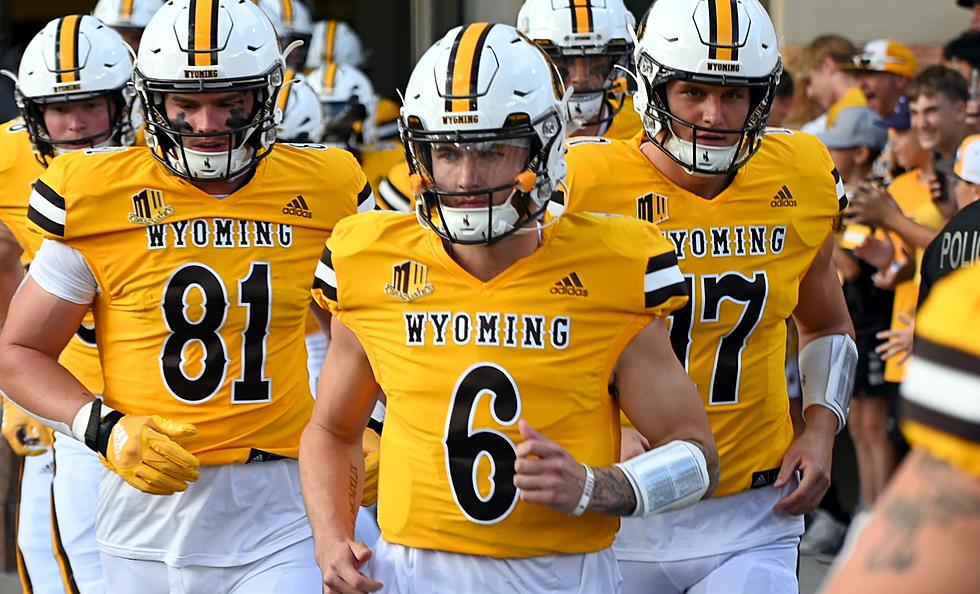 Wyoming Hosts Portland State Saturday in First-Ever Meeting
Wyoming QB Andrew Peasley (No. 6) leads the Cowboys onto the field before taking on Texas Tech last Saturday night in Laramie./ DJ Johnson photo
* University of Wyoming press release
LARAMIE -- After a thrilling season opening win over ranked Texas Tech, the Cowboys host Portland State on Saturday afternoon in War Memorial Stadium in what will be the first meeting between the two schools.
The contest will be stream on the Mountain West Network and is available on the MW App and GoWyo.com.
Ticket Information
Fans may order tickets online, via email or by phone at:
Go to GoWyo.com/tickets
•Email tickets@uwyo.edu
•Call (307) 766-7220
•Stop by the UW Athletics Ticket Office on the West Side of the Arena-Auditorium on the corner of Willett Drive and 19th Street.
Cowboys Receive Votes in Polls: The latest national rankings were released on Tuesday and the Wyoming Cowboys appeared in both rankings for the first time since the 2016 season. Wyoming earned three points in the Associated Press poll and earned eight points in the USA Today Coaches' Poll. Wyoming received votes in 2021 with votes in the Associated Press Top-25.
Peasley Uses Arms and Legs: Quarterback Andrew Peasley showed his grit and toughness on Saturday in a win over Texas Tech. He was 18-of-34 passing for 149 yards. The 34 attempts were a career-high and he also tied a career-best with two touchdown passes. Peasley also led the Pokes rushing for 68 yards on a career-high 15 carries.
Cowboy Backfield: The Cowboy backfield was balanced in the season opener against Texas Tech. In fact, seven different players recorded a carry in the contest. Peasley led the team in rushing with 68 yards on 15 carries. Sam Scott added 44 yards and a score on seven carries, all of which are career bests. DQ James added 35 yards on nine carries for the Pokes and Jamari Ferrell added 21 yards on seven carries in his debut.
A Note on Overtime: The Cowboys and Texas Tech went into double-overtime on Saturday. Wyoming also played double-overtime against Ohio in the Barstool Sports Arizona Bowl. It marked the first time in program history the Cowboys have played overtime in back-to-back games.
Wyoming's History Versus the Big Sky Conference: The Wyoming Cowboys have played eight of the current 12 football playing members of the Big Sky Conference and have a 62-14-3 record against those eight teams. Wyoming will meet Portland State for the first time.
Current Big Sky Members Wyoming's Record vs.
Cal Poly                                0-1
E. Washington                   0-0
Idaho                                     7-1
Idaho State                         3-1
Montana                              14-0
Montana State                  14-6
Northern Arizona             0-0
Northern Colorado          19-5-3
Portland State                   0-0
Sacramento State             0-0
UC Davis                              1-0
Weber State                       4-0
Totals                                    62-14-3
About Saturday's Match-up Wyoming vs. Portland State: Wyoming  is 1-0 on the season after the win over Texas Tech in the season opener. The Cowboy defense held one of the nation's top offenses in check in the final three quarters. A balanced offensive attack that featured 171 yards rushing and 149 yards passing lifted the Pokes in the win.
The Pokes also capitalized on special teams with kicker John Hoyland adding a pair of field goals including a career-long 56 yarder. Wyoming also blocked a field goal in the contest.
Portland State opened the season with an 81-7 loss at No. 15 Oregon.
MORE UW FOOTBALL NEWS VIA 7220SPORTS:
* Craig Bohl's rare fourth-down call sparks comeback
* Roach: 'He meant so much to his players and the Wyoming fans'
* Wyoming Football: News and notes ahead of Portland State
* Paul Roach, legendary Wyoming football coach, dies at 95
* Tuck's Takes: Peasley's gritty performance propels Pokes
* Three stars of the game: Pokes vs. Red Raiders
* Behind the numbers: Wyoming vs. Texas Tech
* Wyoming wins double-OT thriller over Texas Tech, 35-33
* Rants & Raves: Texas Tech Edition
* Turning point, unsung hero and what's next for UW
The game was close early on, as Portland State answered Oregon's opening touchdown with one of its own, making the game 8-7 midway through the opening quarter. It was all the Ducks from then on out.
The offense is led by quarterback Dante Chachere. He led the team rushing for 53 yards in the contest and threw for 35 yards with a touchdown. The defense is paced by Linebacker Michael Montgomery, as he had 14 tackles at Oregon. Cornerback Travis West added nine tackles in the contest.
Wyoming-Portland State Series History: Today's meeting between Wyoming and Portland will be the first meeting between the two schools. It is the third-straight season that the Cowboys have faced a member of the Big Sky Conference after defeating Northern Colorado last season and downing Montana State in 2021.
Hoyland Named MW Special Teams Player of the Week: Wyoming junior place-kicker John Hoyland was named the Mountain West Conference Special Teams Player of the Week on Monday for his performance in Wyoming's 35-33, double-overtime victory over No. 24 Texas Tech last Saturday.
Hoyland was a perfect 2 for 2 in field goals against the Red Raiders and was a perfect 3 of 3 in point-after-touchdown attempts. In the second quarter of last Saturday's game, Hoyland made a career long 56-yard field goal. It was the longest kick since Billy Vinnedge hit a 57-yarder against Air Force on Oct. 20, 2007.
Career Firsts : Wyoming scored 35 points in the contest against No. 24 Texas Tech. In that game, three Cowboys scored their first career touchdowns. Wyoming's first score of the came on a four-yard reception by fullback Caleb Driskill. Running back Sam Scott found the end zone on a 16-yard rush for his first career score. In overtime, John Michael Gyllenborg recorded a touchdown that tied the contest, as Scott added a rush for a two-point conversion to win the game.
On the defensive side of the ball, nickel Wrook Brown recorded his first career interception. Defensive tackle Jaden Williams recorded his first career sack in the contest.
Win Over a Ranked Foe : Wyoming's 35-33 double-overtime win over No. 24 Texas Tech marked first win for the Pokes over a Top 25 team since the 2016 season.  In 2016, Wyoming defeated San Diego State on Nov. 19 in Laramie by a score of 34-33.  The Aztecs were ranked 24th in the Associated Press poll and 25th in the Coaches poll at the time.
Earlier in the 2016 season, the Cowboys defeated Boise State on Oct. 29 by a 30-28 score. The Broncos were ranked 13th in both national polls at the time.
Another Overtime for the Cowboys: Wyoming's 35-33 win over No. 24 Texas Teach in double overtime marked the second-straight overtime contest for the Cowboys after also going to extra time against Ohio in the Barstool Sports Arizona Bowl to end last season. It also marked back-to-back season that Cowboys have played overtime in their home opener after downing Tulsa 40-37 in double-overtime last season.
University of Wyoming's Top 50 Football Players
The rules are simple: What was the player's impact while in Laramie? That means NFL stats, draft status or any other accolade earned outside of UW is irrelevant when it comes to this list.
This isn't a one-man job. This task called for a panel of experts. Joining 7220's Cody Tucker are Robert Gagliardi, Jared Newland, Ryan Thorburn, and Kevin McKinney.
We all compiled our own list of 50 and let computer averages do the work. Think BCS -- only we hope this catalog is fairer.
Don't agree with a selection? Feel free to sound off on our Twitter:
@7220sports
- #Top50UWFB
- University of Wyoming's Top 50 Football Players
More From My Country 95.5