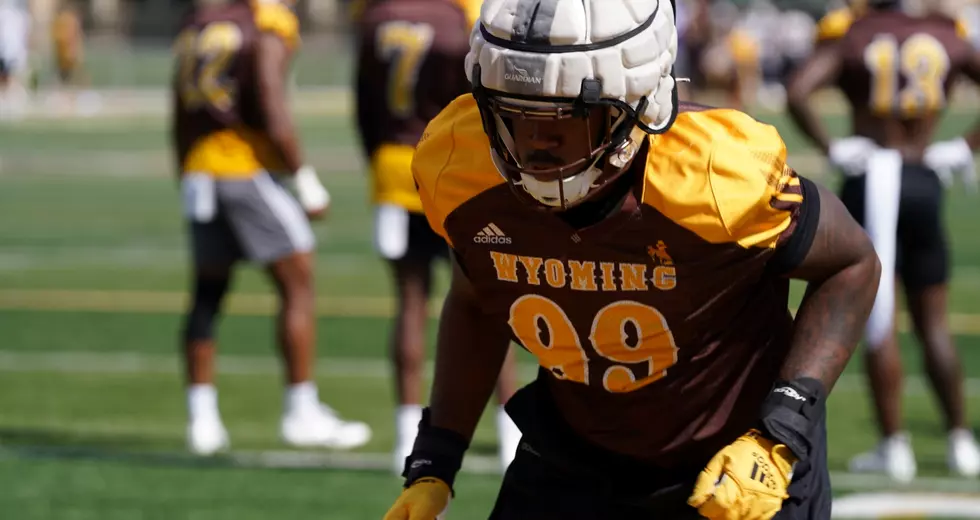 Wyoming in Search of Additional Depth at Defensive End Spot
Alabama transfer Keelan Cox will be sidelined for two months with a fracture in his right hip./ UW courtesy photo
LARAMIE -- Who is going to step up?
Craig Bohl is looking for a fourth guy in the middle of his defensive front. Wyoming's head coach wants at least one more pass rusher, if not two, to join Sabastian Harsh, Braden Siders and DeVonne Harris in the defensive end rotation.
Who will be that guy?
There are options -- and opportunities. The Cowboys will hold an 84-play scrimmage Saturday afternoon inside War Memorial Stadium.
"Tyce (Westland) is a guy we are taking a look at. And Kevin (Sjogren)," Bohl said on Friday afternoon. "Those are going to be the next guys up."
So, who are those guys?
MORE UW FOOTBALL NEWS VIA 7220SPORTS:
* Wyoming's Dawaiian McNeely to miss season with ACL tear
* Despite injuries, Buck Coors says he won't "pull up'
* Throwback Thursday: My Brother's Keeper
* DQ James' trademark smile, speed has returned
* Pokes Practice Report: Trial by fire in the trenches
* Wyoming fans better get to know the name Luke Sandy
* Mountain West unified, exploring options of adding programs
* Wyoming's Dawaiian McNeely suffers knee injury, status unknown
* Naz Hill confident he can immediately contribute in UW secondary
* Pokes Practice Report: Monsters in the Middle
* Q&A with Wyoming wide receivers coach Mike Grant
* Wyoming's Jamari Ferrell: 'I can't thank God enough for this'
Westland is a 6-foot-5, 240-pound sophomore from Pleasanton, Neb. The former Kearney Hub 6/8-Man (2A) Player of the Year has yet to appear in a game during his two seasons on campus.
Sjogren, a redshirt freshman, comes to Laramie from Palisade High School in Colorado where he earned 3A First Team All-State honors after tallying 161 tackles, including 70 solo tackles, two sacks, a tackle for loss, four quarterback hurries, one interception, two pass breakups and a pair of forced fumbles.
Keelan Cox, an Alabama transfer and Ethan Day (Modesto C.C.), along with incoming freshmen Jordan Turnbull, Tell Wade and Jaxon Galica, are all listed as defensive ends on the roster.
"I think we have three really consistent players," Bohl said, referring to Harsh, Siders and Harris. "We're looking to solidify who our fourth and our fifth are, because at that position, you play a lot of those guys."
Harsh missed the previous week of practice after undergoing minor knee surgery to remove some wires from his left knee. The sophomore from Scottsbluff, Neb., missed the entire 2022 campaign with a broken knee cap.
Bohl said Wednesday he expects Harsh to be ready for the opener Sept. 2 against Texas Tech.
Siders, who was named a Freshman All-American last fall, registered 44 tackles and seven sacks for the Cowboys. Harris added a team-high 8.5 quarterback takedowns to go along with 57 stops. The Minnesota native was named to the preseason All-Mountain West First Team this past July.
University of Wyoming's Top 50 Football Players
The rules are simple: What was the player's impact while in Laramie? That means NFL stats, draft status or any other accolade earned outside of UW is irrelevant when it comes to this list.
This isn't a one-man job. This task called for a panel of experts. Joining 7220's Cody Tucker are Robert Gagliardi, Jared Newland, Ryan Thorburn, and Kevin McKinney.
We all compiled our own list of 50 and let computer averages do the work. Think BCS -- only we hope this catalog is fairer.
Don't agree with a selection? Feel free to sound off on our Twitter:
@7220sports
- #Top50UWFB
- University of Wyoming's Top 50 Football Players
More From My Country 95.5