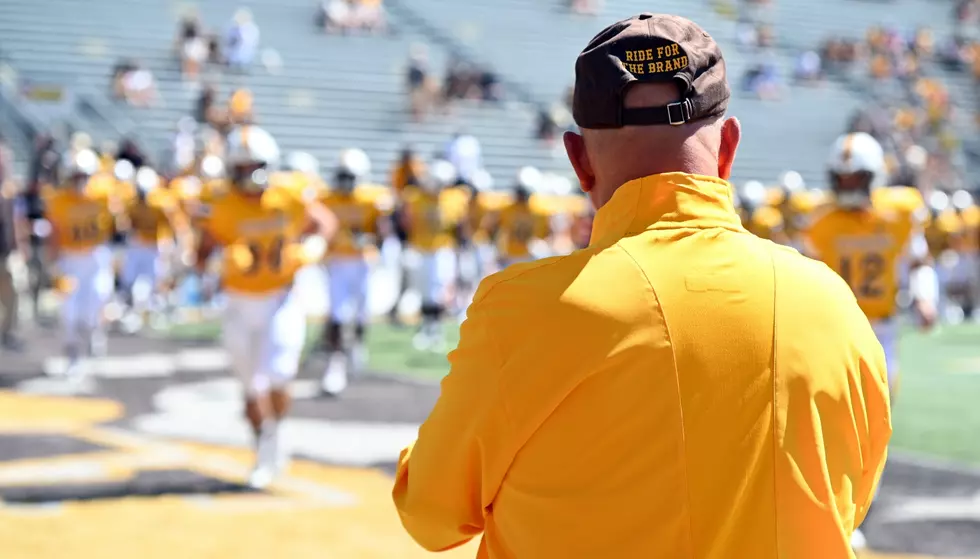 Wyoming offensive lineman enters NCAA Transfer Portal
Wyoming head coach Craig Bohl looks on as his team warms up before a meeting with Tulsa Sept. 3 in Laramie./ DJ Johnson photo
LARAMIE -- His signed letter of intent was one of the final commitments to land on Craig Bohl's desk.
Mykel Janise was one of three offensive lineman to ink with the Cowboys less than 24 hours before early signing day. Jagger Filippone and Wesley King were the others.
"I was concerned because all these guys had significant interest from other schools," Bohl said that afternoon. "They are good players. They have been vetted. We felt like they fit into our profile, but they had options."
Now Janise is exploring those.
The 6-foot-4, 265-pound freshman has entered the NCAA Transfer Portal after failing to see the field during his lone season in Laramie. The Beaumont, Texas product is the ninth Wyoming football player to leave the program this offseason via the portal, joining Cam Stone, Joshua Cobbs, Oluwaseyi Omotosho, Zaire Jackson, Keonte Glinton, Joey Braasch, Akili Bonner and Tyrese Grant.
Titus Swen briefly entered the portal after being dismissed from the program after the regular-season finale. The junior running back has since announced his decision to enter the NFL Draft.
MORE UW FOOTBALL TRANSFER NEWS VIA 7220SPORTS:
* Explosive, physical edge rusher headed to Laramie
* Tyrecus Davis picks Wyoming over CSU, SJSU
* Former Vandy wideout commits to Wyoming
* Wyoming defensive end enters NCAA Transfer Portal
* Wyoming moved quickly when Waylee hit portal
Janise, a former three-star prospect, didn't allow a single sack during his final season at West Brook High School. He also registered 49 "pancake blocks" and graded above 90% in each game, according to the Beaumont Enterprise newspaper.
He also received offers from Louisiana Tech, Texas State and Mountain West foe, New Mexico, among others.
Janise still has four years of eligibility remaining.
Wyoming has officially snagged two players from the portal this winter. Harrison Waylee, a running back from Northern Illinois, officially signed with UW in December. Former Vanderbilt wide receiver Devin Boddie Jr. is expected to make his transfer official on Feb. 1, the NCAA's traditional signing day.
The Cowboys have also added cornerback Tyrecus Davis from Navarro Junior college and edge rusher Ethan Day from Modesto Junior College. Day is a walk-on.
LOOK: Pokes' unis through the years
More From My Country 95.5