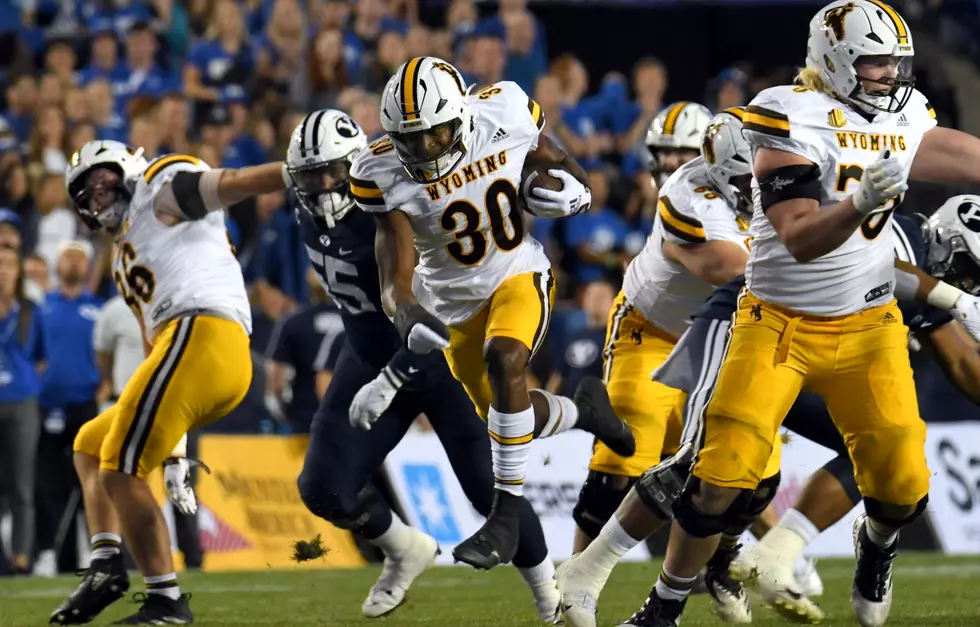 Wyoming's Dawaiian McNeely Suffers Knee Injury, Status Unknown
Wyoming running back Dawaiian McNeely blows through the BYU defense on the Cowboys opening drive of Saturday night's 38-24 loss in Provo./ DJ Johnson photo
LARAMIE -- Wyoming's running back room took another hit Wednesday morning.
Dawaiian McNeely suffered an apparent knee injury, according to Craig Bohl, and will undergo an immediate MRI. The junior from Ceres, Calif., is listed as the Cowboys' No. 1 running back on the initial depth chart of the 2023 season.
"We're concerned about Dawaiian McNeely," Wyoming's 10th-year head coach said. "He did not finish practice and we're looking at a potential knee injury ... We don't know (the extent), but we're going to get an MRI.
"... You know, we'll find out on Dawaiian. I feel for him. You know, he's gone through so many injuries. But obviously we wouldn't be pulling an MRI as soon as possible if we weren't concerned with some of the initial indicators."
McNeely is the second UW running back to go down this offseason, joining Harrison Waylee, who Bohl said is expected to miss the "first couple games" after undergoing knee surgery last month.
MORE UW FOOTBALL NEWS VIA 7220SPORTS:
* Naz Hill confident he can immediately contribute in UW secondary
* Pokes Practice Report: Monsters in the Middle
* Q&A with Wyoming wide receivers coach Mike Grant
* Wyoming's Jamari Ferrell: 'I can't thank God enough for this'
* Pokes Practice Report: Developmental dozen
* Throwback Thursday: 'The tears will be flowing'
* Former Wyoming tight end signs with Raiders
* Wyoming's John Hoyland named to Groza Watch List
Dealing with a number of setbacks last fall, including suffering nerve damage in his right hand, McNeely carried the ball just 63 times for 356 yards. That's an average of 5.7 yards per carry. He also scored a touchdown. That came on a 61-yard go-ahead jaunt to the end zone early in the fourth quarter of a 27-20 victory at Hawaii.
McNeely has rushed for 524 yards during his three seasons in Laramie.
Fellow running back DQ James was cleared for full participation earlier this week. The sophomore is still making his way back from a torn right ACL suffered late in the regular season. Bohl did express his faith in not only James, but Sam Scott and Jamari Ferrell in the Cowboys' backfield.
Bohl did offer some good news on the injury front, saying he expects defensive end Sabastian Harsh to be ready for Wyoming's opening game Sept. 2 at home against Texas Tech. Harsh, a Scottsbluff, Neb., product, suffered a season-ending knee injury just four days before the 2022 opener at Illinois.
"Correct. Oh, yeah," Bohl said emphatically when asked if the 6-foot-3, 242-pound sophomore would be ready for the season. "He had a wire put in his knee and unfortunately that broke. So, it was a, I don't want to say a cosmetic procedure that was done today, but he was playing really well. So we anticipate that's not going to be something that's going to hold him back."
UW vs. NIU September 11, 2021
More From My Country 95.5