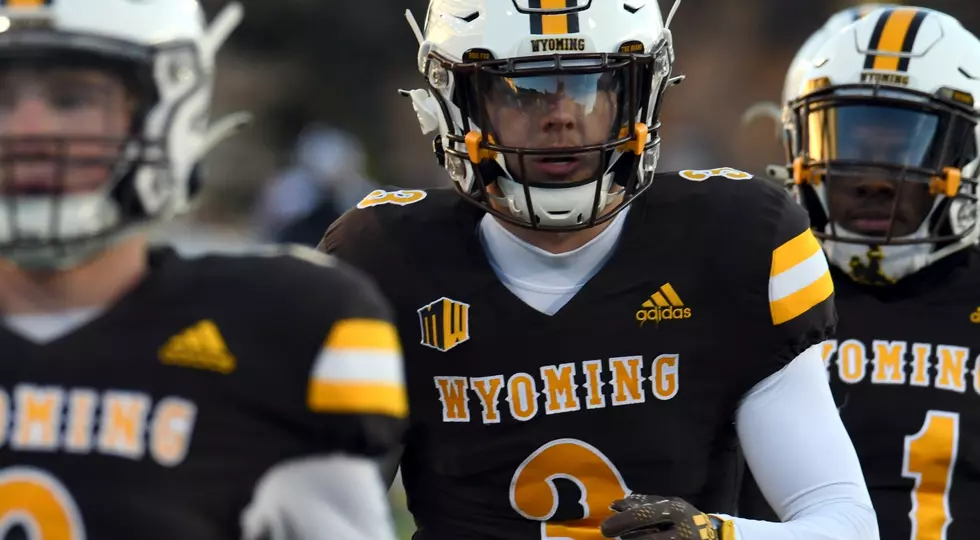 Wyoming's Young Safety Depth Facing Major Test in Opener
Cheyenne native and Wyoming safety Andrew Johnson goes through warmups before last Saturday's meeting with Boise State./ DJ Johnson photo
LARAMIE -- No Buck Coors, no problem?
That remains to be seen.
Aside from Wyoming's two starters at safety -- Wyett Ekeler and Isaac White -- none of the remaining nine on the roster have ever stepped foot on a college football field during an actual game. Coors, who has appeared in seven games during his three-plus seasons on campus, mainly on special teams, is expected to miss around a month after breaking his hand last week in practice.
Cause for concern?
"We'll be riding those two quite a bit," said Jay Sawvel, UW's defensive coordinator and safeties coach. "You know, we're not in a position where, like, the third is equal to those two."
Craig Bohl agrees.
"We have to develop not only depth, but competition," Wyoming's 10th-year head coach said, adding that the youngsters are "emerging." "We do feel good about our starters, but to think that you're going to go through the whole year with those two starters is a little bit unrealistic. So, we're not where we need to be, but we're making progress."
Who is the third guy in the rotation?
Cheyenne Central product Andrew Johnson.
The 6-foot-1, 193-pound sophomore crept up the Cowboys' depth chart after a strong offseason. Sawvel praised Johnson's progression, saying he's smart, runs well and has improved his fundamentals.
"He would be the first guy in at safety right now," Sawvel said. "He'll have to play for us early in the year, and that type of thing, but he's also put himself in a position to do that."
Johnson didn't hesitate when asked if he will be ready when Texas Tech rolls into town next Saturday.
"Yeah, absolutely," he said. "Obviously this is my third camp here and I feel like I'm in a position where I understand stuff. I'm ready to go fast and go make plays."
MORE UW FOOTBALL NEWS VIA 7220SPORTS:
* PODCAST: Let's put a bow on Pokes training camp
* Pokes Practice Report: Texas Tech is officially on the clock
* Wyoming WR Alex Brown: 'I think this will be a big year for me'
* Throwback Thursday: Neff's rainbow turns tide for Cowboys
* UW quarterback Evan Svoboda trying to win 'race to maturity'
* Senior Bowl eyes pair of Pokes, Easton Gibbs, Cole Godbout
* Ayir Asante looking to add new element to Pokes offense
* Q&A with Wyoming DC Jay Sawvel
* Wyoming RB Jamari Ferrell sits atop initial fall depth chart
* Wyoming's proud Poly's Suiaunoa, Tulafono up for national award
* Pokes Practice Report: Sabastian Harsh nearing return
TJ Urban, per UW's depth chart, will be the fourth reserve off the bench. The 6-foot-1, 205-pound Air Force transfer missed the entire 2022 campaign after suffering a season-ending knee injury during his first spring practice in Laramie.
Urban, a redshirt freshman from Omaha, Neb., was labeled a three-star quarterback prospect after throwing for more than 2,500 yards and adding another 3,200 on the ground during his career at Millard South. He also tacked on 36 touchdowns.
In other words, he is learning a completely new position.
"He's the most-improved player, defensively, that we have from the spring until now," Sawvel said. "In spring, he wasn't very good. You can just say it that way. You started to see it coming maybe a week and a half ago, where all of a sudden it's like, that kind of looks better. Then, it just kept getting better. This past week, you know, he's made plays like he belongs."
Sawvel said Urban was having trouble trusting his left knee after the ACL tear. He said he took that time to mentally absorb the playbook and bury himself in film study.
"I need to improve on getting stronger and back where I was before my injury," Urban said last March. "Also just, like, getting used to people running at you again, because that's a big part of the defense."
Another redshirt freshman from Nebraska could also be in the mix this fall.
Koa McIntyre, a 6-foot, 212-pound Fremont native, has also impressed this offseason. He has been working out with the No. 1 and 2 units during fall camp. Sawvel said he's "coming along," but compared him to where Johnson was a year ago.
"Koa is doing some of the things that I was most concerned about, really well," he said. "And some of the things that I wasn't as concerned about, he's kind of average at right now. So, there's a gap that we still have to close with him. I have confidence in him to be able to do that. Whether that translates into helping us this year on the field, I don't know.
"That just depends on the pace he makes those improvements."
McIntyre said he will be ready if and when his number is called.
"I think I can step in and just be comfortable back there," he said. "You know, just do my assignment. That's all I really do. I don't really have to make big plays, just do what I can do and just stop the big plays from happening.
"They've been telling me to keep my eyes in the playbook, keep my vision open. You know, just keep focusing on reps and everything."
The Cowboys and Red Raiders are set to kickoff at 5:30 p.m. MST. The game will be televised on CBS.
University of Wyoming's Top 50 Football Players
The rules are simple: What was the player's impact while in Laramie? That means NFL stats, draft status or any other accolade earned outside of UW is irrelevant when it comes to this list.
This isn't a one-man job. This task called for a panel of experts. Joining 7220's Cody Tucker are Robert Gagliardi, Jared Newland, Ryan Thorburn, and Kevin McKinney.
We all compiled our own list of 50 and let computer averages do the work. Think BCS -- only we hope this catalog is fairer.
Don't agree with a selection? Feel free to sound off on our Twitter:
@7220sports
- #Top50UWFB
- University of Wyoming's Top 50 Football Players
More From My Country 95.5