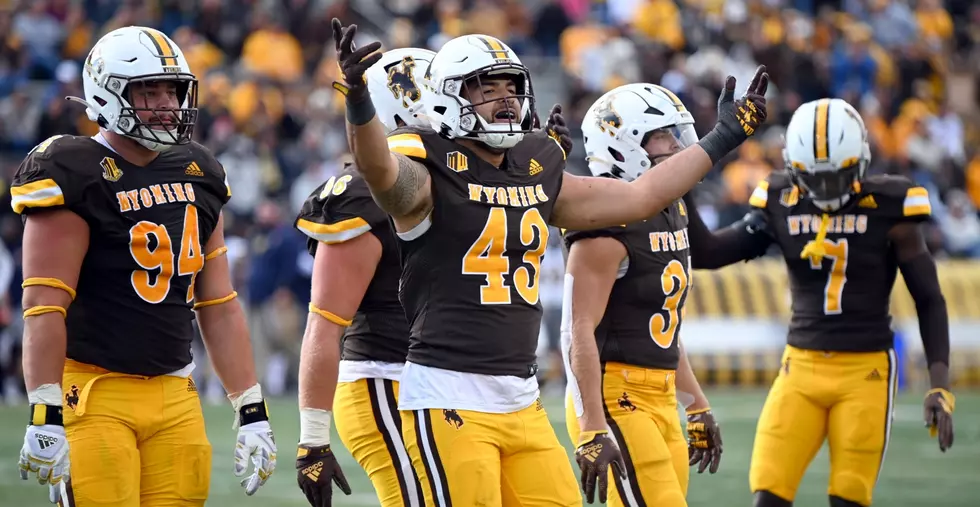 2023 Wyoming Football Season Tickets on Sale
Wyoming linebacker Shae Suiaunoa (No. 43) pumps up the crowd after picking off a fourth-quarter pass during the Cowboys 33-10 victory over Northern Colorado last Saturday in Laramie./ DJ Johnson photo
* University of Wyoming press release
LARAMIE -- Season tickets to the 2023 University of Wyoming Football season are now on sale. Season-ticket holders who are looking to renew their season tickets from last year and fans looking to purchase new season tickets are now able to buy tickets through the University of Wyoming Athletics Ticket Office for the 2023 season.
2023 Season Will Feature an Exciting Home Schedule
The 2023 season will feature a larger seven-game home schedule.
Wyoming will kick off the 2023 season on Sept. 2 when the Cowboys host Texas Tech of the Big 12 Conference. The Texas Tech Red Raiders are coming off an 8-5 season that saw them defeat Ole Miss in the Texas Bowl to end the 2022 season.
Rival Colorado State will be visiting War Memorial Stadium this season for the 115th edition of the "Border War". The Mountain West will release the dates of all conference games in the near future.
2022 Mountain West Conference Champion Fresno State will also be on Wyoming's home schedule in 2023.
The Cowboys' other two conference home games will be played against Mountain West Conference foes Hawai'i and New Mexico.
Wyoming's schedule will feature at least three home games in the month of September. In addition to the Texas Tech home game on Sept. 2, the Cowboys will host non-conference opponents Portland State on Sept. 9 and Appalachian State on Sept. 23.
How to Order Tickets
Current UW season-ticket holders may login to their online account and renew at: www.GoWyo.com/renew New season-ticket buyers may go to www.GoWyo.com/tickets
Fans who have questions regarding UW Athletic ticketing may also: email tickets@uwyo.edu; call 307-766-7220; or stop by the UW Athletics Ticket Office on the west side of the Arena-Auditorium located on Willett Drive.
Ticket Pricing
With season-ticket prices as low as $170 for adults, fans can attend seven Cowboy games for a low price of less than $25 per game. Purchasing season tickets for the 2023 season will save fans a considerable amount versus purchasing single-game tickets.
Season-ticket offers for Cowboy Football home games in 2023 include the following.
Renew or purchase your season tickets by March 10 for a chance to win prizes!  Prizes include pre-game sideline passes and a swag bag from Cowboy Football.
Monthly payment plans are available to fans. For more information, contact the UW Athletics Ticket Office by: emailingtickets@uwyo.edu; calling 307-766-7220; or stopping by the UW Athletics Ticket Office on the west side of the Arena-Auditorium located on Willett Drive.
Recent University of Wyoming Alumni graduating classes of 2019-23 are being offered a special season-ticket price of $105 per season ticket for general admission season tickets up to 2 tickets and will be provided a Brown Lot parking pass.
Full-time UW Faculty and Staff are eligible for a 20% discount on up to two 2 season tickets. UW Faculty and Staff may also pay for season tickets via payroll deduction for a limited time. Contact the UW Athletics Ticket Office for more information.
Wyoming Will Return an Exciting Core of Players, Including 11 All-Conference Players
The 2023 Cowboy Football team will feature some of the top players in the Mountain West Conference, including all four of last season's team captains in: linebacker Easton Gibbs, nose tackle Cole Godbout, quarterback Andrew Peasley and tight end Treyton Welch. Gibbs, Peasley and Welch all earned All-Mountain West Conference honors last year and Godbout returns from injury after being an All-Conference performer two seasons ago.
The Cowboys will return one of the nation's best place-kickers in First Team All-Mountain West place-kicker John Hoyland. Add to that group other All-Conference returnees in: defensive tackle Jordan Bertagnole and defensive end DeVonne Harris; offensive linemen Frank Crum, Emmanuel Pregnon and center Nofoafia Tulafono; as well as punter Clayton Stewart and you have a total of 11 returning players who received All-Conference recognition on either the Mountain West Coaches and Media Team, the PFF (Pro Football Focus) All-MW Team or Phil Steele's College Football All-Mountain West Team.
Wyoming returns 18 of 24 starters and 46 lettermen from a team that placed second in the Mountain Division of the Mountain West Conference in 2022, defeated rivals Air Force, Colorado State and Utah State, posted a 7-6 record and appeared in the 2023 Barstool Sports Arizona Bowl.
2023 University of Wyoming
Home Football Schedule
Date                 Opponents                                                  
Sat., Sept. 2      TEXAS TECH                                                    
Sat., Sept. 9      PORTLAND STATE                                           
Sat., Sept. 23    APPALACHIAN STATE                                      
TBA                  COLORADO STATE*                                    
TBA                  HAWAI'I*                                            
TBA                  FRESNO STATE*                                  
TBA                  NEW MEXICO*                                    
*Indicates Mountain West Conference games
University of Wyoming's Top 50 Football Players
The rules are simple: What was the player's impact while in Laramie? That means NFL stats, draft status or any other accolade earned outside of UW is irrelevant when it comes to this list.
This isn't a one-man job. This task called for a panel of experts. Joining 7220's Cody Tucker are Robert Gagliardi, Jared Newland, Ryan Thorburn, and Kevin McKinney.
We all compiled our own list of 50 and let computer averages do the work. Think BCS -- only we hope this catalog is fairer.
Don't agree with a selection? Feel free to sound off on our Twitter:
@7220sports
- #Top50UWFB
- University of Wyoming's Top 50 Football Players
More From My Country 95.5