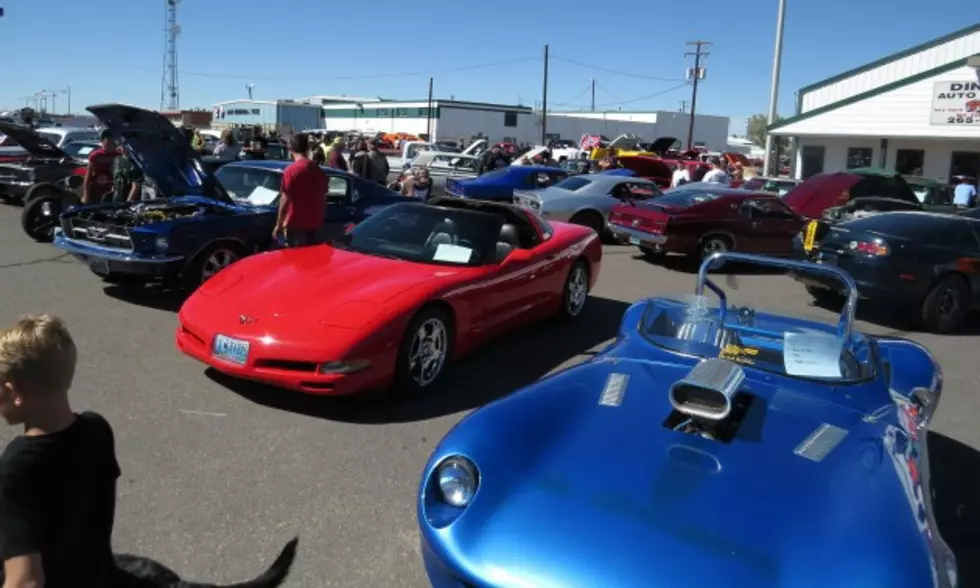 Monster: Car Show Raises Suicide Awareness
Tom Morton, Townsquare Media
Suicide awareness used to be somebody else's job.
"We have never had a reason to be involved in it up until now, and sad to say we have a reaon and we are involved now," Jenny Hunter said.
Her son 36-year-old son J.R., committed suicide in June.
Saturday, she and her family brought their mid-1950s Pontiac Safari station wagon to join 80 others with their antique, classic, muscle, rat rod and other vehicles to the fourth annual Scott Siedschlag Memorial Car Show at Dino's Auto Sales.
"He was a hunting guide, an avid sportsman, a photographer," Hunter said. "Many of his photos hang around around town in businesses, banks, and doctor's offices and homes. He loved the outdoors, he loved the wildlife outdoors. He was just a very giving person."
The show and its message are necessary, she said, "for breaking the silence, for people to be able to talk and go to anyone and say, 'hey, this is how I'm feeling, I need help,' and have no stigma or anything attached to that person."
Hunter encourages survivors of suicide to seek the support of those who have lived through it and in doing affirm life, he said. "You want to bring an honor to your loved one."
The car show to raise suicide awareness and prevention began three years ago as a tribute to Scott Siedschlag  who committed suicide Dec. 19, 2010, organizer Chris Ramirez said. "Initially, we didn't know what we were doing exactly, but we knew what our mission was going to be."
Car show organizers -- the Hot Rod Hooligans -- donate the money raised at the shows to the Natrona County Suicide Prevention Task Force. The money raised this year will be donated to the task force in J.R. Hunter's name.
The donations have averaged about $10,000 a year, fellow show organizer Norman Jackson said.
Scott was among a group of friends including Ramirez and Jac kson who were car collectors and traveled to car shows together, said Ramirez, who worked on a couple his cars at his shop formerly known as Ramirez Rod and Custom.
They encourage others who have lost friends and family members to suicide to consider their own events that honor their late loved ones because they may find an audience untouched by other awareness programs.
Ramirez, Jackson and other organizers learned that they're reaching a group often untouched by other suicide awareness programs in schools.
"There is not enough awareness, for one, in the age group from 25 to 45," Ramirez said. said.
"That age group is almost closed off," he said. "It's really hard to get them into a school for 25-year-old to 45-year-old people and sit them down in a captive audience and teach them about suicide awareness. That's where this fits really well because of the age demographic."
Jackson added that he's seen how their goal has worked out. "They've all had friends touched by suicide and that's why we get a lot of people here."
=======================================================
September is Suicide Prevention Awareness Month.
Casper resident Lance Neiberger lost his son to suicide nine years ago. He recently told K2 Radio suicide is like a monster in the closet that has power over us as long we don't want to deal with it. "But if we can open that closet door and see that there's something there that can be dealt with, then that monster doesn't hold the power that it used to."
K2 Radio will talk to others who have grappled with suicide and why it affects our communities and state so deeply.
And we will look what has and is being done to identify and tame this monster among us.
More From My Country 95.5