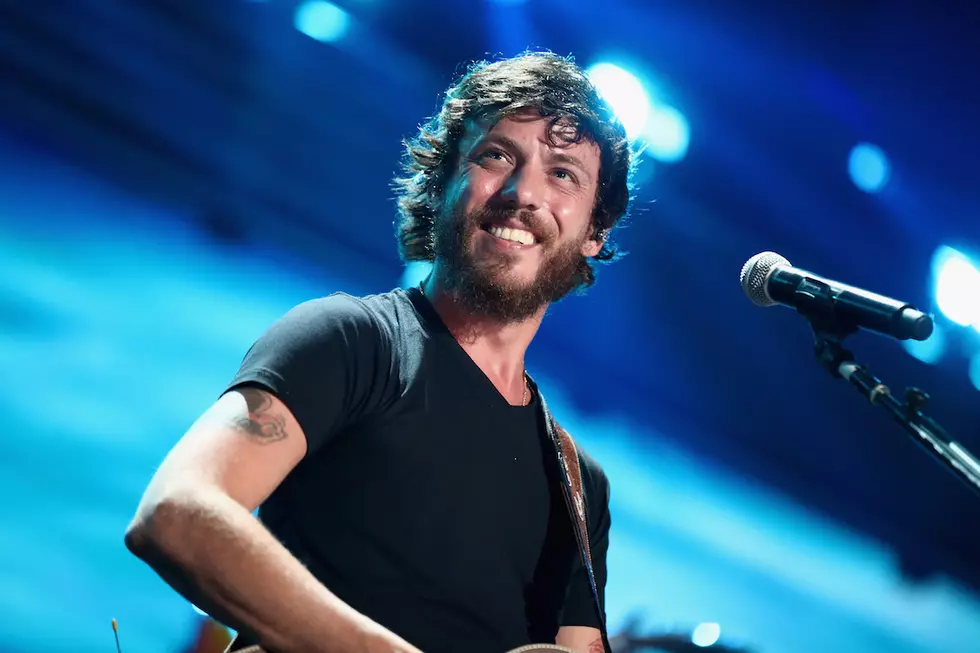 Everything We Know About Chris Janson's New Album, 'Real Friends'
Rich Fury, Getty Images
After months of slowly releasing new music and hinting at a full project to come, Chris Janson's third full-length studio album is almost here. At the end of July, the singer shared the news about his next project, Real Friends.
After fostering an even closer connection to fans through the meaningful messages of songs such as "Drunk Girl," Janson says that his new music will celebrate friendship, optimism and the power of positivity. "It's a really positively themed album, for some reason," the singer explained during the summer of 2019. "It just feels good, and happy. Everything seemed to be going my way while I was writing it, and still does ...
"I'm excited for the album," he added. "I think it's my best one yet." Read on to learn everything we know about Janson's upcoming new project.
The Title
With his latest batch of songs, Janson values the power of friendship and appreciates the relationship he has with his fans more than ever. At a fan club party during CMA Fest 2019, the singer says he realized that his listeners are connecting even more deeply to his new material.
"I had some really awesome testimonies this morning [at the party]," he said at the time. "They were just off the cuff from people, and they were pouring their hearts out."
Fittingly, Janson decided to honor that bond by titling the new project Real Friends. After all, friendship played a big part in the making of these new songs, too: "I made Real Friends with actual real friends. I produced the album with real friends, wrote all the songs with real friends, took all the photos for the project with my best friend and wife, Kelly," he explains in a press release.
The Release Date
Real Friends is set for release on Oct. 18.
The Record Label
Janson's new album will be released via Warner Music Nashville. The singer's previous two major-label full-length offerings were also released on the same record label.
The Producer
In collaboration with Tommy Cecil -- who is also listed as a co-writer on the album -- Janson made his first foray into producing on Real Friends. "It was my first time co-producing for real, like, taking the time to really make the songs in my house," the singer says. "It's just been a really fun process."
The Album Cover
The cover art for Real Friends features Janson seated, smiling back over his shoulder. The singer has said that his wife, Kelly Lynn, had a hand in making the project's images; he also posted a black-and-white photo of himself and his wife kissing to Instagram, captioning the image with the hashtags "#newmusic," "#album" and "#sneakpeek."
The Single
The first single off of Real Friends, "Good Vibes," came out in February. The singer co-wrote the track with Ashley Gorley and Zach Crowell, and he says that it's a fitting introduction to what promises to be an especially uplifting album. A message of optimism and positivity, the song also speaks to Janson's personal mantra.
"I'm just being myself. And I'm also choosing to be this way," he relates. "Words are so powerful. If you wake up and say, 'Man, are we blessed or what?! We are really blessed,' then you'll be blessed, and you'll feel blessed, and you'll feel happy and energized and wanna do things."
The Songs
Real Friends will be a 13-track project. Janson narrowed down the record's track list from about 40 songs he'd written for the album. A small handful of those songs are already available to fans: In addition to "Good Vibes," the singer has also put out the barn-burning "Say About Me" and the work-week anthem "Waitin' on 5." He also has been debuting the fun-loving "Check" -- which was in the running to be the album's first single -- during live shows.
The title track of Real Friends features Blake Shelton. Janson's co-writers on the project include Zach Crowell, Shy Carter, David Lee Murphy and more.
"I'm more excited about music now than I have been in all of my career," says Janson. "Thank you to my fans, who truly are my real friends and helped me get where I am today."
Real Friends Track Listing:
1. "Good Vibes" (Chris Janson, Zach Crowell, Ashley Gorley)
2. "Check" (Chris Janson, Tommy Cecil, Greylan James, James McNair, Mitch Oglesby)
3. 'Done" (Chris Janson, Mitch Oglesby, Jamie Paulin, Matt Roy)
4. "Normal People" (Chris Janson, Zach Crowell, Tommy Cecil)
5. "Say About Me" (Chris Janson, Shy Carter, Tommy Cecil)
6. "Waitin' on 5" (Chris Janson, Shy Carter, Tommy Cecil, Craig Wiseman)
7. "Hawaii on Me" (Chris Janson, Kelly Roland, Will Nance)
8. "Mine Does" (Chris Janson, Rhett Akins, Ben Hayslip)
9. "God's Gotta Be a Good Ole Boy" (Chris Janson, Brock Berryhill, Brad Clawson, Greylan James, Mitch Oglesby)
10. "Real Friends" (feat. Blake Shelton) (Chris Janson, Brad Clawson, Greylan James, Mitch Oglesby)
11. "Everybody's Going Through Something" (Chris Janson, Tom Douglas, Tony Lane)
12. "Beer Me" (Chris Janson, Brock Berryhill, Jason Blaine, Jay Brunswick, Mitch Oglesby)
13. "Country USA" (Chris Janson, David Lee Murphy, Mitch Oglesby)
The Tour
Janson's Real Friends Tour began on Sept. 20 in Dubuque, Iowa. The trek will take the singer to 22 cities throughout the United States, wrapping up on Dec. 7 in Peoria, Ill. Visit ChrisJanson.com for full details.
Who Else Is Releasing New Music in 2019?
More From My Country 95.5