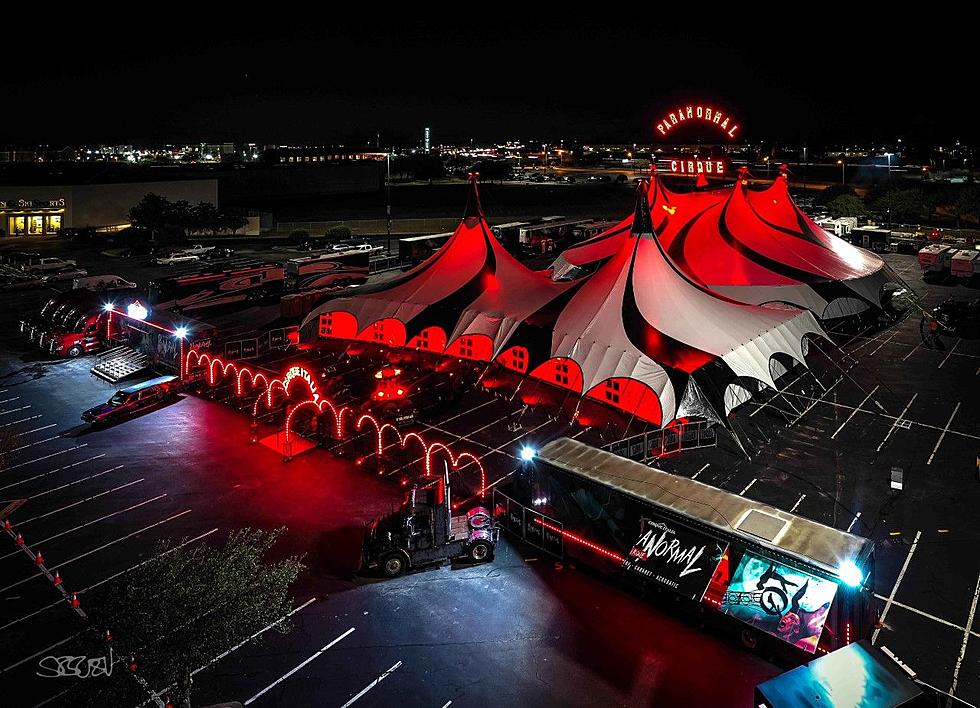 Cirque Italia Returning to Casper with 'Paranormal Cirque,' Tickets on Sale Now
Photos Courtesy of Cirque Italia
Ladies and gentleman - the circus is back in town! But under this big top, it's not lions and tigers and bears, oh my! It's not jugglers or trapeze artists or clowns either. In fact, it's not the circus at all.
It's 'Cirque Italia,' and it will blow your mind.
Cirque Italia is returning to Casper with their critically acclaimed 'Paranormal Cirque' show which will produce spooky, sexy, stunning acts from a variety of incredible performers.
"Are you ready Casper?" Cirque Italia asked in a press release. "Do you love thrilling, wicked, sexy, or even dangerous things? Paranormal Cirque will expose you to a unique creation of combined theatre, circus, and cabaret with a new European style flare. Cirque Italia is now presenting a brand-new show for a MATURE audience!"
This is a show in which you'll want to leave the kiddos at home. But rather it's a date night or a solo adventure, Paranormal Cirque will thrill you, chill you, and fulfill you.
"It's been going on for quite a while now," said Ben Holland, the Media Relations Manager for Paranormal Cirque. "It's actually been going on for more than 20 years now. It started over in Italy and it's only been in the United States since 2018. It was over there and was doing really well, so the owner of the company brought it to America for a new audience."
Holland, who doubles as a performer - he's a contortionist and can make his body do things that you wouldn't be able to believe if you didn't see it with your own eyes  - was raised in the circus. He's just 19 years old, and he's been with the company since he was 15. He'd been working in various circuses for 7 years prior to joining Cirque Italia and he says that a friend of a friend suggested that he come work for Cirque Italia and "put [his] bones out of place."
Cirque Italia has visited Casper before, first in 2021 and then in 2022. 2021 was, of course, the peak of the COVID-19 pandemic. Being a touring entertainment company traveling in a world that was, for all intents and purposes, shut down was not an easy venture. Only 'essential businesses' were allowed to remain open. But they made the best of the situation and did what they could to put smiles on faces.
"It's kind of an escape, you know?" Holland said. "It's something to look forward to. It's kind of like a different world that people can step into. People go to work and listen to the news and it's explosions over here, and wars over there, and problems everywhere. And it's just a lot to be berated by. This serves as a distraction."
In 2021, especially, people were looking for an escape. And that's what Cirque Italia provided, with their unique acts from countless talented performers.
"People need something to do," Holland reiterated. "They need something to look forward to - to go out and enjoy a night with their friends or family or loved ones. The people that need it. I think Cirque Italia is one of the most essential businesses."
Paranormal Cirque is inexpensive entertainment, but it's anything but cheap. The performers, the props, the set design - it's all a veritable wonderland of horror.
"Are you intrigued yet?" the press release asked. "Dare to let yourself get wicked for one night under our Big TOP and live on the edge with Paranormal Cirque show! You will fall into a parallel world and end up surrounded by monstrous creatures with hidden talents that will amaze you with the circus arts. This show is NOT for the faint of heart. You may have to catch your breath or try to stop your heart from racing during this adrenaline filled performance."
This show is not for the feint of heart. It is a glimpse into the darkness. It's a Danse Macabre. It's a circus of horrors for the dreamers, the dancers, the midnight marauders. The performers in this show have a dark side, but their light shines through their art as well.
"95 percent of our cast have been doing this forever," Holland stated. "Like, almost everybody that's here have parents who did it and grandparents that did it. This is just what they do. It's a family. It's a legacy."
And what a legacy it is. These performers defy gravity. They decry limits. They deny mortality.
And they do it with a smile on their face.
Paranormal Cirque is returning to Casper April 27, 28, 29, and 30. Showtimes are 7:30 p.m. on Thursday and Friday, April 27 and 28. Saturday, April 29 has two shows - one at 6:30 p.m. and one at 9:30 p.m. Sunday, April 30 also has two shows - 5:30 p.m. and 8:30 p.m.
For more information, or to purchase tickets, you can visit their website or call 941-704-8572.

Photos of Paranormal Cirque can be seen below:
Cirque Italia Returning to Casper with 'Paranormal Cirque,'
Cirque Italia is returning to Casper with their critically acclaimed 'Paranormal Cirque' show which will produce spooky, sexy, stunning acts from a variety of incredible performers.
More From My Country 95.5