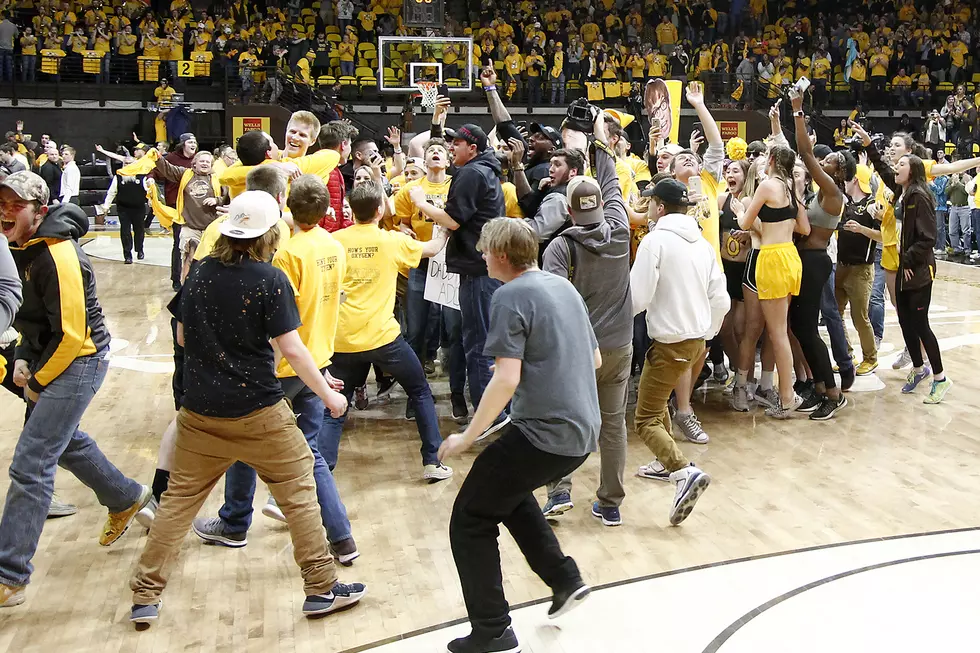 Cowboys Upset Nationally Ranked Wolfpack in Laramie [VIDEOS]
Seneca Riggins, Townsquare Media
Louis Adams free throw with 6.2 seconds left in double overtime helped the Wyoming Cowboys knock off No. 23 Nevada, 104-103, Wednesday night in Laramie.
Hunter Maldonado made two free throws with 3:16 left in the second OT that gave the Cowboys the lead for good. Hayden Dalton's three pointer with 1:29 remaining made it a two possession game. Dalton added a pair of free throws after two misses by Nevada's Caleb Martin. That made it 100-94 with just over a minute left.
After a three by the Wolfpack cut it to 100-97, Cody Kelley got in the lane and found Alan Herndon for a lob and basket with 32.6 left. That happened with five seconds left on the shot clock.
Wyoming (13-7, 4-3) won its second straight conference game and is alone in fifth place in the Mountain West standings. Justin James led the way with a career-high 33 points and 10 rebounds, but he fouled out in the first OT with 1:04 left. Dalton added 25 points and 9 rebounds, while Louis Adams contributed 17 off the bench. Maldonado finished with 13, which included 8-8 on free throws.
The Cowboys shot 48 percent for the game. They were 34-42 from the foul line, 81 percent. UW also had a 46-37 edge in rebounding, but they committed 17 turnovers.
Nevada (18-4, 7-1) lost its first league game. They still lead the MW by one game over Boise State. Jordan Caroline led four Wolfpack in double figures with 29 points. Cody Martin added 27 off the bench.
The Wolfpack shot 43 percent from the field. They struggled from the field, 31 percent, in the second half, but hung tough thanks to free throw shooting. Nevada was 23-23 on free throws until they missed their first with 1:40 left in regulation. The Wolfpack missed 8 of their final 15 free throws and finished 30-38, 79 percent, at the line.
The Cowboys jumped out to a 10-2 lead. A 14-4 Nevada run gave them their first lead at 16-14. Neither team led by more than by four the rest of the first half. UW got up by nine early in the second half, but the Wolfpack fought back and took a lead midway through the half. Wyoming led by eight with eight minutes left, but squandered it away.
James lay-up with 21.4 seconds left forced overtime. Nevada's Caleb Martin missed a late three-pointer that would've won it. Adams lay-up with 21.2 left in the first OT gave the Pokes an 89-88 lead. Caroline made a free throw with 10.7 left that tied it. The Wolfpack had a chance to win it, but failed to get a shot off.
Wyoming is now 4-0 in overtime games this season and all four have been at home. The victory also snapped a four-game losing skid to Nevada.
The Cowboys return to action Saturday at San Jose State. Tip-off is at 3 p.m., Mountain Time.
More From My Country 95.5