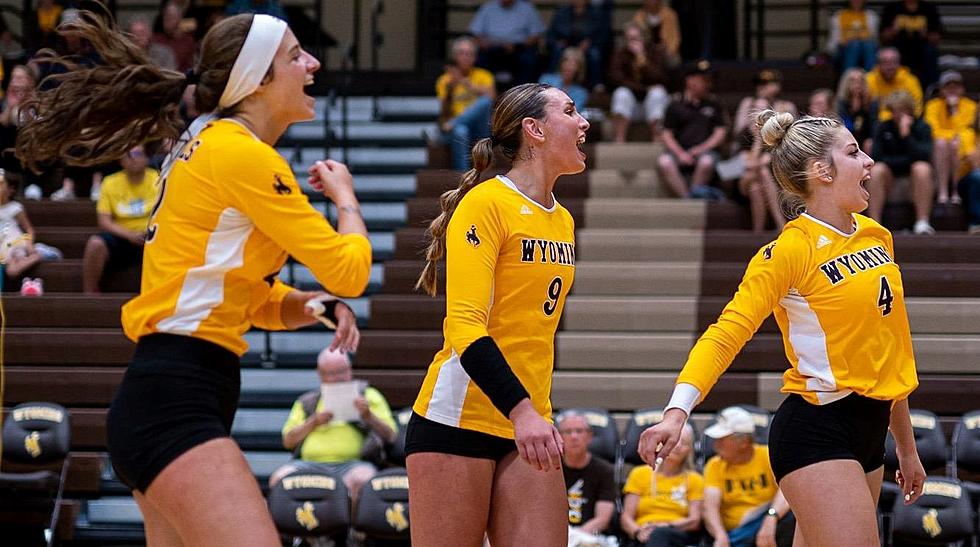 Cowgirl Volleyball Opens Kaylee Prigge Era This Weekend
The Wyoming Cowgirls open 2023 action this weekend with the first of two home tournaments this season, as Green Bay, South Dakota State and Winthrop come to town for the Rumble in the Rockies./ UW courtesy photo
* University of Wyoming press release
LARAMIE -- The Wyoming Cowgirls open 2023 action this weekend with the first of two home tournaments this season, as Green Bay, South Dakota State and Winthrop come to town for the Rumble in the Rockies. Wyoming is entering its first season under the tutelage of new Head Coach Kaylee Prigge.
The Cowgirls open play with a pair of Friday contests. UW opens at noon Friday against Winthrop before closing day one of the tournament at 7 p.m., against Green Bay. The tournament closes Saturday night with a 6 p.m., contest against SDSU.
The Cowgirls return 10 letterwinners from last season's squad, including the 2022 Mountain West Freshman of the Year, Tierney Barlow.
Barlow, who was also named Honorable Mention All-Mountain West last season, became the fifth student-athlete in program history to be named freshman of the year. Barlow ranked fourth in the league with a .366 hitting percentage and was tied for third on the team with 224 kills in 2022. Barlow, who led the squad with 89 total blocks a season ago, had seven matches where she tallied double-digit kills.
Also returning to the squad is setter Kasia Partyka, who was one of two Cowgirls to play in all 120 sets last season.
The junior from Poland was second in the Mountain West averaging 9.87 assists per set, while leading the conference with 1,184 total assists, a number that finished just outside the top-10 in program history for a single season. Partyka recorded 11 double-doubles on the season and had six matches with 50-plus assists and 14 with 40-or-more.
Wyoming native Corin Carruth also returns in 2023 after recording 224 kills (2.55 per set) last season.
Both marks are tops for returning Cowgirls this season. Carruth started in 22 matches in 2022 and had 11 matches with 10-plus kills, including a pair with 20-plus. The Casper native was fourth on the team with 264.5 points and recorded five double-doubles last year. Joining the Cowgirl trio in 2023 are returners Macey Boggs, Skylar Erickson, Sarah Holcomb, Kayla Mazzocca, Kendal Rivera, Rylee Schulz and Zoee Smith.
The six newcomers joining the Brown & Gold this fall includes four freshman and a pair of transfers. The Cowgirls welcome Holly Eastridge (South Carolina) and Sonte Stewart (Florida Atlantic) as transfers. Incoming freshman features Sierra Grizzle (Boise, Idaho), Paige Lauterwasser (Napierville, Ill.), Abi Milby (Casper) and Evelyn Udezue (Laramie).
Winthrop enters the 2023 season having been selected to finish second overall in the preseason Big South poll.
The Eagles return a ton of talent from last season's squad as Avery Jolley, Rachel McCollum, Isabella Murray and Brookelynn Thomas all return this season after being named Big South All-Conference last season. Karli Shepherd, who was an honorable mention selection in the Big South last season, also returns. Murray was the league's Freshman of the Year in 2022 and, along with her teammate, McCollum, was named the Big South's Preseason Co-Setters of the Year.
The second-place selection for 2023 is the highest for the Eagles since 2008.
Green Bay went 23-11 overall last season and finished third in the Horizon League.
The Phoenix are led by sixth-year Head Coach Abbey Sutherland and return First Team All-Horizon selection Calli Gentry. Gentry finished last season ranked 13th in the country with 1,229 assists in 2022. Cora Behnke returns this season after finishing second on the team with 292 kills (2.52 per) a season ago.
South Dakota State, who is led by former Wyoming assistant, Dan Georgalas, made an appearance last season in the NIVC. Georgalas is entering his fourth season at SDSU. The Jackrabbits return Summit League All-Freshman Team honoree, Masa Scheierman, who recorded 217 kills (2.52 per set) in 2022. Setter Raegen Reilly returns to SDSU this season after averaging nearly 10 assists per set last season.
All matches in the Rumble in the Rockies Tournament can be streamed live on the Mountain West Network.
10 Reasons Why You're Lucky to Be Living in Wyoming
Here Are the Top 10 Reasons Why You're Lucky to Be Living in Wyoming
- 10 Reasons Why You're Lucky to Be Living in Wyoming,
More From My Country 95.5