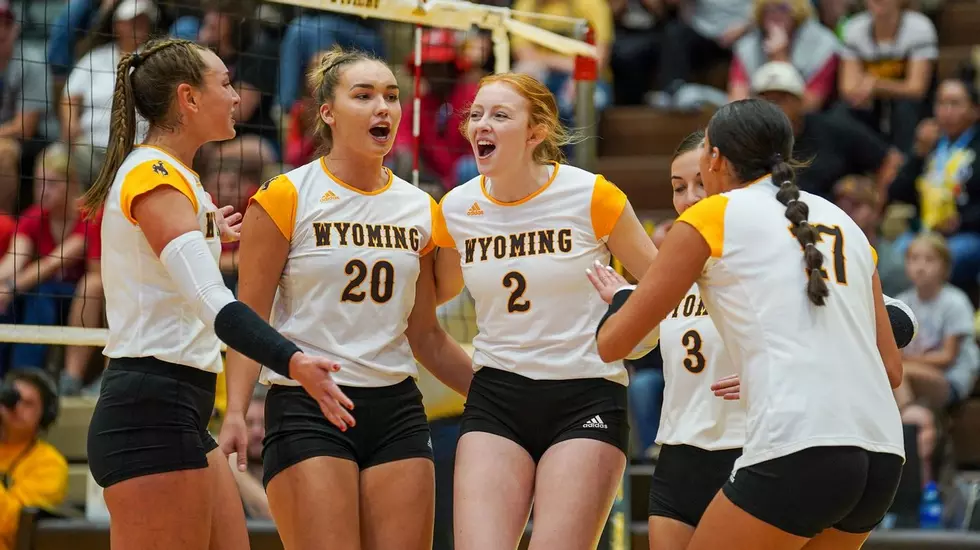 Cowgirl Volleyball Players Named AVCA Academic Team
The Wyoming volleyball team has its first full week of conference travel this week as the Cowgirls hit the road to face New Mexico at 6:30 p.m., Thursday, September 29 and Air Force Saturday, October 1 at 4 p.m./ UW courtesy photo
* University of Wyoming press release
LEXINGTON, Ky., – For the 15th consecutive season, the University of Wyoming volleyball team was honored by the American Volleyball Coaches Association (AVCA) with the Team Academic Award for the 2022-23 academic year.
The award, which is presented by the United State Marine Corps, was announced Thursday by the AVCA.
The Team Academic Award is given to teams that post a cumulative team GPA of a 3.30 or better for the academic year. UW boasted a team GPA of 3.55 in 2022-23 and had five student-athletes with a perfect 4.0 GPA.
The 2023 addition of the Cowgirls report to camp August 7 with the first day of practice on the eighth. Fans will get their first chance to get a glimpse of UW Aug. 19 in Cody as the Cowgirls will take on Montana State in an exhibition match at 5 p.m. Earlier that day, a youth clinic will be put on by the team at 11 a.m.
Wyoming officially begins the 2023 campaign with the Rumble in the Rockies Tournament held in Laramie Aug. 25 and 26.
From Bison to Triceratops - All of Wyoming's Official Things
Every state in our nation has chosen things that represent the state in one way or another to be official state things. Like a flower, or animal.
Wyoming
is no different.
The Equality State, or the Cowboy State, depending on which state slogan you want to go with, has a state flower. But did you know we also have a state tree and a state fish? Yes, we even have a state code.
To be an official thing, a member of the state legislature must write and submit a bill to the legislature declaring that a thing will be the official state thing. Then the legislature votes to pass the bill, or not, if it passes, the governor signs the bill into law and we have a new official state thing.
Here is what we have so far, all of Wyoming's official things. Now you can win big on Wyo Trivia Night if that's a thing that exists.
- From Bison to Triceratops - All of Wyoming's Official Things
More From My Country 95.5