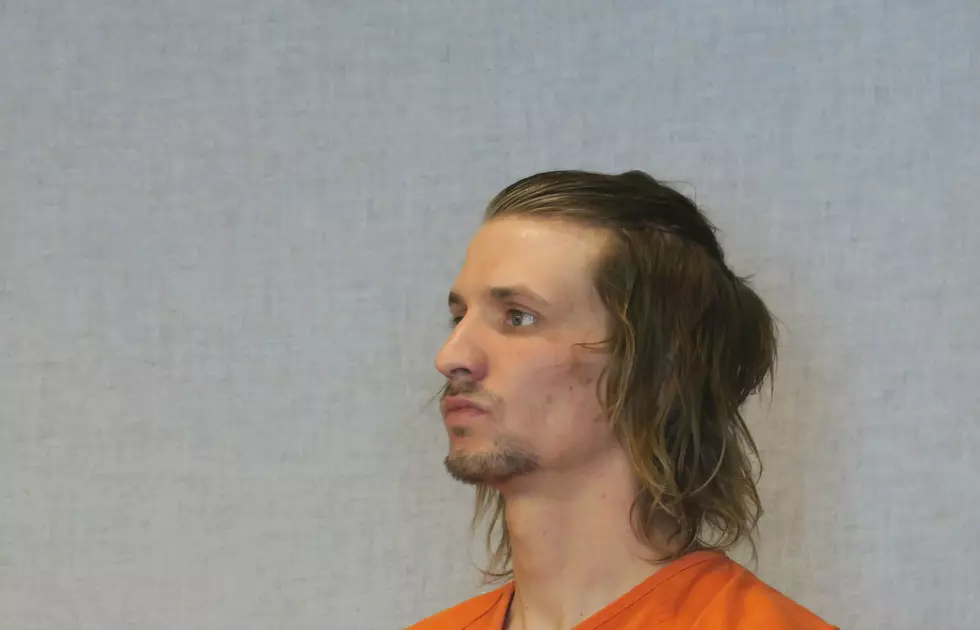 Defense Attorney: Casper Man Who Killed Mother Was Mentally Ill
Tom Morton, Townsquare Media.
Attorneys representing a man facing murder charges won't contest that their client shot and killed his mother in February.
Public defender Joseph Hampton argued during the start of a murder trial Monday that Andrew Steplock believed demons told him to kill his mother in the week leading up to the shooting.
But Natrona County District Attorney Dan Itzen told jurors that Steplock knew what he was doing the early morning hours of February 26. That included making the decision to shoot and kill his mother.
Records from the Wyoming State Hospital will show that Andrew Steplock wasn't mentally ill when he shot his mother, Itzen said.
Andrew Steplock is charged with second-degree murder, felony murder, aggravated burglary and possession of a firearm with unlawful intent.  A five-day jury trial began Monday in Natrona County District Court. He pleaded not guilty and not guilty by reason of mental illness to the charges earlier this year.
During opening arguments, Itzen painted the picture of a good day for Deborah Steplock and her husband, Albert. They were getting ready to go on a vacation to Seattle the morning of February 26.
Instead, Andrew Steplock broke into his parents' home just before 1 a.m. Feb. 26. Prosecutors say he did so to steal money from his parents. When he was confronted by his mother in the home, he shot her. Deborah Steplock was on life support for two days so her organs could be harvested.
Itzen described the night of the incident as being a particularly cold night in Casper, but more so for the Steplock family.
After he shot and killed Deborah Steplock, Andrew Steplock drove to Denver before turning around. He was arrested after Colorado authorities found him sleeping in his car.
Andrew Steplock didn't know two Casper police detectives were on his trail after the shooting. Investigators found Steplock after tracking his cellphone.
The detectives interviewed Steplock in Larimer County, Colorado.
Andrew Steplock told them that he knew they tracked him to Colorado because he killed his mom, Itzen said.
In an interview jurors will watch later in the trial, Steplock tells detectives at least seven times that he was in his parents' home to steal money.
According to court records and Itzen's arguments, Andrew Steplock showed up at his parents sometime on Feb. 25. He asked to take a shower and to borrow money, but Deborah Steplock told him he needed to earn it. Andrew Steplock briefly tried to do some sort of yard work but gave up. He asked his mom if he could have money anyway.
Charging documents say Deborah Steplock took her son's house key off his keyring while he showered. She didn't want confrontation, but she was also getting frustrated with her son showing up to her home unannounced.
So that night, Andrew Steplock showed back up at his parent's home, where he shot and killed his mother.
When his key didn't work, Steplock broke a window and unlocked a deadbolt.
"This is a home invasion in the middle of the night," Itzen told jurors. "When he got caught, he gets rid of the witness and runs."
But Hampton argued Monday that Andrew Steplock suffers from psychosis, even if a Wyoming State Hosptial examiner didn't reach that conclusion.
Instead, Hampton said Andrew Steplock is a man possibly suffering from onset schizophrenia. He also was alienated from his family and lived alone in a warehouse downtown.
Steplock told a mental health evaluator that he was visited by "blood demons" in the days leading up to shooting his mother.
"He lives in a completely different world," Hampton said of his client.
Itzen said jurors need only to look at the number of decisions made in the time surrounding Steplock shooting Deborah Steplock.
"This is an easy case," Itzen said. The prosecutor also noted that Andrew Steplock made no mention of blood demons to detectives.
"Given the amount of evidence, (mental illness) would have to be their defense," Itzen said.
Andrew Steplock's sister testified that she overheard her brother and mother arguing on Feb. 25. Rebecca Johnston said she and her brother had "grown apart" in the years leading up to the shooting.
Johnston also said Deborah Steplock said she wanted to change the lock's on her home.
Casper Police Officer Keri Patrick was the last witness in Monday's proceedings. Patrick told jurors she was the first on the scene.
Jurors saw photos Patrick, an evidence technician, took at the scene. Patrick's photos included images of a single bullet casing found in the home while others showed the area on the floor where police first found Deborah Steplock.
Patrick said when she first got to the home, she found Albert Steplock attempting to give medical attention to his wife, who was laying on the floor.
Enter your number to get our mobile branded app
More From My Country 95.5