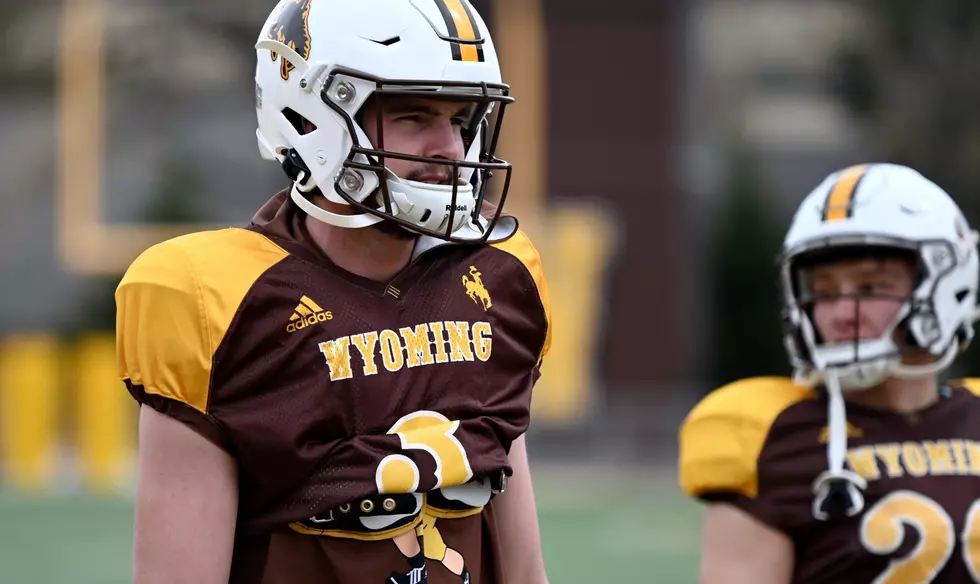 Former Wyoming QB-Turned-WR Gavin Beerup in the Portal
Former Wyoming QB Gavin Beerup is embracing a position change to wide receiver this spring./ DJ Johnson photo
LARAMIE -- At this time last year, Gavin Beerup was making the transition from quarterback to wide receiver.
Now, he's in the NCAA Transfer Portal.
The 6-foot-5, 215-pound sophomore penned a note on his Twitter profile Monday.
"Cowboy Nation, the last three years in Laramie have been some of the best times in my life," he wrote. "I would like to thank coach (Craig) Bohl and coach (Brent) Vigen for giving me an opportunity to compete at the Division I level and continue my playing career. To my teammates and the staff, you all have been instrumental in my development and many will remain in my life. After talking to those close with me it is in my best interest to enter the transfer portal with three years of eligibility left as a WR. I will always ride for the brand but I need to do what's best for me."
Beerup, a Camarillo, Calif., native, never lined up at wideout last season as he attempted to learn the position in the offseason. He arrived on campus in 2020 as a three-star quarterback out of St. Bonaventure High School, where he threw for 1,610 yards and 11 touchdowns during his senior year.
Southern Miss and UNLV offered Beerup. He chose Wyoming.
Beerup was thrust under center late in his true freshman season at UW, filling in for an injured Levi Williams in the final quarter against New Mexico. He completed one pass for 18 yards and was picked off in that stunning 17-16 loss to the Lobos.
He also saw mop-up duty in the season finale against Boise State. Beerup was 1-of-8 for 19 yards and a pick in a driving snow storm inside War Memorial Stadium.
That would be the final completion of his college career.
MORE UW FOOTBALL NEWS VIA 7220SPORTS:
* Pokes lose 240-lb RB, 4-star recruit to transfer portal
* Jayden Clemons: 'I definitely had to fight that demon'
* Pokes Practice Report: Who can make a play?
* Turns out, tough guys do come out of Orange County
* Wyoming's Craig Bohl still vows to develop despite P5 admiration
* Pokes lose three to NCAA Transfer Portal, overall count now at 12
* Cole Godbout prepping for final ride in Laramie
Beerup suffered a right shoulder injury that set him back in the QB race. In 2021, he served as the back up to both Sean Chambers and Williams. The following spring, the coaching staff asked him to switch positions.
"I wasn't ever expecting to ever have a position change in my life," he said last April. "Obviously, I played quarterback my whole life. I thought it was going to be my position. I was going to stick with it for however long I was going to play. Then, things switched like that, but I'm happy. It's a good group of guys in the room. They are all positive and they teach you a lot."
Beerup is the seventh Cowboy to enter college football's version of free agency since the spring window opened April 15, joining fellow signal callers Hank Gibbs and Caden Becker, Jordon Vaughn, Deshawn Woods, Emmanuel Pregnon and Evan Hiremath.
The number of transfers since the regular-season finale now sits at 16.
The spring portal closes April 30, a day after Wyoming's annual spring game.
Players who have left the program:
^ - WR - Gavin Beerup
^ - RB - Jordon Vaughn
^ OL - Deshawn Woods
^ WR - Evan Hiremath
* OL - Emmanuel Pregnon
^ DE - Caden Becker
^ QB - Hank Gibbs
^ OL - Mykel Janise (Louisiana Tech)
^ DE - Akili Bonner
^ WR - Tyrese Grant
^ OL - Jagger Filippone
# RB - Joey Braasch
^ CB - Zaire Jackson
* WR - Joshua Cobbs (Houston)
* CB - Cam Stone (Hawaii)
# DE - Oluwaseyi Omotosho (Oregon State)
* Full-time starters in 2022 at UW
^ Saw limited -- if any -- action in 2022 at UW
# Served in a reserve role in 2022 at UW
PRESS PASS: Roaming The War
Wyoming Cowboys vs. Montana State Bobcats
-PRESS PASS: Roaming The War
More From My Country 95.5