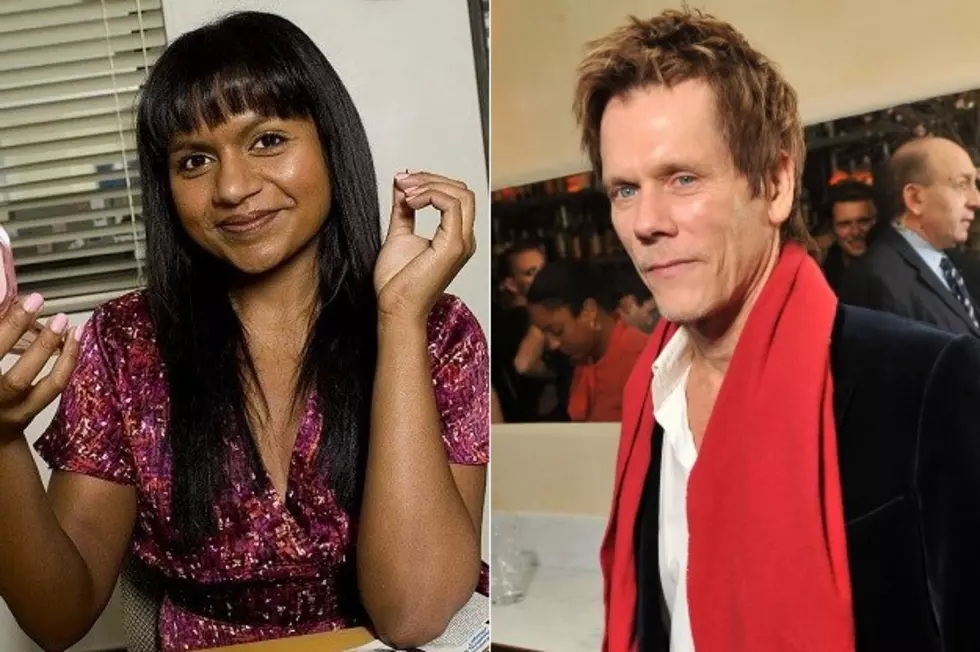 Fox Orders Up Mindy Kaling with a Side of Bacon, 5 New Shows
Well, it's not all bad news.  As shows like 'Breaking In,' 'Alcatraz,' and 'The Finder' fall by the wayside, FOX has given life to at least five new series for the coming season.  But of the five currently approved for season orders, what might some castings mean for actors currently engaged on on other shows?
Deadline reveal that FOX has picked up at least five new series in advance of their fall upfront presentation, some expected and some surprising.  Expectedly, 'The Office' veteran Mindy Kaling's pilot, now titled 'It's Messy' has been taken to series, along with a new Kevin Williamson drama 'The Following,' which features Kevin Bacon as a retired FBI profiler.
Kaling's pilot 'It's Messy,' executive produced by 'Office' co-star BJ Novak and which will likely somehow facilitate the exit of her 'Office' character Kelly Kapoor,' follows a 'Bridget Jones'-esque OB/GYN as she navigates her personal and professional lives.  Meanwhile, 'The Following' chronicles former FBI agent Ryan Hardy (Bacon) who leads the search to catch diabolical serial killer Joe Carroll (James Purefoy) who has created a cult of serial killers.  'Justified's Natalie Zea also stars, which doesn't bode well for her character Winona Hawkins.  Poor Raylan.
But that's not all!  FOX has also elected to pick up 'The Goodwin Games' from 'How I Met Your Mother' creators  Carter Bays, Craig Thomas and Chris Harris, which stars Becki Newton and Scott Foley as two of three siblings to whom their father leaves his fortune only if they agree to his terms.  Presumably, Newton's involvement will also supersede her current role on 'How I Met Your Mother' as a potential love interest of Barney Stinson's.
Also picked up is Dana Fox's 'Ben & Kate,' centering on a free spirited guy (Nat Faxon) who, under the guise of being his niece's nanny, moves in with his type-A, tightly wound sister (Dakota Johnson) and "in the process will help her re-enter the world."  Rounding out FOX's current order is 'The Mob Doctor,' starring former 'My Boys' lead Jordana Spiro as a young female Surgeon who juggles two worlds as she balances her career and a lifelong debt to the South Chicago mob.
We'd be worried about what some of these pilots might mean for the stars of existing shows, but altogether not a bad haul, right?  Which are you most excited to see?  Give us your picks, and tell us if you're sad about FOX's cancellations in the comments!
More From My Country 95.5