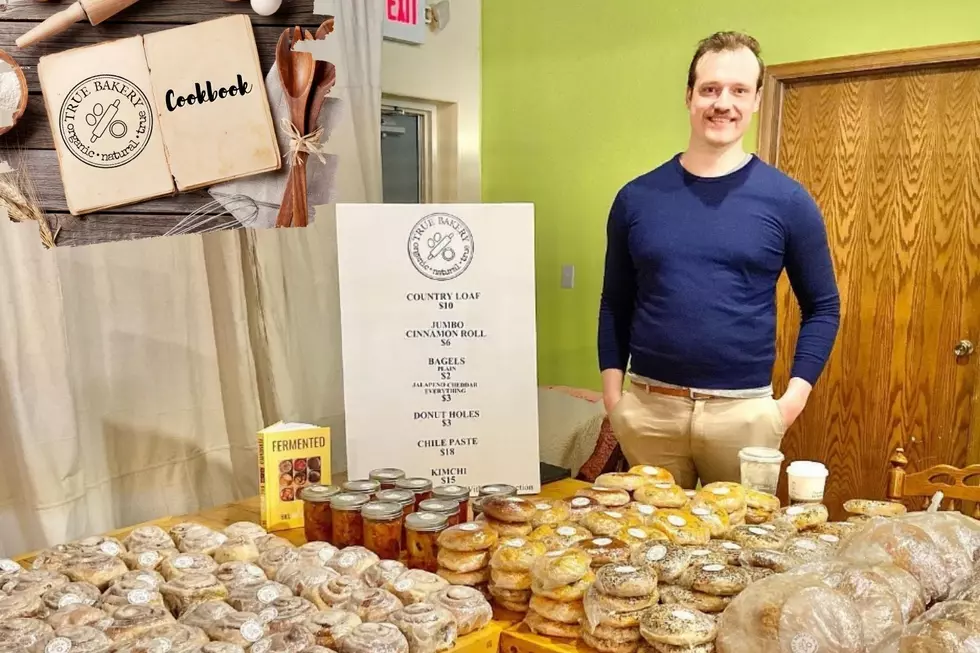 One Of Wyoming's Top 3 Bakeries To Release A Cookbook
True Bakery Facebook/CANVA
When you're one of the top bakeries in Wyoming, you know you have something good. When Chef Bill Brockley Jr. decided to move to Casper and start sourdough based True bakery, his dream to release a cookbook came with him.
The exciting news is the cookbook dream has become a reality for Brockley and True Bakery. On Friday January 27th, the condensed e-Book version of his cookbook 'The Art Of Sourdough: A Guide To True Bakery's Delicious Breads and Pastries' will be released, with a full-length hardcopy version available in June.
True Bakery began making the 100% sourdough based breads, pastries, donuts, cinnamon rolls, bagels and more in 2019 in Seattle, WA. When the pandemic hit in 2020, it derailed the momentum they had gained and the decision was made to make the move to Casper and open the bakery in 2021.
Brockley's inspiration for the cookbook was to share his knowledge of sourdough with the world.
 At True Bakery we aspire to teach as many people as possible the beautiful benefits and simplicity of the world of sourdough. The ebook will be chock full of knowledge, from the history of sourdough bread-making, to the health benefits all the way to how elevation affects baking, especially in terms of sourdough.
When he began in 2019, his cookbook was a notebook full of recipes that continued to grow and he knew he wanted to eventually share those recipes and techniques with others.
 We have had to adjust all of those recipes to this elevation of course, hence why we decided to put an entire chapter on elevation. Every recipe has gone through excruciating trial and error and research and development. Using ONLY organic flours from King Arthur, organic sugars from Florida Crystals as well as local honey and eggs from purveyors here in town, we strive to create the best possible products we can for our guests.'
If you have a love for baking and sourdough and want help learning it, his eBook will have 10 recipes and strategies to help you along.
In the ebook, we have decided to choose just 10 recipes with one secret bonus recipe. This was not an easy thing to do, as we love all of the products we produce, but narrowing it down for the ebook was essential. Readers will learn everything from how to create the very sourdough starter we use every day at the bakery, to our signature country loaf, even our Casper-Style Bagels (a term we have officially coined here in Casper) and more. The hardcopy, which is available for pre-order currently at the same link we'll provide for the ebook, will have much, MUCH more knowledge and EVERY one of our recipes we have EVER created for the bakery, from our day-to-day breads and pastries to the pies and hand-rolled Farfalle pasta salad dishes we provide for our catering services.
Currently True Bakery is in the process of opening their own Brick-n-Mortar location, which will be open in the near future, and are currently just taking orders for weekend delivery only.
If you'd like to make an order, go to the website Truebakery.com by Wednesday at 3pm for a Friday or Saturday delivery. That is also where you can go to order your copy of 'The Art Of Sourdough' cookbook.
30 Wishlist Places For Casper to Eat, Play and Shop
Casper's Favorite Restaurants For Comfort Foods
These were the top Casper areas spots chosen by you, for the best comfort food spots.
More From My Country 95.5