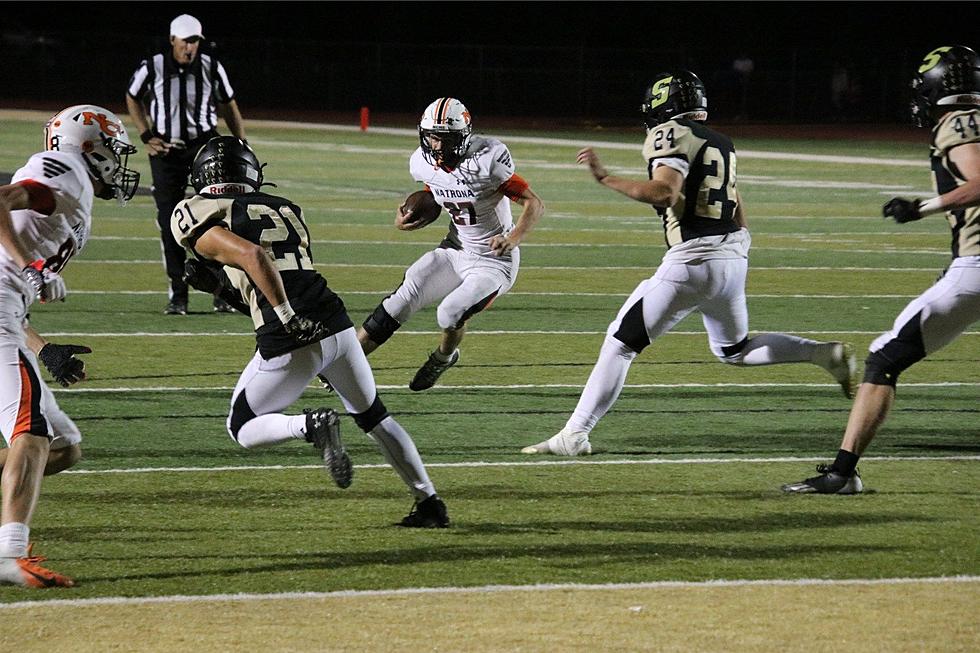 PhotoFest: Natrona Makes Quick Work of Cheyenne South
Photo Courtesy: Shannon Dutcher
Casper-Natrona kept themselves in the running for a 1st round home playoff game in 4A as they clobbered Cheyenne South on the road over the weekend 49-9. NC got off to a good start with a 55-yard pass to from Trig Berens to Beau Russell to give the Mustangs a 7-0 lead. South answered with a 41-yard field goal from Keelan Anderson (more on him a bit later) to cut the lead to 7-3
Natrona took over in the 2nd quarter as Berens threw a touchdown pass to Gus Bertagnole to bump the advantage to 14-3. Will Cantrell added a 1-yard TD plunge for the Mustangs which was followed by another TD pass from Berens to Dawson Clark that covered 38 yards. Cantrell found the end zone again from a yard out and sandwiched between that was another Keelan Anderson field goal, from 42 yards out. so NC led 35-6 at the halftime intermission.
Berens hooked up with Clark for another touchdown in the 3rd quarter and Daniel Yates scored for Natrona as well from a yard out.
South has endured a brutal season but a major highlight has been the play of kicker Keelan Anderson. Near the end of Friday's game, Anderson booted a monstrous 61-yard field goal that broke a state record that stood since 1982. He also connected from 41 and 42 yards in the game and has a 57-yard field goal to his credit this season. He's the real deal and will certainly attract college interest.
Natrona at 4-1 will travel to Rock Springs this week and South is 0-5 on the year. The Bison will host Cheyenne Central on Friday. Be sure and take a look at some great photos from this contest in Cheyenne from Shannon Dutcher. They can be located in our gallery below.
Natrona-Cheyenne South Football
Natrona-Cheyenne South Football
More From My Country 95.5