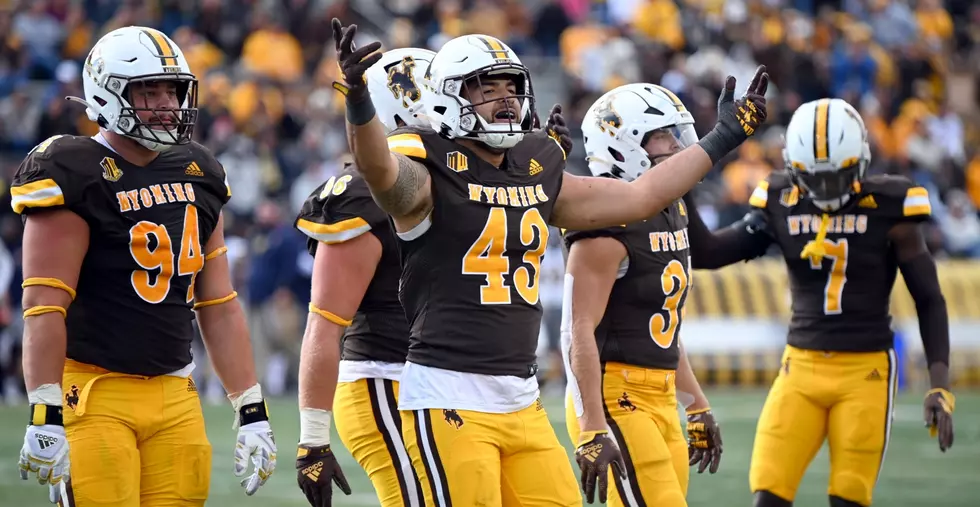 Shae Suiaunoa Named Mountain West Defensive Player of the Week
Wyoming linebacker Shae Suiaunoa (No. 43) pumps up the crowd after picking off a fourth-quarter pass during the Cowboys 33-10 victory over Northern Colorado last Saturday in Laramie./ DJ Johnson photo
* University of Wyoming press release
LARAMIE -- Wyoming sophomore linebacker Shae Suiaunoa recorded a career-best eight tackles in Wyoming's 33-10 home win over Northern Colorado last Saturday, and he added an interception in the fourth quarter that he returned 18 yards down to the UNC three-yard line to set up a Wyoming touchdown two plays later.
"It's always important to try to score on defense," Wyoming head coach Craig Bohl said Monday during his weekly press conference. "We came close. Suiaunoa, I'm going to call him 'Wrong-way Shae' because he had a wide-open path. I think all the people in the end zone were saying, 'run this way,' and he ran that way into a bunch of other guys."
Suiaunoa also recorded 1.0 sack for 10 yards, 1.0 tackle for loss and one quarterback hurry in the game, as he helped lead a Wyoming defense that held Northern Colorado to only 15 rushing yards and only 147 yards of total offense.
Suiaunoa, a 6-foot-3, 232-pound Texas native, won the starting weakside linebacker job this offseason, fending off Michigan State transfer Cole DeMarzo. After serving three seasons as a reserve, he earned his first start in the season opener at Illinois.
MORE UW FOOTBALL NEWS:
* Wyoming Football: News and notes ahead of Air Force
* Just how young is this Wyoming football roster?
* Wyoming walk-on waltzes into end zone for first-career touchdown
* Wyoming's Shae Suiaunoa has paid his dues
"It was just an amazing feeling," he said of playing against the Illini in Champaign. "You know, just being out there playing ball again, I haven't had that feeling since high school. It's been a long time."
The sophomore from Houston, Texas, played at Clear Lake High School. He and his Cowboy defensive teammates limited UNC to an average of only 2.4 yards per play.
For the season, Suiaunoa is second on the Cowboy team in tackles, with 21, and is tied for the team lead in solo tackles with 15. He has 3.0 tackles for loss, 2.0 sacks, one interception and one pass breakup.
Suiaunoa is tied for 25th in the nation in interceptions this season.
Just The Facts: Size Doesn't Matter For Wyoming's War Memorial Stadium
Did you know it would take the populations of
Gillette
(32,857),
Laramie
(32,381),
Rock Springs
(23,319),
Sheridan
(17,844) and Wright (1,200) to create a sellout inside Michigan's famed 107,601-seat
Big House
, the largest college football stadium in the nation?
For those of you not familiar with the
Cowboy State
, those are Wyoming's third through sixth most inhabited cities, along with the small mining town in Campbell County.
- Just The Facts: Size Doesn't Matter For Wyoming's War Memorial Stadium
More From My Country 95.5