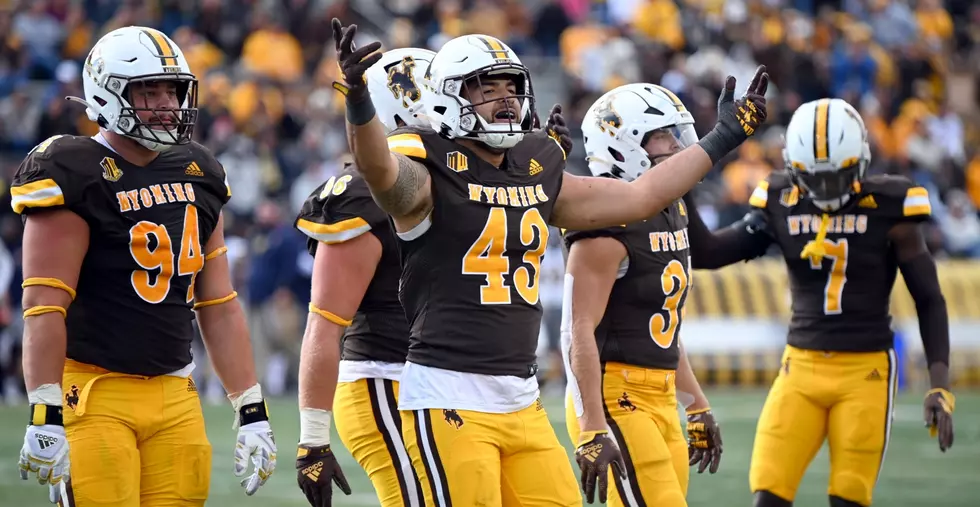 Wyoming's Proud Poly's Suiaunoa, Tulafono Up For National Award
Wyoming linebacker Shae Suiaunoa (No. 43) pumps up the crowd after picking off a fourth-quarter pass during the Cowboys 33-10 victory over Northern Colorado last Saturday in Laramie./ DJ Johnson photo
LARAMIE -- "Dense"
That's a label Shae Suiaunoa wasn't quite sure he wanted the first time a coach called him that on the practice field.
That moniker has nothing to do with the junior linebacker's intelligence and everything to do with the way he lays the lumber at the point of attack. It's a trait many Polynesians in this game are known for.
"Most definitely. That's 100% true," Suiaunoa said with a smile, another seemingly distinct feature of a Pacific Islander. "I really do believe that. It's different."
Suiaunoa, along with Wyoming teammate Nofoafia Tulafono, Friday were named to the Polynesian College Football Player of the Year Watch List. That award is presented annually to the most outstanding player of Polynesian ancestry that epitomizes great ability and integrity.
Those two join 85 others from 41 FBS programs around the country.
Tulafono, a junior center who was born in American Samoa, agrees with those stereotypes listed above. He joked that they are blessed with bigger bones. He also said there is plenty of truth to this cliché.
"Outside of football, it's all love, it's all respect to everybody, no matter who you're talking to," he said. "Once you get on the field, it's a different story. You don't know who that other person is until after the game."
"I guess you could say that," said Suiaunoa, who attended high school in Clear Lake, Texas. "You know, everything on the football field, it's a vicious game. That's another side you have to bring out. Off the football field, it's all love."
As you might imagine, these two are close. For a time, they were the only two players on the roster of Polynesian descent.
Wyoming has had its share of players from the islands.
Paul Nunu was a hard-hitting linebacker from Hawaii who played in Laramie in the mid-70's. Malcom Floyd, before playing 12 seasons with the San Diego Chargers, was a Wyoming receiver from 2000-03. He was inducted into the Polynesian Football Hall of Fame in 2022. The Denver Broncos current nose tackle, Mike Purcell, also spent four seasons on the high plains. He suited up for the Cowboys from 2009-12.
His nephew, Lafai Purcell, is currently a true freshman safety on Wyoming's 2023 roster.
There have been others under Craig Bohl, too: Siaosi Hala'api'api, Tim Kamana, Sidney Malauulu, Uso Olive, Sonny Puletasi and Cassh Maluia, among many others.
"Me and him are really tight knit," Tulafono said of his relationship with Suiaunoa, who is half Samoan. "We always kind of do stuff together. We've been super close. He's my big 'Uce' as they call it. You know, my big bro. It's just always good to have somebody that understands you and knows where you're from."
Wyoming may not have many Polynesians on the roster, but Tulafono said this was the spot for him. Plus, he joked, be careful what you ask for.
"Having too many Poly's is not a good thing," he said with a grin. "We get too wild and in too much trouble."
MORE UW FOOTBALL NEWS VIA 7220SPORTS:
* Pokes Practice Report: Sabastian Harsh nearing return
* Wyoming's Buck Coors, Will Pelissier undergo surgeries on Friday
* Fueling Cole Godbout's fire 'probably wasn't the best idea'
* Keany Parks: 'I feel like I belong in Wyoming'
* Q&A with Wyoming offensive coordinator Tim Polasek
* Tom Burman on realignment: 'I wish I could give you an answer'
* 'Vanilla Gorilla' locking up right tackle spot in Laramie
* Adrian Onyiego's Wyoming recruiting tale all-too-familiar
* Pokes Practice Report: Bohl 'encouraged' after Saturday scrimmage
* Wyoming's Dawaiian McNeely to miss season with ACL tear
* Despite injuries, Buck Coors says he won't "pull up'
Suiaunoa started all 13 games at weak-side linebacker for Wyoming during his sophomore season of 2022. He ranked second on the Cowboy team in tackles with 70.
Suiaunoa was named the Mountain West Conference Defensive Player of the Week for his performance against Northern Colorado during the '22 season. He was named 2023 Preseason Third Team All-Mountain West by Phil Steele and Preseason Fourth Team All-MW by Athlon Sports.
Tulafono started every game at center for the Cowboys as a sophomore. At the conclusion of the '22 season, the Victorville, Calif., product was named Second Team All-Mountain West by Pro Football Focus (PFF).
Entering the 2023 season, Tulafono was named to the Preseason All-Mountain West Second Team by Athlon Sports.
The Watch List candidates have been selected based on past performance and future potential. Additions to the list will be made as the 2023 season progresses.
The finalists and winner will be chosen by the Polynesian Football Hall of Fame Selection Committee which includes former NFL Player and Inaugural Inductee Jack "The Throwin' Samoan" Thompson (Chairman), Coaches Ron McBride and Dick Vermeil, former NFL Player and Inaugural Inductee Olin Kreutz, Inaugural Inductee and past NFLPA president Kevin Mawae, former NFL Player and Class of 2015 Inductee Ray Schoenke, ESPN Sportscaster Neil Everett, and NFL Network commentator Steve Wyche.
The winner of the 2023 Polynesian College Football Player of the Year Award will be announced on Dec. 14. Five finalists will be unveiled on Nov. 30.
"This award means so much to our people, and allows us to showcase the tremendous impact that our Polynesian student-athletes are having on the game of football," said Jesse Sapolu, Polynesian Football Hall of Fame Chairman, Co-Founder and Inductee. "We look forward to following all of the players on their journey this season."
The presentation of the Award will be held during the Polynesian Football Hall of Fame Enshrinement Week Celebration Dinner (January 20, 2024) at the Sheraton Waikiki, and they will also be recognized at halftime of the Polynesian Bowl (January 19, 2024).
* A University of Wyoming press release contributed to this story
PRESS PASS: Roaming The War
Wyoming Cowboys vs. Montana State Bobcats
-PRESS PASS: Roaming The War
More From My Country 95.5