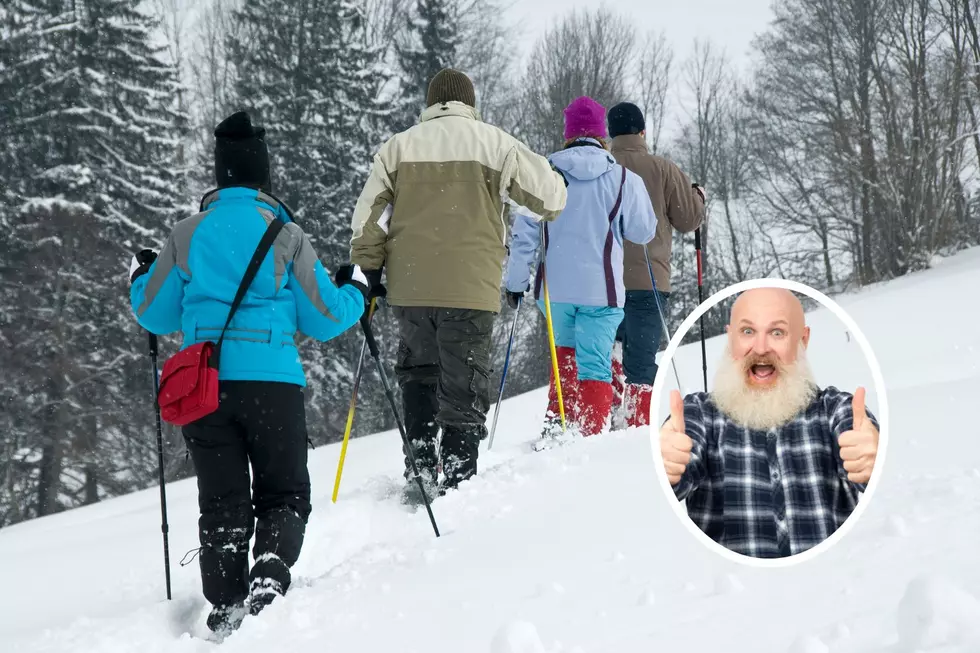 Who Makes Sure The Casper Mountain Trails Are Groomed?
CANVA
Casper Mountain is full of opportunities for adventure all year round. During the summer there is mountain biking and hiking and in the winter there's snowshoeing, cross country skiing, downhill skiing, sledding and snowmobiling.
We know that Hogadon Basin Ski Area is an option for downhill fun, but what about the trails for cross country skiing and snowshoeing?
You don't think they groom themselves, do you?
They absolutely do not groom themselves. Enter the Central Wyoming Trails Alliance, a grassroots group that has a mission to improve the trail system. They take care of things like cleaning up downed trees, making sections of the winter trails easier for beginning users, and using their groomer sleds to and v-plow sleds to help establish the trail.
CWTA has been around since 2014, with a goal to create a top notch outdoor community and give those looking for non-motorized outdoor adventure opportunity.
This group of hard working volunteers, maintain, improve, create and groom the trails we all love to use during the warm weather or under the cover of cold weather and snow.
Working together with Natrona County Parks, City of Casper Recreation, State Outdoor Recreation or Bureau of Land Management, CWTA takes care of all single track maintenance and grooming that happens.
Central Wyoming Trails Alliance President Austin Burgess says trail grooming is on a 100% volunteer basis.
We are hoping to get some public funding/donations soon to pay our guys that groom to get it done on a more consistent basis.

Volunteering with us is best done on specific work days as we carry liability insurance to cover anyone working on trails and keeping maintenance consistent. That being said if anyone has a project idea or a "trail need" they can always contact us directly so we can address the need with Natrona County Parks, City of Casper Recreation,  State Outdoor Recreation or the BLM and ultimately schedule a work day.
The CWTA is made up of volunteers and a board of 7 voting members and 3 officers. They are a Wyoming non-profit and member of the International Mountain Bike Association which in turn means a 501c3 organization.
Burgess mentioned that they do not receive funding from the sell of the trail passes and the donations they get go right back into their organization.
Our donations are used to help with administrative costs of the organization. ie proposal packets, reimbursement of fuel cost for grooming and materials to build new groomers. We also like to have money available for matching fund grants. With enough public support we will be able leverage funds from our partnering agencies.
To help them continue providing fantastic trails it's easy to make donations
Go to their website Caspertrails.com/donate
In a Facebook post by CWTA this week, it was revealed that wind has played a major role in downed trees that has interfered with trail grooming and maintenance. According to the post, nearly 40 trees have fallen and caused the issues.
The trails that will not receive maintenance are
Diesburg's Dungeon
N40 (for now)
Nellys
Spillway
Pinball
Continued Grooming and Maintenance Will Happen For:
Winter Adventure In Wyoming
The 10 Commandments For Winter Driving in Casper
The town of Casper has its unique challenges during the winter. We have no-plow streets, the wind changes the winter landscape hourly, and the plows leave mountains of snow in the middle of the road. We are also blessed with some great people that are willing to give a helping hand when needed. These are the unspoken rules of the road here in Wyoming.
Wyoming Winter Car Emergency Kit
More From My Country 95.5