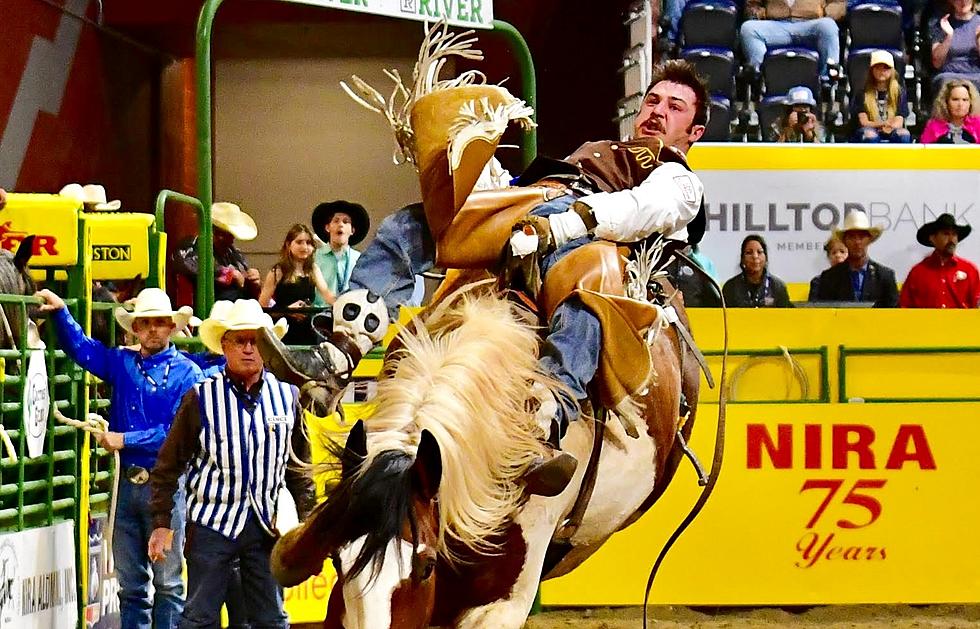 Wyoming Bareback Bronc Riders Open Strong at CNFR
University of Wyoming Cowboy Donny Proffit, of Kemmerer, opened his College National Finals Rodeo run Sunday in Casper with a solid 76 point rodeo to put him among the top 10 contestants. (Jimmy Devine Photo)
* University of Wyoming press release
CASPER – It's rodeo 24/7 for University of Wyoming bareback riders Brice Patterson and Donny Proffit in their west Laramie "mansion" they share with two other Cowboy teammates.
That camaraderie has translated to success in the arena, with the pair among the top three riders in the region the last three seasons. The next step is to take it to a whole other level on the national scene.
The pair got off to a competitive start during Sunday's "Broncs, Bulls and Breakaway" session to open the 2023 College National Finals Rodeo (CNFR) at the Ford Wyoming Center in Casper. Proffit, from Kemmerer, opened the week with a 76 mark. About an hour later, Patterson, of Bozeman, Mont., recorded 75.5 points, as the two put themselves among the Top-10 riders after the first round of competition.
Each competitor is guaranteed three rounds of competition in their specialty events this
week, with the 12 top times/marks advancing to Saturday night's championship round.
Patterson says having Proffit living under the same roof the last three years has been an important part of their success.
"We're both here at the college finals, and it's great living with the guy. He's very knowledgeable, not only about horses, but ranching, too, with his family," he says.
During the regular season, Patterson usually travels with teammates Cam Jensen, from Hyannis, Neb., and Saratoga's Kaden Berger because all three also compete in timed events, loading up nine horses in one trailer for the weekly regional competitions. But Patterson and Proffit hitch a ride together for pro rodeos when they are not competing on the collegiate level.
"Pretty much our conversations at home are about riding broncs or ranching or driving, and it's nonstop at our house. The Cowboy Channel is on the TV day and night. Donny and I are all about talking riding bucking horses, but it helps keep your mind in the game," Patterson adds. "It never hurts to talk about riding bucking horses under the roof of 'the mansion,' which is really the smallest house in west Laramie. It's pretty sweet."
During Sunday's opening round, Proffit rode Girl Night to a competitive score.
"It was a really good horse from Frontier Rodeo. I felt I rode her real good but felt I could have done a point or more better," he says. "There's still two more to go, and I just do what I can and hopefully draw a couple more good horses."
Proffit adds that he has set high expectations for himself in his final CNFR for UW.
"I expect to ride the best that I can and, obviously, I expect myself to win," he adds. "I gotta keep drawing good horses and make the most on every horse I get on this week."
Patterson almost was out of contention on the first day of competition when one of the arena judges threw out a yellow flag indicating that the UW rider committed an infraction when he and Free Ride broke out of the chute. However, the judge was overruled by another judge who gave Patterson a "free roll."
"A free roll is when they deem you get fouled at the chute by the animal one way or another and it voids the mark-out rule," Patterson says. "I saw the yellow flag about 5 or 6 seconds through my ride. I've been trained not to let it change me or control my ride, but I did ease up a little there at the end. I do have two more rides to go this week. Can't wait."
The UW Cowgirls did have one team member up during Sunday's competition, but Gillette's Sage Kohr, this past season's regional breakaway roping champion, just could not get her loop all the way over her calf's head, only catching the top portion, which left her with a no time.
All UW team members will be in action Monday for the first two days of slack.
From Bison to Triceratops - All of Wyoming's Official Things
Every state in our nation has chosen things that represent the state in one way or another to be official state things. Like a flower, or animal.
Wyoming
is no different.
The Equality State, or the Cowboy State, depending on which state slogan you want to go with, has a state flower. But did you know we also have a state tree and a state fish? Yes, we even have a state code.
To be an official thing, a member of the state legislature must write and submit a bill to the legislature declaring that a thing will be the official state thing. Then the legislature votes to pass the bill, or not, if it passes, the governor signs the bill into law and we have a new official state thing.
Here is what we have so far, all of Wyoming's official things. Now you can win big on Wyo Trivia Night if that's a thing that exists.
- From Bison to Triceratops - All of Wyoming's Official Things
More From My Country 95.5