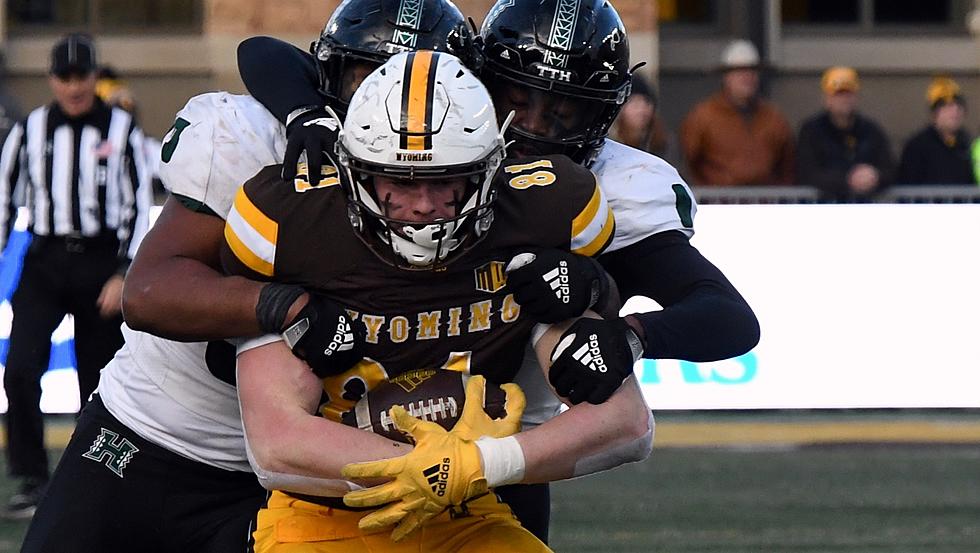 Wyoming Football: News and notes ahead of Hawaii
Wyoming tight end Treyton Welch hangs on to a pass despite two Hawaii defenders draping him in a 38-14 loss to the Rainbow Warriors./ DJ Johnson photos
LARAMIE -- Forget the sunscreen and beach towels.
Craig Bohl had one simple message for his team this week: "This is a business trip for us."
The Cowboys will make the 6,640-mile round trip to tropical Honolulu to meet with Hawaii Saturday night. Kickoff is set for 10 p.m. Mountain Time. Wyoming's ninth-year head coach has made two trips to the islands since his arrival in Laramie back in 2014.
He's still winless.
"I know Hawaii, it has just been my experience, when they play at home, they have played particularly well," Bohl said Monday during his weekly press conference in Laramie. "I think that they're a challenging football team."
Wyoming is just 7-7 all-time in games played in the nation's 50th state. The last win in Honolulu came all the way back in 1997. Dana Dimel's Cowboys rolled to a 35-6 victory.
Bohl pointed to the time change -- four time zones -- as a factor that might have affected his teams in the past. He added, staying focused is another key.
"Many times, there will be a football team, they're excited about going to Hawaii because they think it's somewhat of a vacation spot," he said. "... We have a young team. (We need) to make sure that they recognize, OK, it's not like we're going to go over and hang out at Waikiki and ride scooters and things like that, We're going over there to play a good football team and attempt to win a game. And hopefully we're going to come up with a win."
Were Bohl's teams in 2014 and '18 a victim of the atmosphere?
"I don't necessarily think that it was a distraction, but I do think the time change has had an impact," he added. "We've had, you know, a couple of close games over there but have not come up with a win. Then, the other thing, too, I just think when they play at home, I told our players, take whatever you see on tape and just amp it up. When they're at home they play better."
MORE UW FOOTBALL NEWS FROM 7220SPORTS:
* Titus Swen named Mountain West Offensive Player of the Week
* Tuck's Takes: Motivated Swen makes light work of Aggies ... again
* Turning point, unsung hero and what's next for UW football
* Rants & Raves: Utah State Edition
The Rainbow Warriors, under first-year head coach Timmy Chang, are 2-6 overall after falling at Colorado State last Saturday. Those two victories -- Duquesne and Nevada -- both came inside the 9,000-seat TC Ching Athletics Complex, a temporary home venue for the 'Bows after Aloha Stadium was condemned in 2020.
Here are some other news and notes from Monday's press conference:
* If it looked like Wyoming's offensive line was owning the line of scrimmage Saturday night, your eyes were not playing tricks on you. The Pokes' front five, which was playing without the services of right guard Emmanuel Pregnon, bullied Utah State to the tune of 330 yards on the ground. Andrew Peasley and Co. added 199 more through the air. "I thought we were able to stay on blocks and maintain blocks," Bohl said, giving additional credit to the tight ends and fullback Caleb Driskill. " The backs ran hard ... we were pleased this last week."
* Bohl couldn't deny it, he was worried about his young defensive ends coming into the season, especially when Sabastian Harsh was lost for the season with a knee injury during fall camp. Who would step up? Turns out, all of them. Wyoming leads the Mountain West with 25 sacks, seven ahead of Fresno State in that category. DeVonne Harris registered three of the Pokes' six sacks against the Aggies. UW's defensive ends have tallied 16 QB takedowns so far this season. "They've exceeded my expectations," Bohl said. "There were a lot of question marks, but we thought this was an emerging group during fall camp and they've continued. The trajectory has been really good."
* There is still no timetable for the return of nose guard Cole Godbout or nickel Keonte Glinton. Bohl did say Monday that he is in hopes to have Godbout back at some point this season. "Losing our bell cow -- we'll hope to have him back for the end of the year -- That's always a concern," he said. "You know, Cole was elected as a captain. When you miss his presence, that's a pretty big gap or void to fill in. I think those other guys have come in and done a nice job."
* Wyoming and Hawaii play for the Paniolo Trophy. It's big, featuring a cowboy on horseback about to lasso a calf on a wooden base. Will the team have to leave an empty seat on the plane if they win it just to get it home? "We'll talk to (the equipment manager) about that," Bohl joked. "Hopefully we have it, but thus far, we haven't been able to bring it home."
* In all seriousness, this is the second of three straight trophy games for the Cowboys. Last week they claimed Jim Bridger's rifle after the win over Utah State. On Nov. 12, the team will travel to Fort Collins to take on Border War rival Colorado State. Of course, the Bronze Boot is on the line.
* Wyoming holds a 15-11 advantage over Hawaii in the series. These two teams met last November in Laramie. It wasn't pretty. The 'Bows hammered the Pokes, 38-14, in the regular season finale.
* Stay tuned to 7220sports.com throughout the week. You can download our free mobile app right HERE. You can also subscribe to our daily newsletter right HERE.
POKES: The Seven Best Games In The History Of The Wyoming-CSU Border War Rivalry (Naturally, they were all Wyoming wins)
More From My Country 95.5