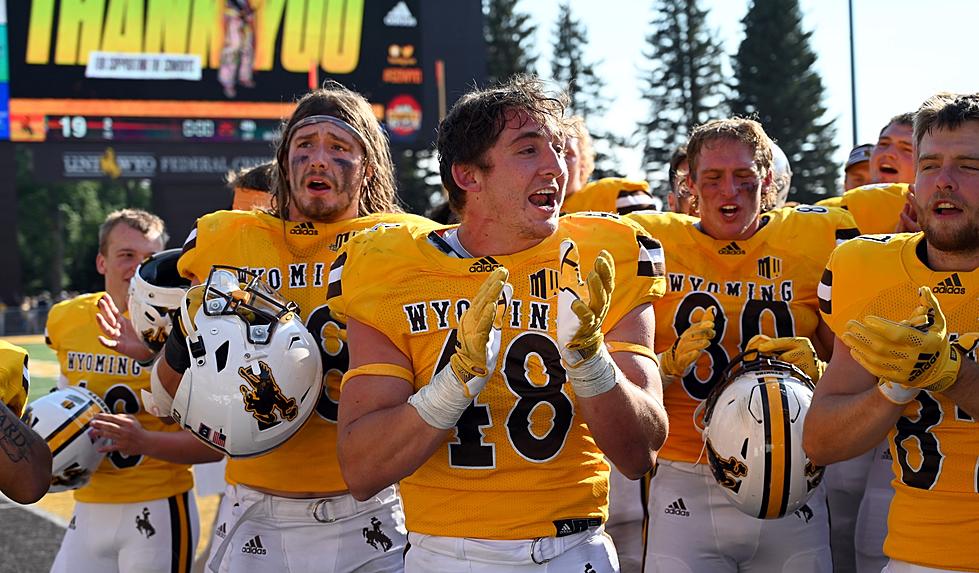 Wyoming linebacker Chad Muma declaring for NFL Draft
Wyoming linebacker Chad Muma (No. 48) will enter the 2022 NFL Draft, according to head coach Craig Bohl./ DJ Johnson photo
LARAMIE -- What else can Chad Muma accomplish in college football?
That was the basis of what Craig Bohl called a lengthy conversation with Wyoming's junior linebacker in his office before Muma accepted an invite to the Senior Bowl early last week.
Their answer?
It's time to make the jump.
Muma, the fourth-leading tackler in the nation and finalist for the Butkus Award, will enter the 2022 NFL Draft, forgoing his final season of eligibility in Laramie.
"I was difficult at first, considering I still have one year left," Muma said Monday. "I sat down with coach Bohl before the season and we talked about the possibility. He said after the year, we would have that conversation again. He said after receiving that invite, if I had the opportunity to go, I should probably go now."
Muma said he has heard various projections of what round he could go in, but added it's still too early to tell.
Bohl has fielded questions from NFL personnel all season about the 6-foot-3, 242-pound linebacker. That all comes at no surprise.
"I think the things that Chad's doing right now, I don't know if there's going to be a big, big change in his his productivity," Bohl said during his weekly press conference Monday afternoon. "This is, quite frankly, something that I saw coming. I think maybe at the Northern Illinois game. I mean, he was just an emerging player that you just kept going, 'Wow.'
"He's done that time and time again. He's been a marvelous captain for us and he'll have a great long career in the NFL."
Muma has 120 tackles through 11 games this fall for the Cowboys. He is currently ranked No. 2 in the country in solo stops with 6.8 per game. The Lone Tree, Colorado, product also has two interceptions for touchdowns, which is tied for the second most in the FBS.
MORE CHAD MUMA STORIES:
* Logan Wilson isn't shocked by Muma's rise to stardom
* Wyoming's Chad Muma receives invite to Senior Bowl

* Chad Muma can't lie: 2020 served as a confidence booster
* ANALYSIS: Chad Muma has some big shoes to fill
* Muma: 'He's the right man to do it'
* Muma selected one of six for Butkus Award
That Northern Illinois game Bohl referred to, Muma racked up 10 tackles, one for loss and returned a Rocky Lombardi interception 23 yards for a touchdown in a 50-43 road victory over the Huskies.
Muma has finished with double-digit tackles in every game but one in 2021. Last Saturday night in Logan, Utah, he rolled up a season-high 17 stops in a 44-17 win over the Aggies.
Bohl said earning a selection to the Senior Bowl is assurance Muma is one of the top players in the nation.
"I told him, you're going to hear from all kinds of different agents and projections and things like that," Bohl said. "But the the Senior Bowl is vetted by the NFL. Once you get an invitation for the Senior Bowl, I mean, it's, I don't say you're guaranteed to be a Top-100 player, but that's pretty much where it's at."
Muma is the 29th Wyoming player to receive an invite to the Senior Bowl, joining former teammates Logan Wilson, Carl Granderson and Josh Allen. Muma will also join other UW legends to play in Mobile, Alabama, like Jerry Hill, Jim Kiick, Jay Novacek, Mitch Donahue, Ryan Yarborough and others. The game is slated for Feb. 5.
Monday, Muma was named a finalist for the Butkus Award, an honor given to the nation's top linebacker. Wilson also made the final six in 2019. He 's now the leading tackler for the Cincinnati Bengals.
"Yes, I believe he is an NFL guy," Wilson told 7220sports.com in early November. "He has all the intangibles they look for. He does all the little things and that's what makes him a great player. I'm so happy and so proud of him that he's getting the recognition he deserves. He busts his tail everyday and he's reaping the results of it.
"He's one of those kids I will always root for not just because of his skills on the football field, but because of who he is as a person."
Muma said he hasn't given a ton of thought to what the next level will be like. In true Muma fashion, he still has work to do in brown and gold.
"Yeah, not too much," he said with a laugh. "I'm just kind of focused on each week, so I haven't let myself think about any of that. We still have one game left and hopefully a bowl game."
PRESS PASS: Roaming The War
Wyoming Cowboys vs. Montana State Bobcats
-PRESS PASS: Roaming The War
More From My Country 95.5