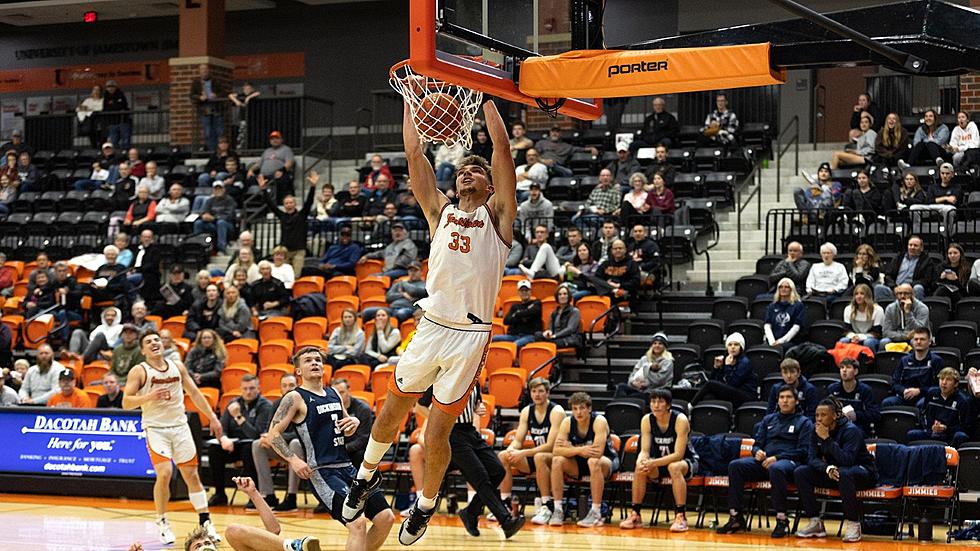 Wyoming Receives Commitment From NAIA Player of the Year
Mason Walters comes to UW after spending the last four seasons at the University of Jamestown./ University of Jamestown courtesy photo
LARAMIE -- Cue the Cowboy-themed GIF.
Jeff Linder fired off a "Yellowstone" clip this afternoon, his trademark indicator that he has a recruit in the barn.
That man is Mason Walters, a 6-foot-9, 255-pound forward, who spent the last four seasons jacking up 2,662 points, a University of Jamestown (N.D.) record. For good measure, the hometown kid also broke the school's rebounding mark, pulling down 1,239 boards.
Walters was named the NAIA Player of the Year after averaging nearly 27 points per game to go along with 9.4 rebounds. He helped lead the Jimmies to a 27-7 record and a trip to that league's version of the Sweet 16 for the third consecutive season.
You know what else happened for a third-straight year? Walters was named a First-Team All-American. That will happen when you lead the nation in scoring (904 points) and made field goals (235). That point total is also a Jamestown single-season record. Same can be said in the points-per-game category.
His 22.4 points an outing career average is also a school best.
Walters is the second known commit to Wyoming's 2023-24 class, joining guard Kobe Newton (Fullerton College), who averaged more than 13 points per game a season ago and drilled nearly 40% of his shots from beyond the arc. Newton helped lead his junior college squad to a CCCAA Championship with an 83-73 victory over City College of San Francisco.
Walters committed on the opening day of college basketball's regular signing period. That window will remain wide open until May 17. That's good news for Linder and Co., who still have eight scholarships to fill after losing nine players to the NCAA Transfer Portal.
Walters has one season of eligibility remaining.
He also received interest from programs like UMass, North Dakota State, Montana State, Ball State, Wisconsin-Green Bay and many others.
Here are some other impressive NAIA rankings for Walters last season:
* 26.6 points per game - 2nd in the league
* 235 defensive rebounds - 4th
* 321 total rebounds - 4th
* 163 made free throws - 10th
* 63 blocks - 13th
* .638 field-goal percentage - 19th
* 9.4 rebounds per game - 20th
How's the other half living?
Xavier DuSell is the latest former Cowboy to find his future landing spot. It's a familiar one, too. The sharp-shooting guard will stay in the Mountain West Conference, suiting up at Fresno State next season.
Noah Reynolds committed to Wisconsin last week after netting 14.5 points per game in Laramie during the 2022-23 campaign. The guard from Peoria, Ill., suffered three concussions in a six-month span. He was sidelined for the Cowboys' final eight regular-season games, along with Wyoming's one-and-done in the conference tournament.
Forward Jeremiah Oden is heading home. The Chicago native landed at DePaul, becoming the first portal Poke to find a new home. Oden averaged nearly 10 points per game last winter.
Ethan Anderson, who transferred to UW from Southern Cal during the previous offseason, is also heading back to his home state. The guard is signing with Pepperdine.
Graham Ike, Max Agbonkpolo, Jake Kyman, Nate Barnhart and Nathanial Talich have yet to announce their future plans.
MORE UW HOOPS NEWS VIA 7220SPORTS:
* PODCAST: Talking with Tom Burman
* Ken DeWeese named associate head coach of Wyoming basketball
* Bryston Williams joining Wyoming basketball staff
* Wyoming's Nathanial Talich enters NCAA Transfer Portal
* Nick Whitmore added to Wyoming coaching staff
* Wyoming lands first commit of 2023-24 class
* PODCAST: Where does Wyoming hoops go from here?
LOOK: Pokes' unis through the years
More From My Country 95.5