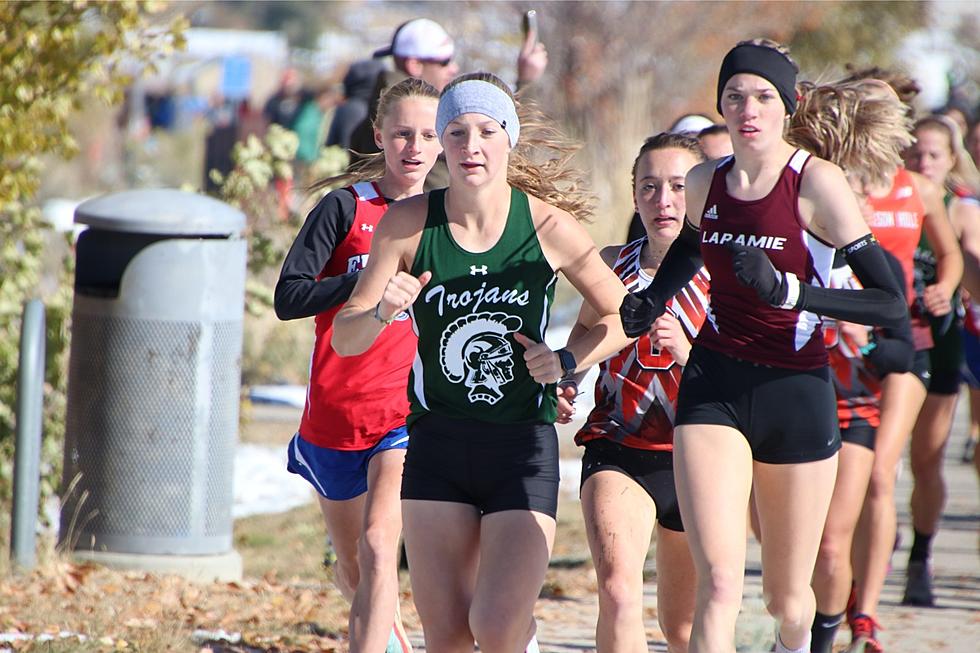 Jackson Boys, Laramie Girls Win 4A West X-Country Regional
Shannon Dutcher Townsquare Media
The 4A West cross country regional meet was held in Casper on Friday and with a very competitive girls' field, Addison Forry of Laramie just dominated with a time of 18.29.62. The sophomore was more than 35 seconds ahead of the 2nd place finisher which was defending 4A state champion, Delilah Baedke of Natrona. Her time was 19.08.33. Her teammate Hallie Willhelm took 3rd with 4A state champion tennis player Finley Klinger 4th. In the 5th spot was Jackson senior Jacie Chatham was 5th.
In the girls' team standings in this regional, Laramie was first with 36 points, Natrona 2nd with 44, Kelly Walsh 3rd with 69 points, Jackson placed 4th with 83, and Evanston 5th with 105.
The boys' winner in the 4A West regional was Charles Fossey from Rock Springs in 16.04.88. He took 4th at last year's state meet. Jackson Dutcher of Natrona was 2nd in 16.32.04 with Dominic Eberle of Laramie 3rd in 16.32.52, Azel Klomparens of Jackson was 4th and Joel Kornkben of Natrona was 5th.
In the boys' team standings, Jackson edged Natrona 42 to 43 with Laramie 3rd with 66. Evanston was 4th with 93 and Kelly Walsh 5th with 96 points. The state cross country championships will be this Saturday at Wyoming Indian high school in Ethete.
We have some great photos from this meet to share with you in our gallery, compliments of Shannon Dutcher. Enjoy!
4A West Regional Cross Country
4A West Regional Cross Country
Winter Adventure In Wyoming
More From My Country 95.5