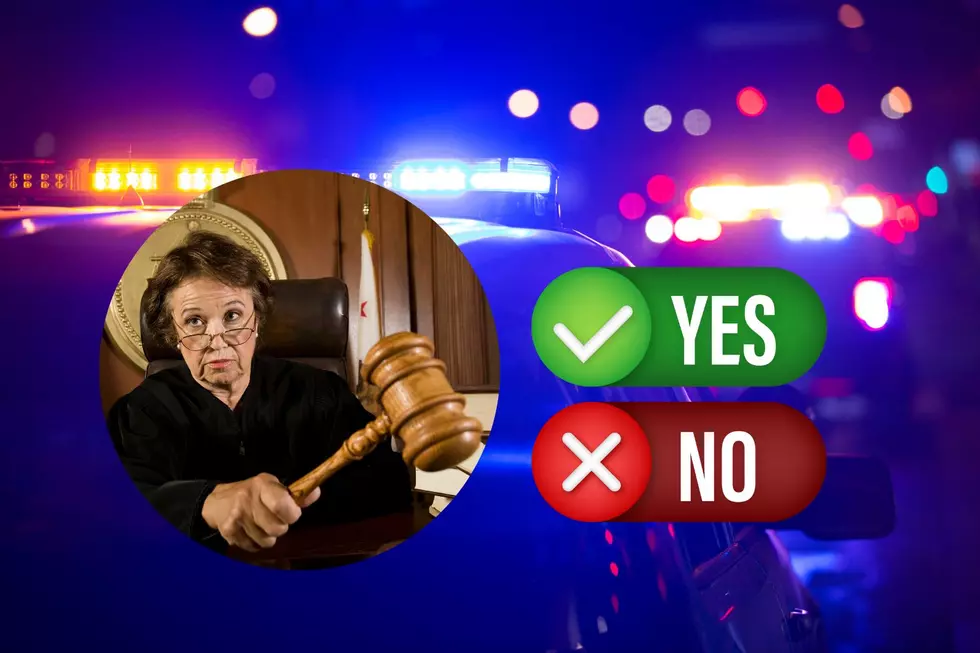 The Truth About What Is And Is NOT Legal In Wyoming
Canva
Have you ever wondered if it is illegal to dive without shoes in Wyoming? Or can't someone get thrown in jail for burning the American flag? Can you walk down the street carrying a sword? We looked into some of the laws to see what we could find. We are not lawyers, so don't use this story to get yourself out of a ticket.
Also just because something is illegal doesn't mean the police will enforce it. Jaywalking, for example, is illegal but have you ever gotten a ticket for jaywalking? You probably won't get in trouble unless you cause an accident or injury. Probably. This is what we found according to the laws in Wyoming.
Is it legal to eat while driving in Wyoming?
Yes, you can eat while driving, but it is discouraged as it can be distracting. Feel free to Ole The Day, but please keep your eyes on the road.
Can you drive with a dog in the bed of your truck in Wyoming?
Yes, you can legally drive with fido in the back of your truck. If you visit Connecticut, Maine, Massachusettes, Minnesota, New Hampshire, or Rhone Island, you will violate the law.
Is it legal to burn the American flag in Wyoming?
Yes, you won't get arrested if you decide to burn the American flag. It is considered freedom of speech, but I don't think you will make many friends.
Is it legal to drive barefoot in Wyoming?
This is an urban myth. There are no laws in the US requiring footwear to drive, although it is highly recommended that you do.
Can you own a tiger as a pet in Wyoming?
If you have dreams of becoming the next Joe Exotic, Wyoming isn't the place for you. It is illegal to own most exotic animals including lions, tigers, and bears; oh my!
Can you burn your trash in Wyoming?
It is not permitted to burn trash in The Cowboy State, including yard waste.
Can you legally collect rainwater from your property?
Yes, you may collect rainwater from your property in Wyoming.
Can you take a photograph of a rabbit?
There was a myth that it was illegal to photograph a rabbit in Wyoming. It was a dated law requiring all photographers to have a trail guide with them. Now you can take as many bunny photos as you want in 2022.
Is dumpster diving legal in Wyoming?
There are no laws specifically against taking trash, but you could get in trouble for trespassing. No rules are stopping your neighbors from looting your garbage, too. However, police might need a warrant for trash searches to be admissible in court.
Is jaywalking allowed in Wyoming?
It is illegal to jaywalk in Wyoming, and the traffic laws want you to use a designated crosswalk to keep you safe. Although, when was the last time you heard of someone getting a ticket for jaywalking? Never, right?
Is it legal to pick flowers in Wyoming?
No, you shouldn't be picking flowers in Wyoming on federal and public lands, and it's a big no-no in the national parks. Unless you have written permission from the government and/or the landowner, it's not allowed.
Is it legal to kill a rattlesnake in Wyoming?
There are no laws against killing the prairie rattlesnake. Most ranchers and outdoors people prefer not to share the land with these poisonous reptiles.
Is there a law requiring dog owners to pick up pet waste in Wyoming?
Yes, there isn't a poop fairy if you haven't heard. Pet owners' legal responsibility is to pick up their pet's waste, whether in a public area or at home.
Can you marry your first cousin in Wyoming?
You might have to go to Alabama (or Colorado) for that. There are laws prohibiting the marrying of first cousins in the state.
Is it legal to record a conversation without consent in Wyoming?
You can legally record a conversation when one party gives consent. Just one of the parties, not both. Sneaky right?
Is it legal to carry a sword in Wyoming?
You can carry your scimitar, rapier, or katana in Wyoming. If you wish to conceal it, you would need a permit. The state also allows most knives, like switchblades and butterfly knives.
Can women go topless in Wyoming?
Yes, as long it is not blatantly sexual, the nipple is free in the Equality State. The late Heidi Russell of Casper was known for cruising 2nd Avenue topless on her moped. #FreeTheNipple
Spectacular Wyoming Roadside Attractions That You Must See
All across the Cowboy Stare are oddities and wonders to behold. Some are natural wonders. Some are interesting things found in the middle of nowhere.
Take a Look at These 6 Amazing Must-Visit Places In Wyoming You've Never Heard Of
In Wyoming it can be hard to see ALL the amazing places, many of which are kept a secret by locals. But, here are six must-visit places we think you've never heard of.
Identifying Wyoming's Most Common Wildlife Droppings
More From My Country 95.5