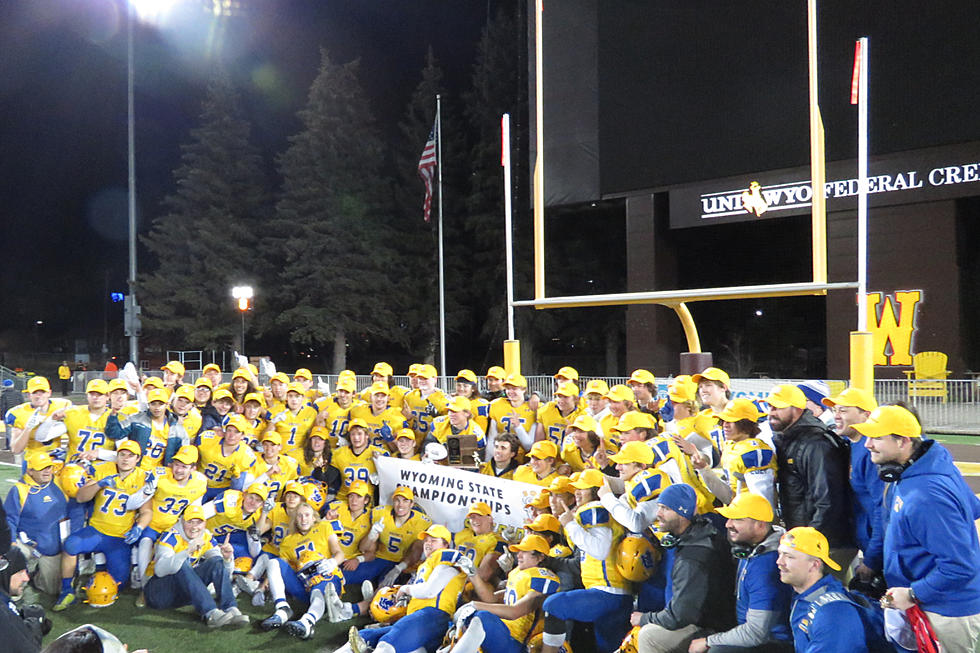 Sheridan Wins 4A Football Crown Again, Beats Rock Springs, 45-27
David Settle, WyoPreps.com
Colson Coon ran for 230 yards and four touchdowns to lead the Sheridan Broncs to a 45-27 victory over Rock Springs in the 4A state championship game on Saturday in Laramie.
Sheridan's Carter McComb returned the opening kickoff 88 yards for a touchdown. After Rock Springs tied the game at 7-7, the Broncs took control and scored the next 24 points. Sheridan went on and won their 28th title in school history.
Broncs' head coach Jeff Mowry said he felt his team did a nice job of staying calm and collected.
"There's a lot of hype there (coming into this title game), and it's a new stadium, and our guys played for four quarters. They didn't get so hyped up after the first one (touchdown) that we continued to battle, even after a big start like that."
Rock Springs answered with a 14-play, 80-yard scoring drive. QB Brock Bider ran it in from one yard out. That tied the game at 7-7.
A Michael Greer field goal pushed the Broncs back in front, 10-7, and that's when Coon went to work.
He had TD runs of two, three, and 59 yards, as Sheridan increased their lead to 31-7.
The Tigers closed within 31-15 late in the third quarter on a Brock Bider two-yard touchdown run. Rock Springs forced and recovered a fumble on Sheridan's next possession, but the Tigers gave it back six plays later with a fumble of their own.
On the ensuing drive, Coon's fourth TD of the game on a one-yard run helped the Broncs push the lead to 38-15. Sheridan went on to win their fifth title in the last seven seasons.
Mowry said that Colson was extremely humble this season.
"The young man goes to work every day. He didn't miss a day in the weight room. He doesn't miss anything in regards to football practice, and he just goes to work. I'd like to say he's like his older brother Evan, and his older brother Garrett, they continue to just show up, and they work. They each have different skill sets, and he (Colson) just goes to work, and he's incredibly thankful for everybody blocking for him. He's just a great kid."
McComb added a 22-yard TD run on a fourth-down reverse for Sheridan in the fourth quarter.
Rock Springs scored twice in the final period on a 15-yard Bider to Isaac Schoenfeld TD pass and a Bider one-yard run.
Sheridan had 417 yards of total offense in the game. The Broncs rushed for 343 yards. Defensively, Michael Greer had eight tackles for Sheridan.
The Tigers finished with 403 yards on offense. Bider was 27-36 for 265 yards and the one TD. He added 53 yards rushing. Schoenfeld had 11 receptions for 134 yards and a touchdown. Andrew Skorcz had seven tackles to pace the Rock Springs defense.
Mowry didn't think the season would end this way.
"I didn't know how it would end. We go to Chadron camp and lose two kids to an ACL, and then we lose Brock Steel in June at a Montana State recruiting camp. He's a two-year starter at receiver and our team leader, and, no, I wasn't sure where we'd go. We got guys that continually stepping up."
This was Sheridan's seventh 4A championship since the title games moved to Laramie in 2009.
The Broncs finished the 2021 season with an 11-1 record. Rock Springs went 10-2.
University of Wyoming's Top 50 Football Players
The rules are simple: What was the player's impact while in Laramie? That means NFL stats, draft status or any other accolade earned outside of UW is irrelevant when it comes to this list.
This isn't a one-man job. This task called for a panel of experts. Joining 7220's Cody Tucker are Robert Gagliardi, Jared Newland, Ryan Thorburn, and Kevin McKinney.
We all compiled our own list of 50 and let computer averages do the work. Think BCS -- only we hope this catalog is fairer.
Don't agree with a selection? Feel free to sound off on our Twitter:
@7220sports
- #Top50UWFB
More From My Country 95.5