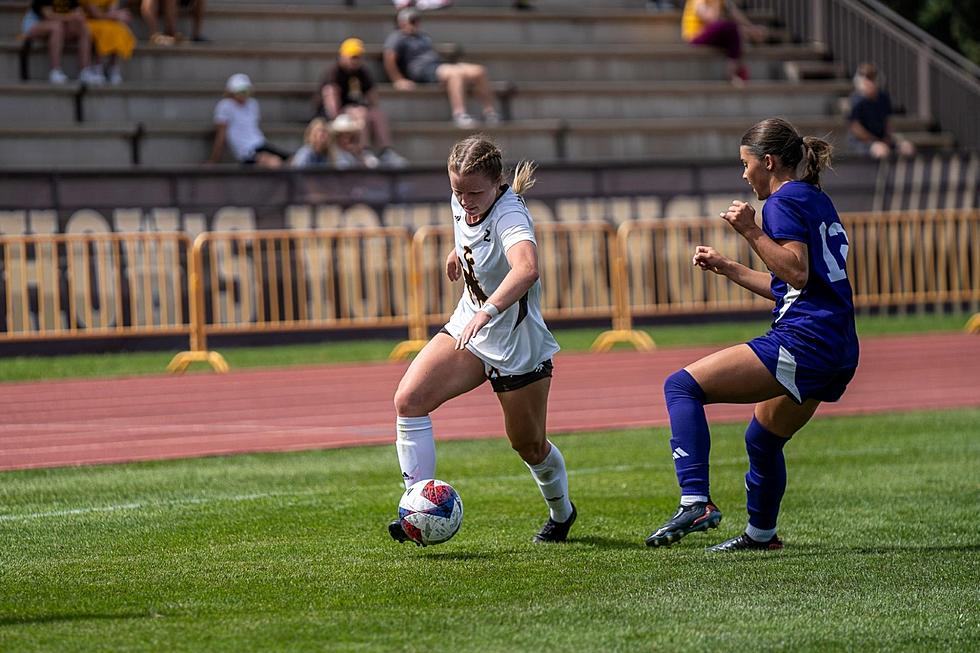 Wyoming Soccer Rallies in Second Half to Down Omaha, 2-1
Wyoming rallied in the final 20 minutes to down Omaha, 2-1. The win improves the Cowgirls to 2-0-2 on the season, while the Mavericks drop to 1-1-2./ UW courtesy
* University of Wyoming press release
OMAHA, Neb., -- The University of Wyoming soccer team's poise was on display Sunday at Caniglia Field. Not only did the Cowgirls exemplify that trait whilst trailing, but did so with the lead, as well.
Wyoming rallied in the final 20 minutes to down Omaha, 2-1. The win improves the Cowgirls to 2-0-2 on the season, while the Mavericks drop to 1-1-2.
"We needed to make a change at halftime, and it's not that we played poorly in the first half, but a huge piece of our identity is our grit and our mentality," head coach Colleen Corbin said. "We want to make teams uncomfortable and put them under pressure, and we weren't doing that in the first half. We had a chat at halftime about changing the energy, the environment and pushing the tempo."
Jamie Tatum earned the equalizer in what was a milestone goal for her. Tatum's 72nd-minute goal, her first of the season, vaulted her into first all-time in program history with 60 career points.
"We are immensely proud of Jamie," Corbin said. "She has been bought into this program since Day 1 but for sure since my staff and I took over a couple years ago. She has poured everything she is and everything she wants to be into this program. She's a great leader, she's a wonderful soccer player, and she's an even better human."
Similar to Thursday's match at South Dakota, Wyoming rode the equalizer's momentum to a quick go-ahead score. And that was done by Alyssa Glover.
Just 3:30 after Tatum's theatrics, Glover found the back of the net for the second time in as many games. She bested Omaha goalkeeper, Emma Konsmo, giving the Cowgirls an advantage that they held onto for their first road win of the season.
"We've talked about players coming up big in their moment, and Jamie and G did that today," Corbin said. "Everyone that was on the field made a choice to bring our brand of Cowgirl soccer to the field and change the momentum of the match completely there in the second half."
Haley Bartel received her first start at goalkeeper for Wyoming. She made three saves, and the only score she allowed was via a penalty kick in the 33rd minute.
Konsmo finished the game with a pair of saves for the Mavericks. Each squad fired 12 shots on the day, four of which were on target. Glover and Maddi Chance led in that department for the Cowgirls with three shots apiece.
Wyoming returns home this week for its Senior Day. The Cowgirls host Northern Colorado Sept. 3 at 1 p.m. at the Madrid Sports Complex.
10 Of The Most Famous Wyomingites In History
We asked our listeners to tell us who they thought was the most famous Wyomingite in History, here are the top 10 picks. NOTE: To be a Wyomingite you do NOT have to be born here, but you DO have to have lived here for at least a year.
- 10 Of The Most Famous Wyomingites In History
More From My Country 95.5